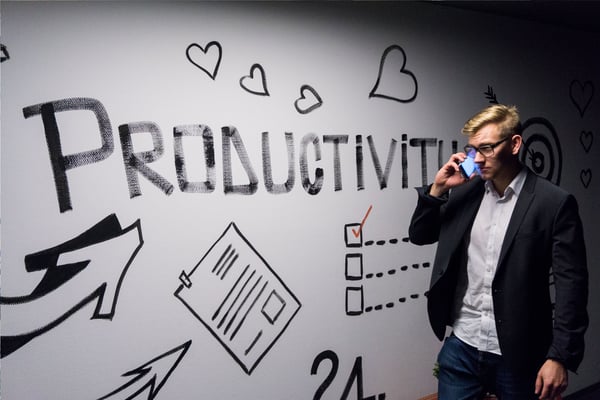 Productivity is important for online learning because it directly impacts your return on investment, or ROI. Higher productivity means you're getting a greater outcome from the income you're spending on learning programs. That boosts your ROI.
It's imperative that you fully understand the ROI of your training programs because ultimately your goal is to increase revenue and cut costs. If your training courses aren't achieving their outcomes, they're negatively impacting your business.
An IBM study showed that every dollar invested in online training results in $30 in productivity—this is mainly due to the fact that employees are able to resume their work faster and apply their skills immediately. And companies that use eLearning technology achieve an 18% boost in employee engagement.
There are some great plugins for Moodle LMS that are specifically designed to help boost productivity and increase the ROI of your online learning program. Here are our picks for the top five must-have Moodle plugins—plus a bonus plugin!
Top 5 Moodle Plugins for Productivity
1. Grade Me
The Grade Me plugin lets instructors see every assignment and manual quiz question that has been submitted and needs grading. It eliminates time looking to see if learners have submitted work and notifies instructors when a student wants feedback. The award-winning block is designed to work in online courses that use groups. Instructors can only see the assignments that are submitted by learners that are members of the same group as the instructors.
2. Attendance
Attendance lets you easily take attendance and track it over time. The plugin is primarily used in blended learning environments where learners are required to attend classes, workshops, and tutorials. Attendance includes a reporting function within the plugin that lets you filter and create exportable reports based on set criteria. You can also add comments next to each learner's status, and a grading option can adjust learners' grades based on their attendance.
3. Completion Progress
Completion Progress is a time-management tool for learners. It visually shows learner's progress in any module activity and resource. Instructors can see the progress of all learners and easily identify at-risk individuals so they can intervene quickly.
4. Reengagement
Tired of nagging learners to turn in their assignments? Reengagement sends automated email reminders for learners to complete their course activities. Emails are sent in scheduled periods of time after starting an event, typically enrolling in a module or completing an earlier activity.
If the learner has already completed the target activity, no email is sent.
You can also use the plugin to selectively release timed content for an online course.
5. Atto Toggle Preview, Styles, HTML+ and Fullscreen
Atto is the WYSIWYG text editor that comes pre installed within Moodle. These plugins extend the text editor with some handy functions.
BONUS PLUGIN: Course Time Tracker
Course Time Tracker is part of a Lambda Solutions Time Spent Learning Plugin Set. The Course Time Tracker block gives your learners a visualization of how much time they have spent on a course, with options to display the required minimum time and maximum time.
Boost Your LMS Reporting and Analytics
Get better LMS reporting and analytics! Check out Zoola™ Analytics — the solution that gives you fast access to learning insights when you need them.
Take one step further in optimizing learning and training programs--watch our on-demand webinar, 5 Steps for Data-Driven Online Learning & Training, to establish learning goals, track the right metrics and make data-driven decisions.