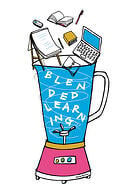 There are numerous reasons to adopt a blended learning model for your organization's corporate training program, the most compelling being effective learner engagement. Maybe you're lucky and your training staff and leadership team members are natural born evangelists who deliver training to their teams in an engaging, entertaining style. Employees rush to learn, come away buzzed and their vessels are full of newly imparted knowledge.
For most of us, this is just a dream. Your training team may be passionate about what they do, but maybe imparting that to the team standing at the end of a boardroom table isn't their forte. And anyway isn't learning via in-person lectures going the way of the dinosaur? Well not entirely, but maybe a blended delivery is the way to go.
The New Gold Standard for Training Delivery?
More and more companies are adopting a blended learning model for their corporate training programs, and many see it as the way of the future. But what is it and is it the right way to go for your employees?
Blended learning involves using a diverse range of teaching methods and resources to offer more effective learning experiences. Initially adopted by the post secondary world as "Open Learning" or "Flexible Learning", this mode of learning consists mainly of online courses supplemented by face-to-face seminars in local centers, access to personal tutors and ad hoc support groups. Other models see students guide themselves through source content on their own time and then attend group discussions and seminars to solidify understanding and application of the information in the corporate environment.
In a sense, blended learning is nothing new. Facing a student group of employees who are already balancing heavy workloads with family commitments—not to mention business travel—most companies have had to put together some form of blended learning. Home study and information binders have been with us for decades. However, the options for blended learning have expanded exponentially as new forms of open source technologies for online learning emerge.

Blend Creatively
One word of caution: don't be tempted to use the technology just because it's there. Use it when it makes the most sense—due to the context for your students or the nature of the material to be delivered. And use it creatively. For example, don't just upload a lecture. Use the technology to upload case studies, videos etc. and then set the expectation that students will participate in face to face seminars fully informed and ready to engage in the session in a meaningful way. Perhaps you might ask learners to bring real live work experiences and problems to the discussion. No one will be slacking off when they know they will be asked to actively participate in the session.
It's possible and a good idea to incorporate social media tools. Moodle, for example, is capable of integrating open web tools linking to YouTube videos or custom blogs. Essentially, the artificial divide between your Learning Management System and open web tools disappears.
The best of blended learning programs adapt to the learning styles of the students to be trained. Think about your audience; what form of delivery will best motivate and captivate them? What is their level of technology literacy? Will they be inspired by more traditional face to face presentations or is this a group likely to be captured by integrating web-based media or maybe even a gamified application.
A blended learning model can help to capture your learners in a more creative way, ensuring that students are fully engaged and using your face to face time more effectively for both teacher and learner.