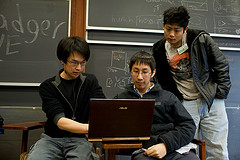 After all of the resources, retraining and technology thrown into developing online learning capabilities, here's what we wanted to know: what do the students think about it?
As a company that provides and supports a popular Learning Management System for online learning, we naturally have to focus on the needs of our clients – K-12 schools, colleges and universities and private companies doing corporate training. We've got a good idea of what these kinds of organizations are looking for. Now, thanks to a recent study by the ECAR National Study of Undergraduate Students and Information Technology, we've got a better idea of what the real end users are thinking – and some of these results are pretty eye-opening:
Almost 60 percent of students said they learned more in blended learning environments. By contrast, only 20 percent thought they learned more in the absence of any online learning.
Most students see real benefits from using technology, particularly for improving productivity and building connections with other students.
Students are used to using technology to learn – and most consider themselves more capable of using it than their professors.
Almost half of students think their school needs more technology.
Less than a quarter of students think their institution uses the technology it has effectively.
Check out more of the results in ECAR's excellent infographic showing students' reactions to technology in education
What does the feedback on online learning mean? Students want more technology
Some of the results of the poll seem to be interrelated. There are good indications that if technology was implemented better, students would be even more enthusiastic about blended learning than they are.
For instance, as we noted above a significant percentage of students thought that the technology that was being used already wasn't being implemented as effectively as it could be. Only 1 in 5 students thought technology was being integrated seamlessly.
Meanwhile, just 1 in 5 students thought that technology was being used often enough. About a third of students wanted their professors to use email, ebooks and e-textbooks more often. And when it came to course registration, making grades available online and putting classroom resources on the Internet, the vast majority of students (about 4 out of 5 students) enjoyed that.
Clearly, if teachers and administrators could create more of a seamless integration of technology into a blended learning environment, students would be happier.
eLearning Benefits. Accessibility, Productivity, Feeling Connected and Feeling Engaged
When it came to measuring specific benefits of technology for academic success, there was a range of results that students strongly agreed about:
52 percent. Gives me access to resources and progress reports.
44 percent. Makes me more productive.
35 percent. Helps me feel connected.
34 percent. Makes learning more engaging and relevant.
By far, the biggest reason (59 percent) students thought blended eLearning benefited them was in giving them access to a wider range of resources. That's certainly something that the Moodle LMS does very well with repositories, allowing teachers to integrate course content from online presentations, YouTube videos, blogs, wikis and more – letting students venture far beyond their hardcover textbooks and photocopies. Moodle also does very well at giving students access to grades and progress reports – and with Moodle's configurable reports, administrators and teachers can also remain very much up to date on that score. Students weren't asked about their favorite LMS in this study, but it's clear that overall, organizations have a lot to gain by integrating technology better into their courses.
Are you a teacher who has already incorporated blended learning into your course? Or are you a student or corporate trainee who has done blended learning? What are the biggest benefits you've seen in terms of eLearning? Leave a comment!