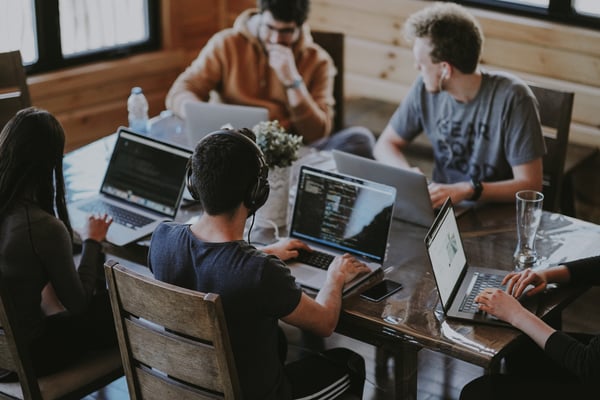 Did you know that offering on-the-job training could result in receiving over 70 percent more applications when a position is available? Training shouldn't be limited to teaching an employee how to perform specific tasks; but rather to provide employees with opportunities to become lifelong learners that will empower them in their job and improve engagement at work.
The Benefits of On-the-Job Training
Employee engagement can result in a performance that is 200 percent higher than at a company where employees aren't fully engaged. An effective on-the-job training program will boost productivity and quality, and provide employees with a real professional development plan.
On-the-job training doesn't mean throwing employees in at the deep end on their first day of work and expecting them to sink or swim. You need to develop a targeted program that allows for fast-paced learning without sacrificing quality and avoids putting employees in situations they aren't prepared for.
Why You Should Use an LMS
Traditionally, managers would be responsible for providing this type of training. However, latest learning suite are transforming on-the-job training.
Using an LMS such as Lambda Suite means that each employee has access to a customized learning experience. The learning materials can be tailored to their position and/or performance. The analytics component helps you keep track of how each new hire is progressing and will give you an overview of an individual or team's strengths and weaknesses.
Structuring Your On-the-Job Training Program
This individualized approach to on-the-job training should start with a comprehensive assessment of a new hire's skills and knowledge. Previous work experience might have prepared an employee for their new position and make some of the training materials redundant.
Creating an on-the-job training program in Totara means that employees have access to a structured plan. They can log in, check their progress and review new objectives. It is also possible to prioritize an objective; for instance, new hires can focus on mandatory self-paced programs, such as compliance and competency training, before moving on to other areas of their on-the-job training. You can use compliance training and integrate with Moodle or Totara so that new hires can earn certifications or use badges to track progress and gamify the learning experience.
Learning analytics is at the core of the individualized learning experience. You can use learning management systems like Moodle and Totara Learn to leverage analytics and automate the kind of learning materials and objectives delivered to each employee depending on their performance. You can also use analytics to gain visibility over your talent pool and identify the best career path in function of each person's strengths and weaknesses.
On-the-job training is an approach that benefits everyone. The implementation process can be challenging when switching from training handled by managers to delivering a training program tailored to each new hire using an LMS. Lambda Solutions can help you choose the right LMS for your on-the-job training program and take advantage of its features to deliver the best learning experience possible.