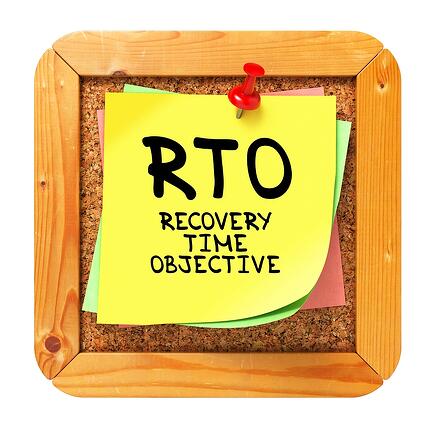 As a small business owner, or manager in a mid-sized organization you need to focus on what you do well -- running your organization. You probably rely on others to ensure the safety and security of your computer programs and data. We all know that back-ups are important. But, just how deeply has your organization thought through back-up and recovery if your learning management system experiences a failure? Do you have the means to recover as soon as practicable?
When you are thinking about back-up and recovery, there are two important questions to ask:
1) What is my organization's recovery time objective (RTO)?
2) What is my organization's recovery point objective (RPO)
RTO – Back-up Recovery Time Objective
Recovery time objective is the maximum amount of time that it would take to get your learning management system up and running again after a failure. The RTO is by far the most overlooked factor when it comes to determining how protected your computer systems are. Business owners often ask, "Are we backed up?" The answer is usually "yes." But, many people don't ask the most the important question: "How long will it take to complete a recovery from back up so that everyone can get back to work?" Applied to your learning management system, how much downtime could your organization handle? If learners are not able to access the system, would it have a major effect on your bottom line? Or would it inconvenience just a few users? There are many RTO possibilities, but you can think about the following as industry standards.
Cold Standby – 24 hours
Hot Standby – 12 hours
Seamless Standby – No disruption to service
Naturally, with each level of service, the costs increase. However, today's technology has brought even seamless standby rates to levels previously unthinkable for small and mid-sized organizations.
RTO – Back-up Recovery Point Objective
To define your recovery point objective, determine your maximum tolerable amount of time between data backups. In other words, how often do you run a backup? To determine this, ask yourself the following question: "In the event of a computer failure, are we okay with losing an hour of data? a day of data? or maybe even a week of data?" Note that that losing an hour of data does not mean you will be working again within an hour. Rather, it means you have lost an hour of data which you cannot restore – ever. When it comes to your learning management system what is your maximum tolerable data loss? That period defines your RPO.
If your organization has a very low tolerance for downtime and a requirement to get up and running very quickly after a failure, a managed hosting system with disaster recovery and failover provides rapid restoration to operations. We recommend that every business – no matter how big or small -- create a backup disaster recovery & business continuity plan, which outlines your RTO and RPO and an associated protocol for every critical application you run.
Interested in finding out more about learning management systems? Join our February 27 webinar as we discuss the key pain points and solutions.