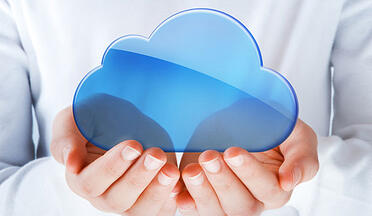 While 'the cloud' is widely talked about, many organizations still have yet to realize and understand the benefits of managed cloud hosting. What is managed cloud hosting you ask? In order to fully understand managed cloud hosting, we must first understand what the cloud is. And no, contrary to the belief of some, the cloud is not a data center located in space.
According to IBM, "the cloud is a computing model for enabling cost-effective business outcomes through the use of shared application and computing [where] traditionally siloed computing assets are turned into a shared pool of resources". This means that those who store their data in the cloud benefit from access to shared server networks, storage, applications and services. Managed cloud hosting is then the technical and computing expertise that is needed to manage particular data, applications and systems in the cloud.
The initial reason why business leaders consider cloud computing is due to the fact that it is a predictable and cost-effective way to purchase and manage computing resources. The second reason is that managed cloud hosting is highly flexible allowing IT teams to change computing environments in fast and efficient ways. Here are an additional 3 benefits of managed cloud hosting that provide organizations with significant ROI:
Image 1
1. Cost Savings
Compared to on premise, managed hosting—managed cloud hosting is significantly more cost effective. With on premise, managed hosting, customers bear a long list of ongoing IT, maintenance and repair costs (see image 1 above). With managed cloud hosting, clients only pay for subscription fee(s), training and configuration. Take the company Macmillan India for example, in the process of slowly moving core enterprise applications from an on premise data center to the cloud; they succeeded in lowering capital expenditure by nearly 100% and operational expenditure by 30% annually.
2. Better and Faster Query and Analytics
Another benefit of managed cloud computing arises when existing analytic and query applications change from running in data centers to running in the cloud with cloud resources. Due to the high system availability and speed of cloud hosting, massive amounts of data can be mined faster allowing you to develop business intelligence and insight in record speeds. An example of an organization who utilizes this benefit is BookMyShow, an entertainment ticketing company. MyBookShow has saved tens of thousands of dollars by hosting their data in the cloud as opposed to expensive data warehouses. With the speed and agility of cloud computing BookMyShow has happier customers who benefit from quicker entertainment recommendations.
3. High Availability and Increased System Speed
Because the managed cloud is built around highly available infrastructure, systems and applications hosted in the cloud benefit from being available 100% of the time. Specifically, when utilizing cloud hosting with leading names like Amazon Web Services, clients benefit from elastic load balancing which detects unhealthy instances and automatically reroutes traffic to healthy instances until unhealthy instances have been restored. Additionally, in a cloud computing environment new IT resources are always a click away meaning what would typically take developers weeks to create only takes minutes as experiment and development time virtually vanishes!
For more information on how your learning and talent management systems can benefit from managed cloud hosting, contact one of our experts today! You can also check out our Whitepaper on DIY vs. Managed Moodle Hosting.