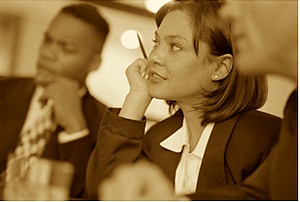 What do you need to think about before implementing Moodle? A growing number of schools, universities and companies are using the Moodle Learning Management System (LMS) for education and training. Here are some questions we usually ask our clients to think about when considering Moodle as their online platform for education and training:
1) Do you have a budget for installing and maintaining Moodle?
Since Moodle is open source, there is no licensing fee. However, there are other costs associated with any LMS: hosting, theme customization, training of your IT staff, teachers or trainers, etc. You need to have a realistic idea of your resources.
2) Do you need hosting or can you host it internally?
If Moodle is going to be used by a large number of students or trainees and you plan on making full use of the software's capabilities, this can use up a significant portion of an organization's server space. Many organizations prefer to outsource hosting so they can avoid costs attached with purchasing and maintaining expensive IT software and hiring extra IT staff.
3) Will you require customized theme design?
Some clients prefer to have the Moodle theme reflect their educational or corporate brand or to match their website.
4) Will you require customized capabilities with custom-built modules?
The great number of Moodle modules allows customers to tailor their Moodle functionality to their needs for learning paths, sharing through repositories, student tracking and other features. That said, there may be some functionality you want that doesn't come with pre-installed. Be clear about what capabilities you need.
5) Do you need help desk support?
You may decide to rely on Lambda Solutions to effectively be your help desk, offering basic and more advanced levels of support.
6) Will your IT team require training on maintaining Moodle?
If you already have an IT department, it may make sense to handle software upgrades, fixes and adaptation in-house. That said, many IT teams are already overloaded after years of being asked to "do more with less". Realistically assess your IT resources before making this decision. Consider the time needed to get familiar with the system management aspects, and how critical reliability and responsiveness are for the community that you're servicing.
7) Will your teachers or trainers require training on using Moodle?
Some parts of Moodle are fairly intuitive, but to fully utilize this LMS' capabilities and offer students an effective education experience, your instructors will need to be trained.
8) Will you need online courses developed?
Online courses are optimized to provide and engaging learning experience.
9) Do you need to migrate lessons from a different LMS?
This can be a big undertaking for any type of organization and requires experts to get it done quickly, effectively and on budget.
10) Have you talked with a Moodle expert yet?
Even if you've already thought about the questions above already, you may not be completely confident about your answers. For instance, you may still be asking yourself how much of a budget is reasonable. You may be aware of some of Moodle's LMS capabilities (which is probably the reason you're moving towards implementing it) but may not have a firm grasp on newer functionality in Moodle 2.0 that makes teachers, students and IT teams' jobs easier.
We can answer your questions and walk you through the process. Contact us today if you need help with your LMS for your school, college or company.