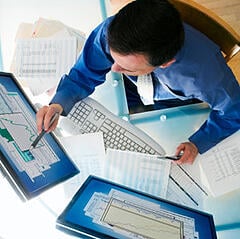 As organizations begin to fully recover from the recession and move back to paths of growth—corporate training expenditure in the U.S. is booming. According to corporate HR expert Josh Bersin, U.S. spending on corporate training grew by 15% from 2012-2013. This growth equated to $70 billion spent on corporate training in the US and $130 billion spent worldwide. But what is this rapid growth attributed to? Bersin indicates that increases in corporate training budgets have largely been impacted by capability gaps—current and incoming employees do not have the skills and competencies required to meet market demands.
Researchers at Bersin by Deloitte also found that companies who spend more on learning and development strategy performed better than companies who did not. If you are an organization that is looking to reap similar benefit with budgets of average size, technology is revolutionizing the market so you can. The growth in technology tools to train and develop employees can now happen online allowing you to reach more employees at a lower cost. Having a learning management system (LMS) in place is the first step in ensuring you can provide online training—contact our LMS experts here to learn more. There are many more benefits of online training aside from cost savings—continue reading for the first five of the top 10 benefits of online training.
1. Online Training is Flexible
Online training enables employees to learn when they want and where they want. Instructor led training relies on the availability of both the instructor and the particular group of employees (among many other variables such as venue space!). This is difficult and costly to coordinate especially if training falls within key hours of productivity.
2. Online Training Reduces Travel Costs
Unless training is targeted at a particular department within a particular geographic location, training requires travel costs that eat through training budgets fast. With travel becoming more expensive due to the increase in gas prices, the cost to send employees to conferences and development programs is only going to grow. Online training allows employees to access training materials and courses from anywhere around the world.
3. Online Training Streamlines Administrative Tasks
Online training administered through organizational learning management systems make it easy to enroll groups of targeted employees into training programs. Once enrolled, course administrators can communicate with the class through automated or manual messages. This not only saves administrative time but it also greatly reduces costs.
4. Online Training Courses Can be Re-used
While it can be costly to create high-quality and engaging training programs, once created, they can be used time and time again. This means that the marginal cost to train one more employee becomes lower over time. Additionally, if the course is offered online through the company learning management system, employees can refer back to the content at their convenience, ensuring that the learning sticks and is directly applied on the job!
5. Online Training Reaches Far and Wide
Tied into the benefit above, online training provides you will the ability to train any number of employees either both immediately and in the future. In other words, depending on the course, online training can be utilized years ahead increasing the ROI of a single course. Gone are the days of being limited to the schedules of employees and the size of the classroom or venue you can book!
We still have 5 more benefits of online training to share with you so make sure you head back to our blog tomorrow to discover the final five! If you are seeking to begin implementing online training into your organization, contact our training experts today and we will help you get started. Additionally, check out our webinar on How to Use Video on Online Training.