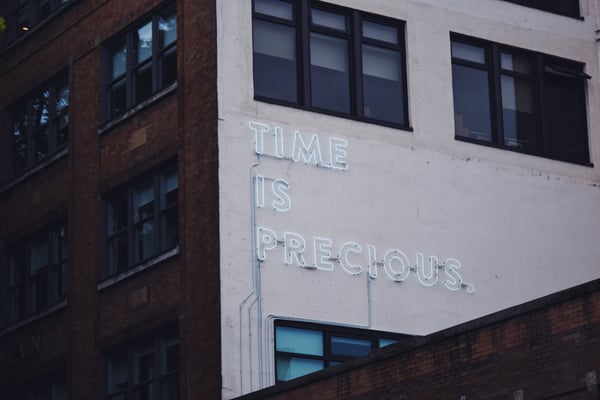 97% want to improve the way they gather and analyse data on learning impact¹.
Following our attendance at ATD2018, one of the sessions attended by our VP of Product has further sparked our interest and we wanted to bring this insight to our readers. In his talk on Getting Radically Improved Data From Learner Evaluations at the start of the conference, Dr. Will Thalheimer, PhD, President of Work-Learning Research, Inc. challenged the Kirkpatrick-Katzell 4-level learning evaluation model, citing that it is now decades old (over 60 years old, before the computer age) and the principles on which it was developed was before cognitive psychology revolutionized the learning field. Now that the training field has transformed from one that focused on the classroom learning experience to one geared toward work performance, it's been long overdue to update the model to one that spurs us toward greater learning effectiveness.
Dr. Thalheimer's research points to shortcomings in the old learning evaluation model, some examples of which are:

| | |
| --- | --- |
| Learners | Way of Evaluating Learning |
| Just because learners ENGAGE IN LEARNING, doesn't mean they will have learned. | Measuring Attendance alone: inadequate |
| Just because learners PAY ATTENTION, doesn't mean they will have learned. | Measuring Attention alone: inadequate |
| Just because learners ACTIVELY PARTICIPATE, doesn't mean they will have learned. | Measuring Participation alone: inadequate |
| Just because learners CAN RECITE FACTS AND TERMINOLOGY doesn't mean they know what to do. | Measuring Knowledge Recitation alone: inadequate |
| Just because learners DEMONSTRATE COMPETENCY during a learning event doesn't mean they'll remember how to use the competency later. | Measuring Competency During or Soon After a Learning Event alone: inadequate |
We need to take the measurements gathered above and use them as a baseline to support learners in continually building:
Comprehension

Remembering

Decision making competence

Task competence
The goal is to help your learners to have the perseverance to apply what they've learned to their job or other performance situations.
Dr. Thalheimer, with the help of a team of industry experts, has developed a new 8-level model that is aligned with the science of learning and provides more appropriate guideposts for learning professionals to create cycles of continuous improvement.
The Learning-Transfer Evaluation Model (LTEM)
(Pronounced as "L-tem")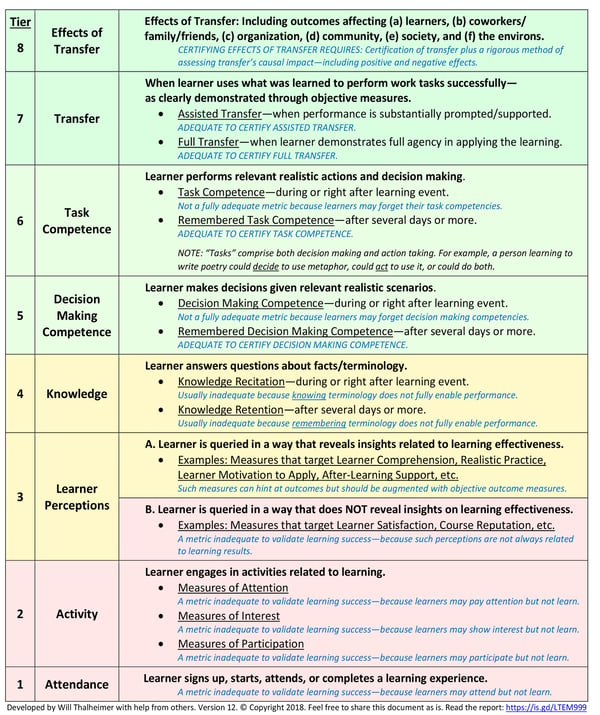 More Resources:
Do you know how effective your learning programs are? Get the insights you need with

Zoola Analytics

to enable you to help your learners continually build their skills to perform their jobs and tasks better, leading to higher learning program effectiveness.

Watch our recorded webinar, Using Analytics to Deliver Engaging Courses,

to learn how to measure whether the content in your eLearning system provides an enriching and engaging learner experience.
Read how Sandler Training

increased user adoption and engagement by over 200% and dramatically increased online learning revenues.
¹Source: Dixon, G. & Overton, L (2017). Making an impact: How L&D leaders can demonstrate value.