In response to the COVID-19 pandemic, shifts in work to remote locations and home offices became popular. And it looks like this change is here to stay. One survey found that as many as one-fifth of jobs could end up being entirely remote as a result of the pandemic.
The shift to remote work has also prompted a larger target for cyber attacks. The World Health Organization reported a five-fold increase in phishing and attempted data breaches since the pandemic. This is reflective of the overall state of cybercrime and risk when it comes to managing and securing employee data.
While you're instituting new policies to adjust to a remote workplace, take the time to build data security policies into your procedures and eLearning programs.
Here's how you can use the changes required by COVID as a catalyst for better data security.


Using COVID as a Catalyst for Change
COVID represents a major change in the composition of many workplaces. Huge process changes have to be made to accommodate the new normal, with everything from hiring changes to learning system management.
Some of the business measures recommended by the CDC for employee safety include:
Using videoconferencing for meetings like onboarding, when possible
Conducting health checks, virtually or physically
Instituting PPE policies
Supporting and encouraging telework options
Establishing policies for social distancing

These changes could mean a massive overhaul of your current workflow. So why not take this opportunity to implement new data security policies and programs?
A wide variety of policies must be adjusted to meet the standards of a changing workforce. COVID safety requires remote work where possible, social distancing measures, and enhanced sanitation procedures. In instituting remote work options alone, there are untold considerations to make.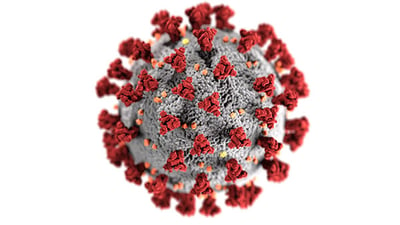 From implementing an onboarding strategy to creating an easy process for continuous employee education and eLearning, remote work means change. Staying atop this change means expansive communication measures to ensure that your new policies reach the entire workforce.
In building the platforms with which to better reach remote employees, the need for change in data security processes should be constantly addressed and communicated. Change can be difficult, but since employees are dealing with it anyway, use the communication tools you have to step-by-step illustrate how and why data security can be improved.
The overhaul of business processes is the perfect time to integrate better security measures into all your processes. Even Learning Management Systems (LMS) and eLearning platforms need to meet and master specific GDPR standards for compliance as data is communicated in a decentralized manner. Changing up your processes necessitates a reevaluation of data safety procedures to meet all compliance standards.
The workflow shift to out-of-office locations means integrating a usable cloud storage system to serve as a digital attic for your business. This storage and access must be secure for you to effectively manage worker education and training. Make use of the shift in process across your industry to implement better data security now.


Better Data Security Practices
As processes of all kinds shift to a digital environment, data challenges should be addressed to better protect user and business processes. Analyze these challenges and prepare better solutions for keeping employee data secure.
There are many ways you can begin to better your data security practices for LMS and eLearning. With each method, you must address and reassess the problems that might arise to reach data compliance standards and keep your business safe.
Here are just a few better data security practices you can integrate into your eLearning and LMS processes in the wake of COVID-19:
Switch to

a cloud-hosted LMS

. Not only does this take data-hosting pressures off your location, but it also frees up your time to manage communication needs for the pandemic workforce.

Data security in the cloud

is second to none, especially if your hosting pattern is utilizing AWS

infrastructure.

Institute user authentication procedures. You may feel like your basic password and login is enough to keep your employees safe working from home. However, consider multi-factor authentication procedures and verified IP addresses to better protect your data.
Use a cloud system to manage multi-tenant access across a client list. Managing user access through an LMS can be complex on an internal server. Allow a cloud-based system to manage security needs, keeping authorized users in and everyone else out.
Integrate

security checklists for e-signature processes

. Conducting any business will require a host of signatures and verifications. Ensure e-signatures are safe with authentication and audit trail measures.
Remote work means secure, cloud-based systems. You want your workers to be able to access and conduct their eLearning without comprising their data or the company's systems. A cloud-hosted LMS is a great place to start integrating these security measures. An expert team can ensure the top-notch data security in the cloud to guarantee the safety of your data while taking technological proficiency and time-consuming IT work off your hands.
With these security measures integrated into your LMS and eLearning data processes, you can create a safer workplace no matter where your employees log in from.


Safer Remote Workflow
COVID-19 has brought about a massive shift in the way the world works. For almost every business, this has meant new and varied processes to allow for remote working and social distancing measures.
Using COVID as a catalyst for bettering your data security is perhaps one of the wisest moves you can make to protect employee and company information. Hackers know remote work can mean additional access points to break in. Protect your data through a cloud-hosted LMS, authentication processes, and security checklists.
Looking for more? Our eLearning industry and online security experts have put together everything below to offer you more advice, best-practices, and how-to guides for keeping your data secure and private.

Related articles:

(But if you'd like your security concerns answered live, we'd be happy to do that too! Just contact us and we'll find the solutions you're looking for)

Disclaimer: This article was contributed by guest blogger Beau Peters. Beau is a creative professional with a lifetime of experience in service and care. As a manager, he's learned a slew of tricks of the trade that he enjoys sharing with others who have the same passion and dedication that he brings to his work. The views and opinions expressed belong to the guest blogger alone, and do not necessarily reflect the official policies or opinions of Lambda Solutions.