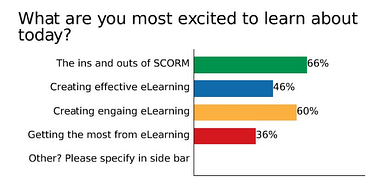 In our webinar last week we recognized that the majority of attendees came to learn more about SCORM compliance. We assumed the majority of people were coming to understand how to create effective and engaging eLearning but our first poll question stated otherwise— nearly 70% of participants wanted to know the ins and outs of SCORM. We also found that after our lecture on SCORM, 85% of participants understood its importance in addition to a high-level understanding of how to create SCORM compliant courses. In this post we will cover everything you missed on SCORM!

What is SCORM?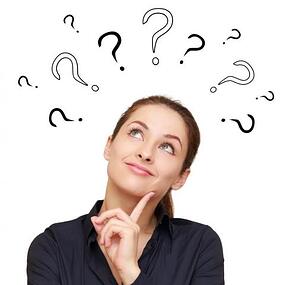 SCORM is an acronym for Sharable Content Object Reference Model which is a set of technical standards and specifications used to create eLearning courses so that they are compatible with learning management systems (LMS). If your course meets the standards and specifications of SCORM then it is said to be 'SCORM compliant' and should integrate seamlessly in your LMS. In addition to this, your SCORM compliant course will communicate with your LMS so that your LMS tracks the activities of your learners. Another important thing to know about SCORM is that there are many different versions. You know when you try to open a Microsoft Word document that has been created and saved on an older version of Word, and it won't open?…Well the same things happens with former SCORM standards. Currently, the majority of LMSs are compatible with SCORM 2004 standards.
What are SCORM courses necessary for?
Many are happy with the simplicity of creating eLearning courses directly in their LMS. Creating, or rather compiling material in your LMS like videos, documents and quizzes does not provide learners with the interactive eLearning experiences they desire. A significant step-up from eLearning courses compiled directly in your LMS, are those that are created in eLearning software authoring tools like Articulate Presenter, Storyline, Adobe Captivate and Lectora. There are many others, but the eLearning software tools such as the ones aforementioned allow those with minimal technical skills to create sophisticated and engaging eLearning courses. When you create eLearning courses in authoring tools, you must ensure that you export them into SCORM compliant packages so that they can be read by your LMS.
How do I create a SCORM Compliant Course?
Without directly walking you through how to create a SCORM compliant course in the eLearning authoring tool you use, we are going to provide a high-level overview of how it is done. The intention of this is to assure you that creating a SCORM compliant course is MUCH simpler than it sounds.
Once you have finished creating your eLearning course, it is time to 'publish to SCORM'. It may be titled differently depending on the authoring tool you are using but this is usually what it is called.
After selecting 'publish to SCORM', it is now time to define the settings that you want your LMS to read. This typically includes defining when a learner has completed a course.
After defining the settings that you need, simply select the option to 'publish the course'.
Once published you will have a zipped up SCORM package that can be uploaded into your LMS. Essentially, your course authoring tool has organized the files of your course so it can be read by your LMS.