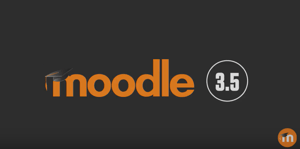 It's here, the version Moodlers have all been waiting for! Moodle 3.5 focuses on GDPR compliance and enhanced usability and accessibility. With the GDPR being enforced in Europe next week (May 25), the EU is forcing practically all software makers and websites in the world to put control of data firmly back into the users hands. If you are using Moodle and have any of your servers or users in the EU, then just upgrading to a recent version isn't enough. New tools in Moodle 3.5 make things easier but you are still responsible for ensuring that your organization is GDPR-compliant.
New GDPR-Related Moodle 3.5 Features
New Site Administration Setting with Privacy and Policies settings
Set up age checks
Handle user agreements to site policies
Manage data requests and data deletion
Tip! These features are also available as plugins for Moodle 3.3.6 and Moodle 3.4.3.
General New Moodle 3.5 Features
Bootstrap 4 Standard and Course Images

Enhance the look of courses in the dashboard with images or colored patterns
New icons for course links are highlighted when clicked on
Series of new fonts including the Apple user system interface (new fonts will default based on the users browser and operating systems)

Question Tagging

Filter questions in the question bank through tags

Record Audio and Video Easier in the Atto Editor

Easily record and embed media into courses

Simple Global Search

Find anything in Moodle without going to an external browser

New Badge Criteria

Make awarded badges even more special
Receive a badge for uploading a profile picture
Use badges for criteria for other badges
Use membership of a cohort as a badge criteria

Cohort Themes

Give administrators options to allow, edit and select a specific theme
Assign cohorts to a specific theme
Allow cohort themes

Quiz and Choice Improvements

Instructors can include files when grading essays
Learners are informed of the display of choice results

Other Features

Bulk edits and un-enroll of users previously self-enrolled
LTI advantage extensions
Messaging backend improvements
GDPR and Compliance Related Resource
Case Study: Learn how Sandler Training was able to reignite stalled revenues and deliver a superior learning experience for its 37,000 students worldwide by upgrading to an open source LMS (Totara Learn) and Zoola Analytics, and how our team at Lambda is helping them prepare their system to meet the new GDPR laws.
eBook: Read Compliance and Competency Training Made Easy with LMS, a guide to reducing costs, mitigating risks, elevating team members and increasing business value.
Moodle HQ Resources:
Articles:
Want to Upgrade to Moodle 3.5?
Here are the basic requirements:
You can only upgrade to Moodle 3.5 from Moodle 3.1 or later. If upgrading from earlier versions, you must upgrade to 3.1 as a first step.

The minimum PHP version has increased and is now 7.0.0.

The PHP extension intl is now required in Moodle 3.4 (previously it was only recommended).
Need help? The team at Lambda Solutions are experts in all things Moodle and helping customers upgrade to new versions. Save time and get it done properly and quickly. Set up an appointment to talk to one of our experts!