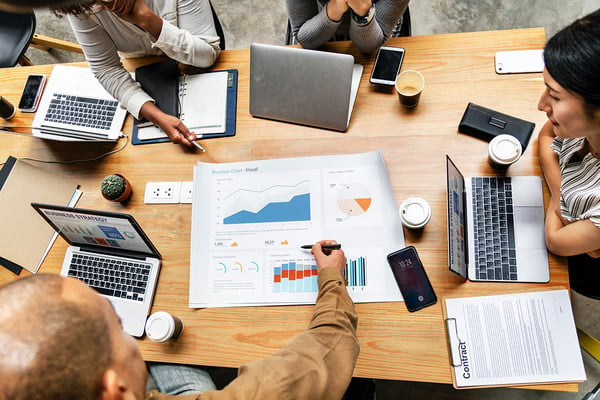 The LMS landscape enhances training effectiveness for organizations in various markets, if you know which features to look for — but with over 600 options in the LMS market, shopping for a new platform is no easy task. We're going to outline which LMS features allow you to enhance the effectiveness of training delivery, increase learner engagement and retention, enhance the user experience, all while saving time and money. This is the fifth of seven blogs in our series, Must Have LMS Features. Check out the last post here.
Reporting & Analytics
We have learned from experience that a LMS's reporting capability can be the ultimate deciding factor for buyers. LMS reporting is essential, because it offers deep insights into how effective your training strategy is, and how well your strategy meets your outcome goals and objectives.
Good reporting should encompass compliance tracking for eLearning, to see if the training your students are receiving are meeting school standards. Reporting data also provides you better student management capabilities, as it allows you to see which students are excelling, and which ones need extra help. It also highlights the particular areas students need extra help in, making it easier for you to provide them with the help they need.
Great LMS reporting should also provide you easy access to data, user friendly capabilities to analyze your data within your LMS, options to present your learning data (tables, charts, graphs, etc.), save you time by quickly creating custom reports, extensive ad hoc query capabilities, and the ability to demonstrate the impact of learning on business outcomes. If you're thinking, "How am I going to find a solution that includes all of these features?", know that these capabilities can come in one LMS reporting tool, so don't settle for a LMS vendor that doesn't offer you the full package.
In accordance with the aforementioned capabilities, here are a few LMS reporting features you should look for:
Out of the box reports - these are reports that are automatically created for you.

Ad hoc reports

Proper support, training, and resources to assist you with your report building process. Also be sure to check the hours of operation for the support team - they should be available during the hours you need.
Business Problems Solved
Proves ROI

Shows the impact of learning on your business

Proves compliance with business goals

Better student management capabilities

Creates a better learning experience backed with the most insightful data

Tracks whether training has been successful, and knowledge has been obtained

Allows you to make accelerated decisions based on real-time information

Ultimately: development hours and costs saved with pre-built dashboards, reports, and mappings
For all 7 Must-Have Features, download our LMS Buyers Guide!