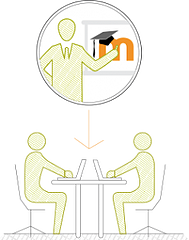 Not using online learning yet? You are in good company. Small and mid-sized businesses are only just beginning to take advantage of the combination of online human resources management and talent development software available today in learning management systems. Because costs for many of these systems were relatively high, mid-sized companies were being priced out of the market.
Now, learning management and talent development technology companies provide solutions that bridge the mid-market gap. If your organization is mid-size and looking to make the transition to online training and talent management, you will be well served by looking for a solution that allows you to register staff in face-to-face courses as well as online learning.
Because you may have to develop course content from existing materials, it can take a while for you to get your entire catalogue of courses online. In the meantime, you can take advantage of registration and progress tracking features that a learning management system offers. Look for a system that will enable registration and progress tracking that also integrates features for performance management. These systems provide a unified approach to talent development and performance management for very little cost.
One of our customers currently runs courses using a face-to-face methodology, but realized they could improve course consistency and reduce costs if they implemented Lambda Solutions' learning management solution. In addition, because their accrediting body required an audit trail of which students had taken which courses, they knew a learning management system would make it easier to for them to track compliance. They chose a hosted Totara solution because it offered the right blend of online learning and performance management features they needed. However, with over course to convert to online, they started with using their LMS for registration purposes.
Now, they store all staff member job and training information in the system. The system tracks who has attended which course, who skipped out, and what progress individuals have made toward certifications. A supervisor can see at a glance, which people are training to improve their skills and knowledge and to meet compliance regulations. For example, anyone handling food on the job, must have taken the 'Food Safe' course. On an annual basis, the agency must produce a detailed list of who has met the regulatory criteria for their job. This used to be a laborious task, taking up to two weeks to complete. Today, administration prints out the same report in a matter of minutes.
While the company gets up to speed -- using the system for registration and performance management -- a team of instructional designers works to produce online versions of their courses. As with many companies, online courseware is augmented by face-to-face sessions, so adopting a system that can handle registrations for all forms of training was valuable in both the short and long terms.
You can take advantage of many valuable features in a learning management system before you start using it for actual course delivery.
Curious about choosing the right LMS for your organization? Join our February 27 webinar as we review the most pertinent solutions offered by the top learning management systems.