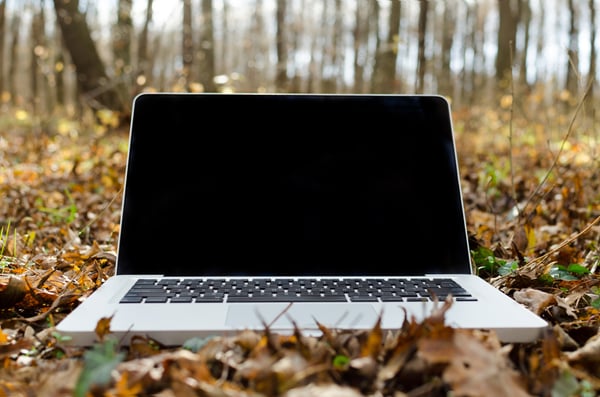 One of the key hurdles to effective learning analytics is getting access to all of your data.
In most organizations, learning data resides not only in your LMS, but in a number of other student, business or performance systems. This issue is compounded by the fact that many of these systems will be built on different devices and platforms, such as smartphones, point-of-sale machines and social networks.
The good news is that there's a web service that allows you to extract data from any system or device, in a format that's optimized for learning analysis.
Introducing xAPI.
What is xAPI?
The Experience API (xAPI) is a web specification that allows LMS platforms to communicate with each other, and with other training-related systems. Managed by Advanced Distributed Learning (ADL), xAPI is used by all the leading LMS systems including Moodle, Totara, Blackboard and more.
xAPI's open standard specifies a consistent method for defining learning experiences. At the simplest level, xAPI statements follow the Actor-Verb-Object (AVO) format, and describe specific learning moments in a stream of activity.
Some example statements include:
Steve visited "The Museum of Anthropology".

Steve completed "The Anthropology of Poverty".

Steve passed "Anthropology Quiz 1".
In the first statement, "Steve" is the Actor, "visited" is the Verb, and "The Museum of Anthropology" is the Object. Within this statement, we can add a lot more supplementary data, such as:
where the museum is

what module this visit was a requirement for

which exhibits Steve was expected to visit

how the visit fits into overall course learning objectives
This format gives xAPI a wide scope of application, allowing us to collect, analyze and understand trainee activity on any system.
xAPI data is stored in a Learning Record Store (LRS), which gathers statements from a range of sources known as Activity Providers. Each LMS or enterprise system that has been connected to the LRS is considered a separate Activity Provider.
Why xAPI?
xAPI is the leading specification in the Learning & Development (L&D) space, because it has been designed to describe events that occur in learning experiences. Essentially, xAPI is able to efficiently convey the type of data L&D professionals want to know, in a format that is suitable for the modern eLearning ecosystem.
Key benefits of xAPI include:
Integration:

xAPI is very effective at unifying data from multiple learning, enterprise, and student information platforms. This allows for centralized analysis of L&D data with

sophisticated LMS platform analytics tools

.

Flexibility:

The AVO format of xAPI statements allows them to capture a wide range of trainee behavior. Not all learning can be recorded in the form of scores on formal assessments, so having access to other ways of tracking progress is valuable.

Cross-Device Functionality:

xAPI is purely an open communication standard, and not tied to a specific set of technological tools. This means it can theoretically be implemented on any internet-enabled device.

Automation:

"Just-in-time" interventions are the holy grail of digital learning. But too often, they are not practical because critical learner data is siloed in a separate system. With xAPI, the relevant systems and personnel can be alerted to all important learner updates – whichever platforms they occur on.
Leveraging xAPI with Zoola Analytics for LMS: 3 Use Cases
Zoola Analytics provides organizations with a set of powerful data analysis and reporting tools to analyze their xAPI data. Zoola has been designed to take full advantage of xAPI's cross-platform strengths, leveraging information from multiple Activity Providers to paint a cohesive picture of training outcomes.
Let's take a look at a few ways Zoola and xAPI can transform learning analytics in your organization.
1.

Link Training To Key Performance Outcomes
For many organizations, the most important learner outcomes reside in Levels 3 and 4 of the Kirkpatrick Model. While reaction and learning data can be helpful, corporate leaders are a lot more interested in how training affects on-the-job behavior and business results.
Unfortunately, the higher Kirkpatrick levels are notoriously difficult for the L&D department to measure. One important reason for this is that most performance data is not available through the LMS. Instead, they tend to be stored in other systems, such as the Enterprise Resource Planning (ERP) or Customer Relationship Management (CRM) platforms. As a result, LMS-based analytics tools are unable to access this data.
With an xAPI-based analytics system like Zoola, learning and performance data can be centralized on one platform. This allows L&D professionals to link training programs directly to on-the-job performance outcomes, providing insight into L3 and L4 relationships.
2.

Analyze and Improve Onboarding
Of all the regular training programs conducted in the corporate world, the onboarding process is probably the most important and demanding.
Successful onboarding involves more than just filing paperwork, issuing a computer and providing network access. It also requires effective training in corporate processes, knowledge and culture.
A rigorous onboarding program will include a structured series of virtual, live and on-demand segments. Each of these segments will have its own set of learning objectives and metrics, and not all of them will be conducted through your LMS.
xAPI allows you to effectively track trainee data throughout this process. The flexible AVO structure provides a consistent reference point for measuring progress over a wide range of training formats. When paired with Zoola's powerful data visualization features, L&D professionals can easily analyze trends in onboarding outcomes over time.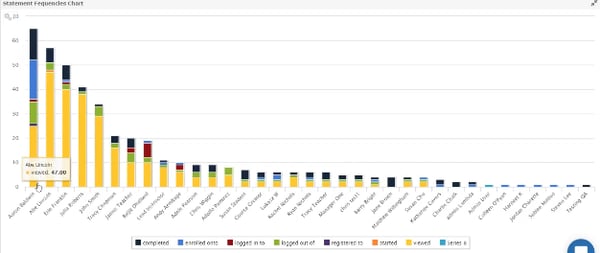 3.
Access the Other 90% in 70-20-10 Analysis
When applied to digital learning, the 70-20-10 model implies that only 10% of learning data is captured by your LMS. The other 90% consists of experience and exposure, which are mostly obtained through on-the-job activities.
Clearly, a lot of this data will be available through performance systems. But there is also a significant portion of learning that occurs through social interactions between colleagues, or live experiences in the field. In digital learning terms, these are reflected in the rise of social and mobile learning applications.
Because xAPI is an open standard, it provides an ideal solution for unifying data across social platforms and mobile devices. Zoola Analytics then allows you to collect and analyze this social and mobile-specific information, including geo-location data and social engagement.
Armed with this information, L&D professionals will be able to better understand where and how learning is taking place.
Analytics for the Modern Learner
At the end of the day, what xAPI really provides is the ability to follow learners anywhere, anytime, on any device.
In the age of the interconnected enterprise, learning is no longer an activity that can fit into neat silos. It is more important than ever to understand how your trainees are applying their new knowledge, not just in the classroom, but on the job as well.
xAPI is the technology that gets you there.
To learn more about xAPI and how Zoola Analytics can be used with it, watch our webinar: Analyzing xAPI Data with Zoola Analytics