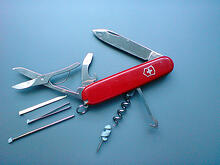 Did you know, the learning tool interoperability (LTI) standard means extensions and integrations with third-party software built for your LMS can be used with almost any LMS? LTI-compliant systems include Totara LMS for Corporate, Sakai, to name a couple—along with most K-12 and post secondary-focused LMS's. Interestingly, many of the big, proprietary corporate-training LMS's are not LTI-compliant. Not sure if yours is? We can help.
The idea for the standard—a kind of 'gentlemen's agreement' between competitive LMS products—emerged about ten years ago, and really took off with the introduction of open sou
rce systems like Moodle LMS, in 2007.
Before LTI, non-standard features and external software integrations needed to be custom built into an LMS implementation, making for a time-consuming and expensive IT headache. With LTI-compliance, features don't need to be tacked on anymore—you can go to the best tool for the job, and use it through your LMS.
The chief benefits? Your platform implementation is smaller, more agile, and easier to manage. Choosing to adopt a new platform altogether doesn't mean you'll have to rebuild all your custom features from scratch—as long as both the old and new platforms are LTI-compliant, you'll continue to be able to use the same software integrations, making the transition for LMS managers and admins much easier.
Maybe right now your corporate training program uses Blackboard (or a similar proprietary solutions), and you've integrated YouTube, DropBox, and Google Charts apps within the platform. If you decided to switch to a new, open source LMS like Moodle or Totara, the LTI standard means integrations will work exactly the same in your new system.
But the benefits of LTI compliance go further. While the earliest version of the standard promised users that they could plug in to external tools from within their LMS, versions 1.1 and 1.1.1 mean those applications can pass back an outcome to the LMS—and can truly integrate into the learning curriculum and learner assessment. LTI version 2.0 is forthcoming and will allow even deeper integrations—such that users might not even realize they're working with a third-party tool.
What does this all mean for your training or compliance program? Choosing an LTI-compliant, corporate-training focused LMS, like Totara, will make implementation and management of the specific features your training programs needs simpler and more cost-effective.
Trainers will appreciate not needing to go to your IT team with every little feature request, and IT will love how easy it is to implement integrations. In fact, over a hundred LTI-compliant apps are available, and the standard makes it easy for organizations to develop their own custom integrations.
Needless to say, the LTI standard raises the bar for simplicity, flexibility, and training quality in all compliant learning management systems.
By Farshid Zavosh