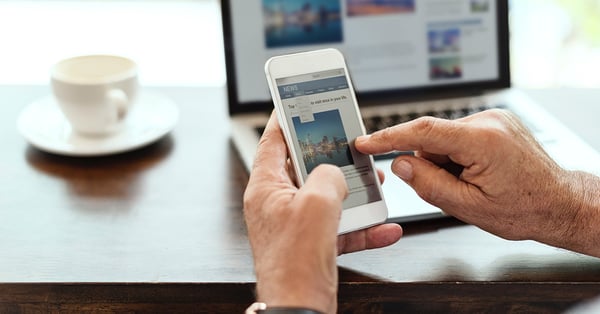 With the shipment of over 1.4 million smartphones in both 2016 and 2017, and with nearly 60 percent of all online searches taking place on a mobile device, there is more opportunity than ever before for educators to capitalize on the mobile market.
That being said, designing an eLearning course successfully for mobile devices can be a daunting task, so we here at Lambda Solutions have compiled a few tips and tricks to help you along the way.
Understanding the Differences Between Native and Web-based Content
When creating a mobile eLearning course, your first choice should be whether or not you want that course to be web-based, or to be native to mobile devices.
Each of these options has their own strengths and weaknesses. Web-based designs allow all learners, regardless of platform, to access your courses, but mobile users will likely feel that using a mobile website is more clunky than using a streamlined mobile app.
For the best results, consider developing an eLearning course hosted on a website, and then pair that website with a companion app that provides all the same courses tailored to mobile devices in order to make your mobile users feel right at home.
Understanding Responsive, Adaptive and Mobile-first Design Philosophies
And Finally, Understanding the Philosophy Behind Mobile Courses
Mobile eLearning courses have to be designed with a different philosophy than traditional eLearning courses. Here are a few tips:
Are you struggling to make successful mobile learning courses? Lambda Solutions can help! We specialize in assisting clients to integrate their eLearning courses into LMS such as Moodle and Totara Learn to ensure that learners have a flawless experience, regardless of which platform they use. Click here to learn more!


To learn more about gamification and eLearning, check out our resources:
On-demand Webinars:
Blog: