- 7 MIN READ -
Many healthcare organizations are making shifts towards big data across their services. For training and eLearning too, healthcare analytics is a great way to offer effective learning experiences.


Big Data in Healthcare
What is healthcare analytics?
Most uses of the term 'healthcare analytics' are in reference to diagnostic tools that use machine learning to process large fields of data on health-related metrics, such as molecular profiles, behaviours and lifestyle habits, and environmental factors.
Big data in healthcare is increasing alongside the general rise of algorithmic processes across industries—giving medical professionals new perspectives and opportunities in places where traditional data processing methods were previously unable to keep up.
With the amount of health-related data growing exponentially, it is likely that both analytics-based care and data-led treatments will soon become the norm.
Quick explainer: What is Big Data?
As we navigate today's digitized world, we leave digital trails behind us. These trails comprise of all the interactions we make with online resources, management systems, social and public institutions, and so on. Using an analytics engine, all available data can be aggregated and analyzed, revealing patterns that lead to actionable insights.


In an eLearning context, however, healthcare analytics refers to the eLearning solutions available to healthcare instructors and trainers.
Platforms such as Lambda Analytics give healthcare trainers enhanced abilities when it comes to tracking their learners for certification, compliance, and course progress.


Analytics, Big Data, and eLearning are very big, complicated ideas. Get up to speed and start realizing the benefits that learning analytics can provide with this free eBook:

LMS 101: Learning Analytics




Through tracking learners, big data analytics in healthcare also provides new ways for instructors to increase course-efficiency.
The wider goal of learning analytics in healthcare is to:
Produce integrated training courses that reduce time away from medical practice
Get information to practitioners in more efficient ways
And result in the same or better learner outcomes for a reduced investment.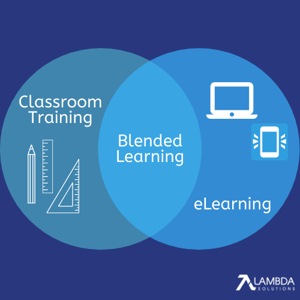 (Source: Lambda Solutions)
What's the connection to blended learning?
Simply put, blended learning strategies are an effective way of realizing these wider goals of healthcare analytics.
Today's millennial (and younger!) medical trainees are tech natives, who naturally turn to eLearning for resources and support. Just like their patients, they require personalized, on-demand assistance, relevant at the point of need.
This is the core of a blended learning approach—combining eLearning with traditional instructional components, capturing the best of both worlds. Learners can still have direct content with experts and tutors, while at the same time self-directing their learning, and drawing on online resources as they practice.
In the healthcare space, blended learning will often involve a combination of eLearning activities:
LMS-hosted courses
Scenario-based training
Discussion forums and group activities

And more traditional classroom-based modules:
Group seminars
Practicums and labs
One-on-one tutorials and performance reviews
Lectures
Scroll down for specific examples and advice on how to implement blended learning in healthcare contexts. Or, try our free white paper on Blended Learning in Healthcare: A Toolkit for a Blended Learning Approach in Clinical Training.
What do big data analytics and blended learning in healthcare look like?
Here are two healthcare analytics case studies, demonstrating how real-life organizations are implementing blended learning and analytics within a healthcare context.
1. iMedX - Using analytics reporting and blended learning
iMedX is a 5000+ person company based out of Atlanta, GA, which provides medical transcription and coding services around the world.
Although iMedX were running a self-built eLearning platform, their system was not analytics-ready. This meant that fine-grain information was difficult to source for both instructors and learners. It also resulted in a frustrating amount of administration—such as manually generating certification and learner reports.
"We wanted [our learners] to see question-level details... we didn't just want them to see a score at the end."

- Rachel Jorgensen, iMedX Coding Support Manager.
Solution: By switching to an analytics-ready and more blended learning-friendly LMS, iMedX were able to increase the detail of data available to users.
Using Totara Learn LMS reporting, trainees were more able to see and learn from previous errors, and instructors could track performance indicators, such as time spent on courses.
Making the switch to Totara also meant that learners upped their independent and blended learning time, as they could now self-register for courses, navigate the curriculum, customize their learning space, and continue post-exam learning.
Read the full case study here: iMedX Creates Customized Reporting and User Insights With Totara.



Learning plans in Totara (Source: Totara Learn).
2. MedCerts - Using analytics reporting and adaptive learner pathways
MedCerts is a distance learning organization that runs courses and certifies over 1000 learners annually for specialized Healthcare and IT roles.
Before switching to a healthcare analytics program, MedCerts used two distinct training platforms, both pretty rigid and offering minimal customization. In addition, poor reporting capability meant MedCerts admin and instructional staff were required to manually compile reports on student progress.

Learner analytics "allowed us to create custom road maps for each and every student...From the day they enroll, progression paths orient them with the LMS, through to their training, and all the way to when we prepare them for the final exam."

- Dana Janssen, MedCerts COO.
Solution: Using Totara's Learning Plans, it became possible to create learning pathways for students, making content more relevant, appealing, and easily accessible.
To alleviate the time-consuming task of manual bi-monthly progress reports, learner analytics were used to automate the gathering and compiling of learner data. Using Totara, reports were populated with grades and feedback, and automatically sent to the relevant persons.
Read the full case study here: Lambda Solutions Helps Medcerts Reduce Learning Costs.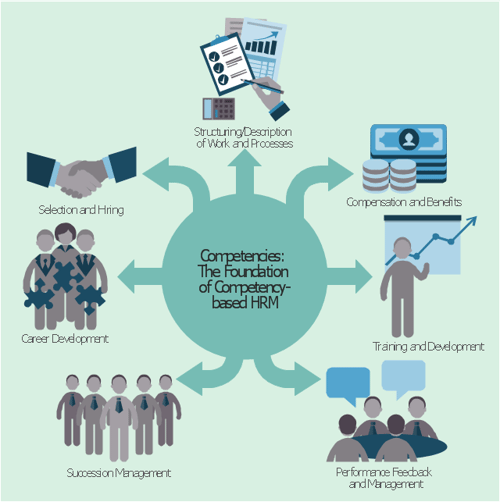 An example competency framework for HR managers. Competencies are at their most beneficial when super-relevant to individual roles (Source: conceptdraw.com).
Which eLearning strategies and features does blended learning enable?
With blended learning and analytics comes on-demand access to resources. Not only does this contribute towards the trend for lifelong study, but it also makes it easy to implement several contemporary training strategies, including:
1. Competency-based training.
Competency-based training (CBT) is a commonly used approach in healthcare training, primarily because it helps close the gap between theory practice.
CBT collates a role's various skill requirements into groups and then assigns learner outcomes to each group. These outcomes are the competencies required for certification.
Like many kinds of practice and review-style strategies, big data analytics in healthcare boosts competency-based training by improving the tracking of competencies and learner progress. With analytics, instructors are able to see how they can better support individual needs.
Using an LMS also allows learners to spend more time practicing competencies through interactive activities and responsive feedback. Our white paper on What Healthcare Organizations Stand to Gain from Competency-Based Learning is the go-to resource for an in-depth rundown on CBT.
2. Just-in-time Resources.
Because blended learning incorporates face-time and classroom sessions, it's great for helping learners develop a baseline of knowledge. But beyond that, the eLearning elements of a blended curriculum are perfect for more advanced learners, who require point-of-need info as they make the transition into practice.
As medical trainees begin to transition out of the classroom, online content can help ease the process by offering reminders and support through accessible channels such as mobile devices.
Topping up on knowledge has proven benefits. According to one study, taking a 15—30-minute eLearning module prior to a live group activity can increase outcomes by ensuring everybody is at the same level of understanding before the task begins.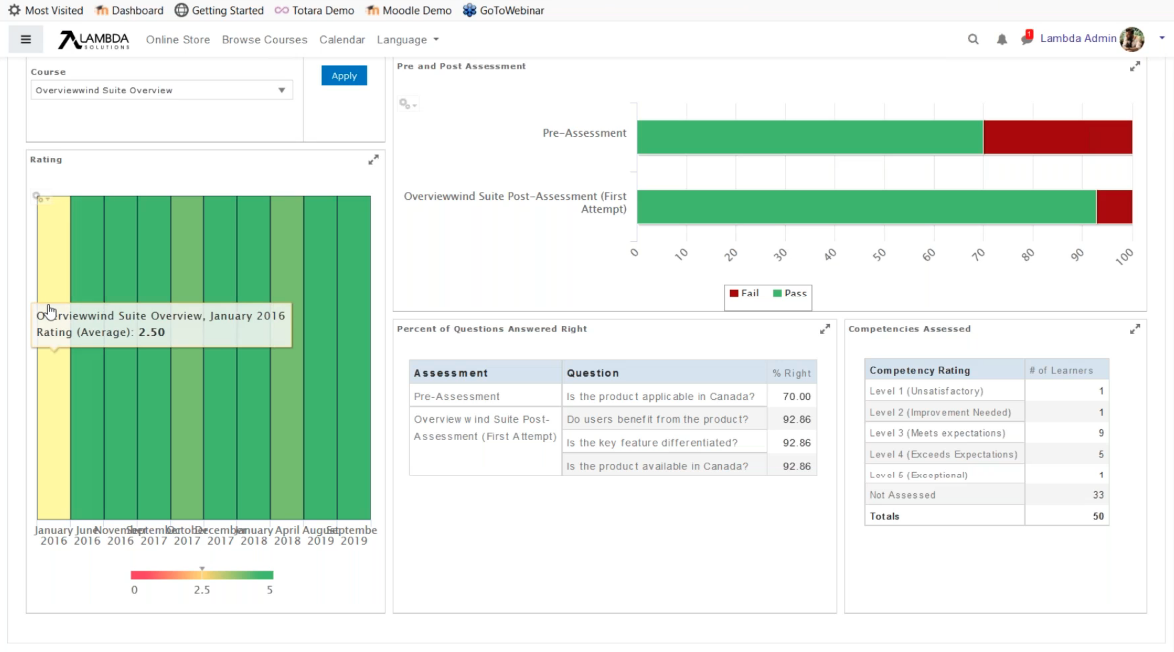 A Learner Effectiveness Dashboard built using Lambda Analytics Dashboards.
3. Analytics-led instruction.
When a major portion of learning is taking place via an eLearning platform, it becomes possible to leverage the data collecting there.
With platforms like Lambda Analytics, instructors can perform their own smaller versions of the huge big data healthcare projects we covered at the start of this post.
Visual tools, drag-and-drop data, and ad hoc designers are all features designed to help course admins understand their learners at a greater depth. Changing the way data is presented may reveal insights, or simply allow you to identify the most relevant baseline measures for your program.
Using analytics to create Key Performance Indicators (KPIs) helps blended learning because it shows course designers exactly what they should be aiming for—optimized content = savings on healthcare trainees' precious time.
4. Gamification.
Whether in the classroom or online, bringing game mechanics into training helps produce practical, interactive resources.
Scenario training, for example, allows healthcare professionals to put themselves into live-action, high-risk situations, where real-life training is either rare or not possible.
A 2011 Academy of Medicine report found that simulation training—especially in healthcare settings—is "superior to traditional clinical medical education in achieving specific clinical skill acquisition goals."
This scenario game by Ryerson University School of Nursing was created to support community nursing trainees in preparing for various scenarios they may deal with on home visits: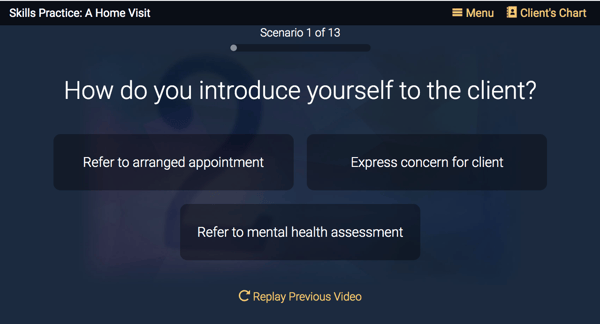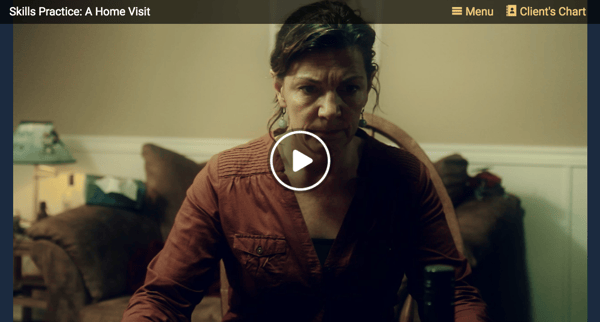 Play the game here! (Source: Ryerson.ca).

For healthcare professionals, we all know the learning never ends. By using big data analytics in healthcare, instructors and course designers can support medical professionals throughout their entire learning journey. See our Lambda Solutions for Healthcare information page for more.