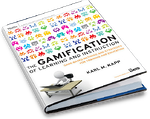 Rote learning--using a mechanical or habitual repetition of something to be learned--is dead. Gamification is the new star in training. The business world is convinced: a 2011 Gartner report suggested 70% of Global 2000 organizations would be using gamified applications by this year. We're in a new era of play-based training—fun, video-game inspired learning that not only "hooks" learners but better prepares them with the skills they need to perform their jobs well.
The case is simple and compelling: games engage some of the most basic human instincts, and people like playing them. In fact, according to a report by Spil Games (PDF), 1.2 billion people in the world were playing video games last year. That's 1.2 billion people electively engaging in skill mastery. Enjoyable, meaningful, self-motivated, practice and learning. It makes sense to empower other forms of education with those same, incredibly attractive, features.
But how does your organization specifically benefit by adopting a gamified approach to compliance or training programs?
You engage learners—effortlessly. Gamification adds an element of play to training, and play is fun, right? Fun learning doesn't require the same force-yourself-to-learn-because-you-have-to willpower of traditional corporate training techniques. Play also incorporates competition, an important driver for both better performance and team building (even when learners are competing with each other).
You add realism to the learning—as in, less theory and more hands-on practice. A well-known example of this is the flight-simulator training pilots undergo. Simulation means learners practice the actual skills they will be using on the job, versus just taking in theory or learning in the absorbing a second-hand account of what the experience of using those skills is like.
You increase knowledge retention. Games typically involve repetition and practice, which of course is the idea behind old-fashioned rote learning (okay, so maybe it's not quite dead). What you repeat, you remember.
You get better, faster feedback. Games have winners and losers—a straight-forward, pass-or-fail type of feedback for both trainers and learners. But using the right technology, gamification can also provide real-time analytical data about how the learner's abilities develop as they progress. This gives a sense of both strengths and weaknesses, and where more work needs to be done to attain the necessary level of skill.
You get rewards/recognition. Whether it's points, certificates, or badges (e.g. Mozilla open badges), gamification gives the learner a record of their learning, and trainers a way to incentivize and track learners' achievements.
How can you gamify your corporate compliance or training program? The right software or application technology helps, but it can be as simple as defining game levels, in relation to tasks to be completed, and offering rewards for successfully completed tasks.
But the gamification of education and technology is a long-term trend. While you might not immediately incorporate it into your organization's training programs, you'll want to keep it in mind, over time, as you update old or develop new content. The investment in gamification could pay off in a more engaging and effective training program.