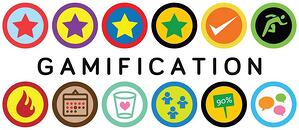 Co-hosted with Limestone Learning, our webinar: Gamify your eLearning! 6 Ways to Incorporate Gamification into eLearning was one of our most successful to date so we thought we would share the learning outcomes in a series of articles. We believe that the webinar had high attendance and little drop-off because now more than ever, trainers and educators are seeking means to make online learning and training more engaging. With free access to interactive social platforms like Facebook, Youtube and Twitter—our expectations to be engaged and entertained are high. We welcome you to watch the webinar and continue reading for a quick understaning on the difference between gamification and game based learning!
While gamification techniques have been formally used in learning since 2002, the practice has only recently begun to gain mainstream attention in the past four years due to the marrying of technology and learning. With technology and the ability to easily learn through online courses and training, gamification has been the next eventual step to engage learners in the learning process. Let us help get you there!
Over the next few weeks, our gamification series will leave you ready to begin incorporating gamification into your eLearning courses and we assure you that it will be a lot easier than you think. To begin, it is important that you have a clear understanding of gamification and its distinction from learning games.
Gamification vs. Learning Based Games
Gamificaiton is the practice of using game design elements, game mechanics and game thinking in non-game activities to motivate participants. For the purpose of this article we will be discussing gamification in eLearning but there are many examples of how gamification motivates behavior in loyalty programs, marketing and even recycling programs!
Gamification is different from Learning Based Games because it takes the entire learning process and turns it into a game. To do this instructional designers will use game design elements which are digital objects and elements that make an experience game like. Examples of gamification design elements include: fixed rules, negative consequences, ranks, player effort, reputation and variable outcomes. Instructional designers will also use game mechanics and game thinking. Game mechanics are rules and feedback loops which include tactics like point systems, leaderboards, levels, rewards and time constraints. Game thinking, on the other hand, aims to create immersive experiences like storytelling, challenges and requests.
This is where it gets slightly confusing because learned based games also use the aforementioned gaming mechanics, elements and thinking. The difference is that learning based games will turn a singular learning objective from an eLearning course into a game whereas Gamificaiton takes the entire eLearning process and turns it into a game. Below is a table that helps to further distinguish Gamification and game based learning if you would like further clarification.
In the next few weeks we will be delving further into the practice of Gamification in eLearning. It is required that you have a learning management system in place to offer gamified online training and/or learning. Contact one of our experts today to find a talent and learning management system that is the right fit for you.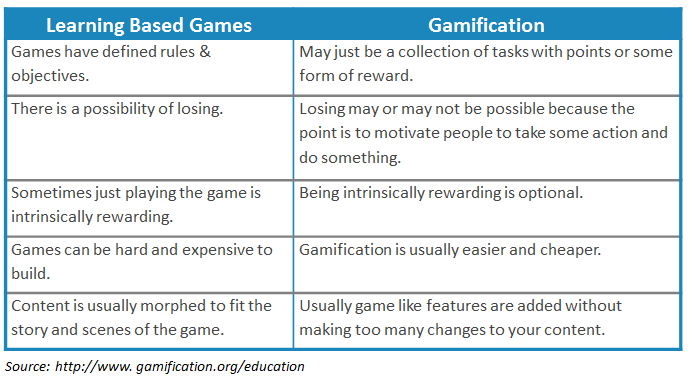 If you want to learn 6 ways to implement Gamification into eLearning, check out our webinar: