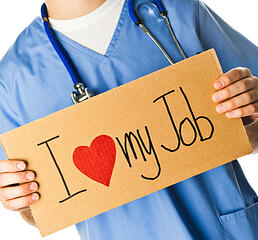 With Obamacare in full effect, US Healthcare institutions are experiencing a surge of demand which is putting strain on all employees. While it is amazing that healthcare is becoming more accessible in America, hospitals are in need of drastic transformation to keep up with the change. This is keeping HR Healthcare Professionals extremely busy as they look for new ways to reduce costs, improve patience care and increase patient safety.
HealthcareSource and the American Society of Healthcare Human Resources Administration (ASHHRA) recently partnered up for their 5th annual HR Initiatives Survey. The survey drew some really interesting results that we will be discussing in depth today.
Areas of Cost Reduction for HR Healthcare Professionals
According to HealthSource and ASHHRA, the top two initiatives for cost reduction are streamlining HR processes and improving employee retention. To be precise, they found that nearly 75% of respondents are looking for further ways to streamline HR processes and approximately 70% of respondents are looking to improve retention rates. How exactly are HR Healthcare Professionals working at streamlining processes you ask?
Due to the fact that there is an increasing amount of compliance standards to adhere to, HR professionals in healthcare are looking for ways to automate compliance processes. What does this look like? Well for starters, it is becoming popular for compliance management adherence to be embedded right into healthcare learning management systems. This means that compliance progress can be tracked and sophisticated reports can be automatically sent to HR managers so they know which compliance tasks have been completed and which have not.
Another area where processes are being streamlined is in hiring procedures. With retention being a huge problem in healthcare, HR professionals can now administer online screening tests that filter through employees who rate high for probable turnover. Additional tests that are being administered to screen employees are competency tests which provide hiring professionals insight into areas where candidates will excel and areas where they will be at a disadvantage.
How to Increase Retention in Healthcare
As aforementioned, HealthSource and ASHHRA also found that the second greatest area of focus for HR professionals is strategy to decrease employee turnover. Dr. Frederick P. Morgeson from Michigan State University estimates that the cost of turnover for a single employee is equivalent to their first year's salary. This is amplified considering job switching in healthcare is one of the highest in the US—it is more than double the national average of 15.6%. Many believe that this high turnover is due to a shortage of healthcare workers but ThinkShed research has found that it is actually due to extremely "poor human capital management in the healthcare sector". Healthcare employees are typically overworked, underappreciated and poorly paid. With healthcare budgets tightening, pay increases are unlikely. Where Healthcare HR Professionals can be focusing their efforts though, is on employee engagement and appreciation strategies. Our blog post tomorrow will discuss effective strategies to do this which can be applied to not just the healthcare sector, but any industry experiencing high turnover.
For more information, check out our webinar for 5 Ways to Reduce eLearning and Corporate Training Costs. A recent study by Bersin and Deloitte shows that corporate spending on training has increased by 34% while employee engagement levels have dropped to 24%. Does your organization have the right eLearning in place?