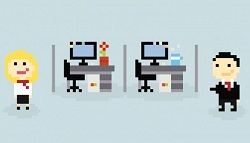 We've previously discussed how gamification is changing corporate training. But what does a gamified course actually look like? And how do gamified course results compare with those of a more traditionally designed course based on the same content?
The Gulf Agency Company (GAC), a Dubai-based company located in 40 countries with 10,000 employees, recently modified its introductory Moodle LMS-based 'Introduction to the GAC World' e-learning course from a more typical structure to a gamified format. Here's a look at how they gamified their course:
'Challenges' and 'levels' instead of activities. Each new week in the 5-week course presented a new course level, which comprised two challenges: study material with embedded questions, or material followed by a quiz. Access to new content was limited based on level completion.
'Points' instead of grades. Grade weighting was converted into points, though still based on a percentages with a pass/fail mark of 70%.
Progression badges. As learners passed each new level, they earned badges:
Level 1 'Applicant'
Level 2 'Newbie'
Level 3 'Apprentice'
Level 4 'Skilled'
Level 5 'Master'
Treasure hunt. An additional challenge ran throughout the course, with 'extra mile' quizzes and other surprise content popping up to offer learners the potential to earn extra points.
Peer results scoreboard. Top scores—taken from other participants in the course—displayed on the main course page.
How they tested it
To see how the new format would fare, GAC's training unit ran both typical and gamified versions of the course at the same time, with the same number of participants. At the end, feedback was collected from facilitators and participants of both groups.
The results
While participants in the typical version were more likely to achieve a score of 80% or above, both versions saw overall success rates over 80%. In feedback, 87% of participants in the typical version indicated the course was either "very good" or "excellent"; 93% of participants in the gamified course indicated the same. Interestingly, 25% of learners in the typical version suggested the course "exceeded their expectations", while 50% in the gamified version rated that version the same.
Learners in the new version of the course did, however, face a significant challenge understanding the relevance of certain gamified elements—the extra treasure hunt content, and the badges.
Facilitators felt explicit instructions and descriptions—giving a bigger picture look at how the course will progress—and a reward system with more tangible benefits would improve the slow-to-build engagement in the gamified course.
Experiment to get it right
The results from GAC's test suggest the only way to find the 'right' way to gamify corporate training is through further experimentation. And some key components of an effective e-learning course—explicit instructions, genuine and clearly-communicated value to the learner—stay the same, regardless of course structure.
Summarized from Gamified Moodle Course in a Corporate Environment by Anna Krassa.