Warning: The following article contains sexual innuendos and adult-relationship puns that may not be suitable for a sensitive audience…
Below you'll find the 7 most powerful tips for improving the effectiveness and quality of any eLearning programs or courses hosted on your Learning Management System. Keep reading to see how you benefit from having effective, efficient, and downright sexy LMS administration, or click below to jump to the section that will benefit your eLearning the most:

Yes, that's right: Learning Management System administration is sexy.
And while getting your LMS 'sexy back' is essential for the health of your enterprise, it's also an important talent and performance strategy that employers will want to leverage to seduce and retain the 'hottest' LMS administrators.
The reality is it's hard to attract and retain good LMS administrators (for some background information, read one of our articles, What an LMS Administrator Does, and Why Your Organization Needs One. Demand is high, supply is low, and the majority of experienced eLearning or LMS professionals just aren't interested in doing "administrative" or systems/database work.
If your organization delivers learning or training to clients or employees, your LMS is a vital business tool, and its demise or success will directly impact your business. Viewing LMS admin work as "junior" or coordinator-level is doing a disservice to your Learning team. LMS work is highly strategic work: implementation, API development, data migration, cross departmental collaboration, knowledge transfer, course strategy and communications consistency all have a prominent seat at the table.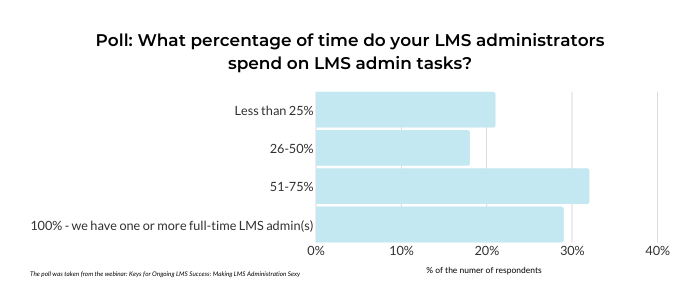 Analogies are great learning tools, so let's take this analogy even further. Think of the laws of attraction: If you can successfully woo great LMS admins and show you value their work, you'll get a passionate LMS team in return, and much more.
In the words of politically charged sex columnist, Dan Savage, employers should be "GGG" with their LMS admins: Good, Giving, and Game. Attract, retain and reward your LMS administrators—keep them happy! If you have an LMS (as most organizations do) LMS management is something you'll have to spend resources on, whether you like it or not. You might as well hire the right employees – those special people who are tickled pink by clean data to do the job right.
Here are my top 7 tips to get your LMS admin 'sexy back':
1. Accurately measure LMS admin tasks and time spent (effort counts)
Understand the resources needed to administer the LMS on a daily basis. Track the hours, write the tasks into job descriptions and make them as seductive as possible.
Acknowledge that the role of LMS helpdesk might not be everyone's favourite, so share the love and rotate that responsibility throughout the team. By LMS Admin I mean any routine or extraordinary tasks associated with LMS user data, support, course publication/maintenance or back end settings, reports, etc. For some organizations, this might even mean costing and contracts with LMS vendors. In my experience, LMS administrators often undertake this role off the side of their desk. Here's where seduction comes in: Employers need to show candidates and employees that they value LMS administrative work.
2. Design the admin experience and admin interface (AX/AI)
K.I.S.S. -- Keep It Simple, Silly! Choose or configure your LMS based on the abilities of your admins. If you have a new or transitioning admin team, keep it simple. Choose an interface that's intuitive for admins as well as learners. Administrators are users too, so don't forget to select or configure your LMS to enable a great administrator experience in addition to a great learner experience.
3. Designate clear LMS ownership (Oh won't you be my baby…)
Ensure someone or some department adopts the LMS as their "baby". Because they'll truly care about it- they won't get it and then neglect it.
You need someone to be 'all in' for that long-term relationship. There are tools out there to help, and having a clear hierarchy for your LMS admins and their roles and responsibilities will ensure good governance.
4. Build the right admin team (Size matters…)
Think about the ideal size of your LMS admin team: Not too small, not too big, and just right. Most admin teams are a threesome: one clear LMS owner or sponsor, and two administrators. Any more and workflows get a bit messy. Any fewer and it's a stressful relationship.
5. Be consistent with course publishing (Get to know what works… then do more of that)
Don't invent the wheel every time you publish a new course. The beauty of having a solid relationship with your LMS and your LMS admins is that you can build on what works, together. Spend the time developing course templates (course outlines, publishing checklists, and even an LMS style guide) to get things going strong.
Make it count: Spend more time on what matters most—the learning content and learner experience—instead of LMS administration.
6. Plan ahead for business continuity (and avoid a bad breakup)
Avoid a broken heart by planning ahead and distributing the knowledge, skills and experience in your team, and documenting the learnings as you go. Because breakups happen: good people leave, c'est la vie. Use a real-time resource as your single source of truth; make it easy for your admins to keep it up to date, and you'll avoid the heartache of training someone new.
7. Embrace regular audits (For some people, schedules and audits can be aphrodisiacs…)
Map out a clear resourcing strategy for your Learning and Development or LMS admin team. Although it might not sound sexy at first, finding that magic chemistry between employers who value this work and employees who obtain greater job satisfaction overall makes good business sense.
It takes effort to keep the fire alive in a long-term relationship; the spark and spontaneity tend to die down, and you need to put more intentional effort into it. Same can be said about any system:
Leah Chang is an eLearning Strategist, LMS geek and sometimes blogger. She combines her experience as an educator and marketer with a curious mind for learning technology, systems design, and improving the user experience (and that includes learners, administrators, and instructional designers!) She consults for non-profits, national companies and regulatory bodies as the owner of Leah Chang Learning Inc. Follow her on Twitter and LinkedIn.