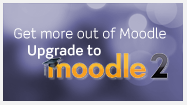 Moodle users are constantly adding and updating new modules to improve its capabilities. We've given our recommendations about the best modules for Learning Engagement and Course Presentation and User Experience. Today, we want to focus on the best modules for Course Creation and Management.
Wait a minute. Why do I need these modules for my Moodle LMS?
The Moodle LMS is infinitely configurable, but that means the core open source software might not let you build and manage courses the way you want until you grab these modules. Not to worry, though – just like the rest of Moodle, these modules are open-source, too.
Recommended Modules for Course Creation and Management
1. Drag and Drop File Upload. This allows you to drag files from your desktop into a Moodle course. As one recent reviewer put it (with an extra helping of cheese) "this is really quite cool and will save some people oodles of time (or is that Moodles?) of time.
OK, drag-and-drop functionality may not seem like something amazing at first thought, but if you're old enough to remember email and desktops before this kind of functionality became standard, you'll quickly realize how much of a time-saver it is. This module isn't so much "recommended" as "essential, should have been built into Moodle in the first place but fine, let's add this". Note that it works with recent versions of Mozilla Firefox and Google Chrome, but not with Microsoft Internet Explorer (You're not still using IE, are you?).
2. Configurable Reports. We've mentioned this module before in the context of tracking and managing student results. It's highly recommended for Moodle 2.0 for administrators and teachers because it helps them track all kinds of information, such as:
Where students are geographically located
Students' academic progress over a timeline
How may times students have logged into a specific activity
That kind of information comes in very handy for schools and institutions that may offer dozens, if not hundreds of courses, to a large student body. In the short term, teachers get a handle on who their students are and how they are progressing in the class. In the long term, you can use this data to adapt course materials to appeal to certain demographics that may tend to choose types of courses in blocks, or to groups of students who tend to learn better in certain paths.
Do you find other modules useful for Course Creation and Management? Leave suggestions in the comments. Or if you want assistance in installing or customizing these Moodle modules, contact us.