The training industry's shift to online learning is nothing new to those working within it. These changes were hastened dramatically by COVID-19, which left many providers scrambling to adapt to keep their businesses afloat. Online learning is here to stay — its advantages have become clear, and those that don't embrace it are leaving money on the table.
Training companies have an opportunity to embrace this change and create meaningful change in their organizations. In this new landscape, instructor-led, on-location training simply doesn't make sense. With a digital-first approach, training companies can reach new economies of scale, free from constraints like the cost and physical limitations of classroom sizes, instructor availability and printed learning materials.
In this document, we'll outline the advantages of a digital-first approach, using an eLearning platform. Then we will offer a detailed, step-by-step guide to planning your digital transformation and beginning your search for a suitable eLearning platform vendor.
Bias Warning
This article has two primary purposes:
1. To walk you through the process of selecting an eLearning platform
2. To convince you to choose us
To earn your trust and have you consider point #2, we've placed a heavy emphasis on #1, by making this a valuable and transparent guide.
Sure, we're biased — but we're also informed by 20 years' experience helping organizations, across a wide range of industries, implement and make the most of online learning. We know eCommerce, learning management systems, and analytics inside and out, because we've brought training content to over 2 million learners worldwide across over 600 implementations.
But despite our expertise, we'll be the first to admit we're not perfect. We want to help you make an informed decision, so in this guide, we'll even admit to some of our own weaknesses and tell you exactly how to consider and assess our direct and indirect competitors. Not everyone is a fit for our solution, and that's ok.
Table of Contents
The case for a digital-first approach
While the rise of online learning was influenced by the pandemic, it's just one part of a massive global shift towards remote work. The accelerating rate of technological advancement has created a marketplace in which companies of all kinds expect to be able to access training from anywhere, at any time.
Spurred by the urgency of the pandemic, you have likely already achieved some degree of digital transition, but it may have been rushed and disorganized — often at the cost of efficiency and learner outcomes. You should be commended for your ability to adapt and survive this sudden shift to this point. Now it's time to think about equipping yourself properly for these new economic realities. You did what you had to do in the moment to keep up with an unprecedented rate of change, but to fully reap the benefits of a digital-first model, a streamlined, dedicated solution is required. The time to embrace a digital-first approach is now.
Digital transition should be taken seriously and approached in a careful, measured way, owing to the considerable value it can offer training companies. Companies should begin by assessing their current model, including any prior steps towards transformation. Then, they should ensure everyone on their teams is internally aligned and in support of transition, especially those in upper management and executive roles.
Finally, companies should be ready to invest time and energy into finding the tech partner who most closely aligns with their needs. Naturally we hope you'll choose us, but we are willing to take the risk of teaching you how to shop around and what to look out for.
Before we get to the tool selection process, we'll give you some detail about the current state of the training industry (see Industry Snapshot below) and the many ways you can transform your business with the right tools.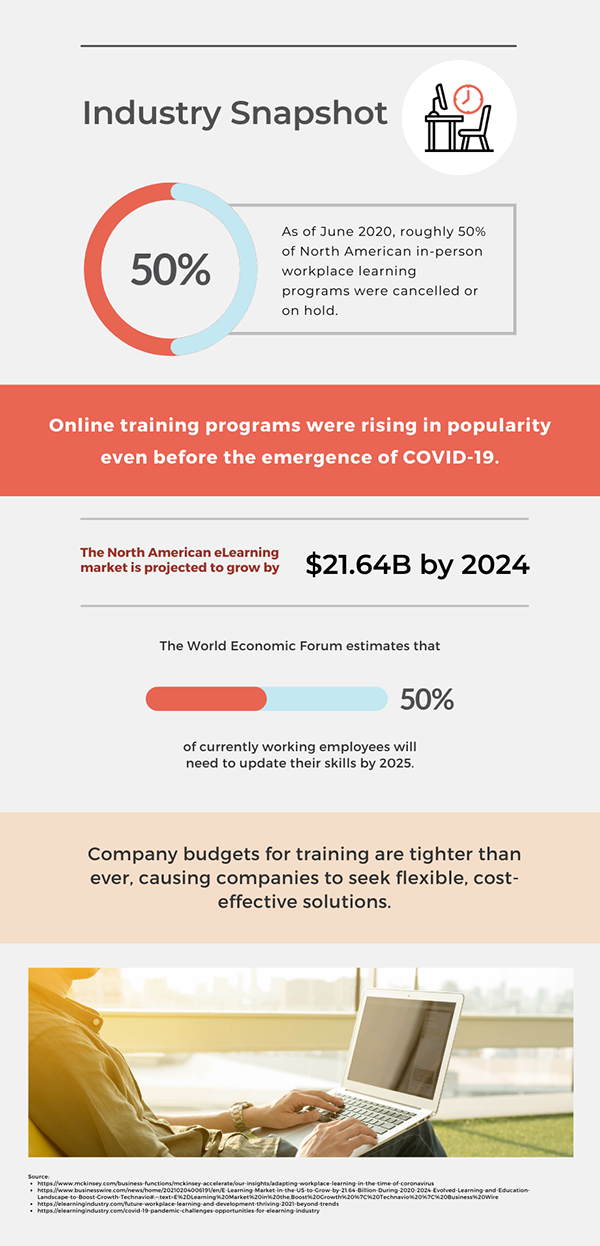 A new model for training
In this new landscape, in-person, instructor-led programs are at a disadvantage. Overhead costs like printed learning materials, classroom rental, and travel costs are quickly starting to look like needless luxuries, or even relics of a different time. Furthermore, these programs are inherently limited by their physical nature — it's simply not cost-effective, or even practically possible, to deliver this type of education to dozens, hundreds, or even thousands of people.
To respond to the market's new needs, digital distance learning is quickly becoming the standard — no longer another option, but a necessity that training companies must offer in order to compete.
Providers who take advantage of technology will lead the new training landscape, delivering education to the people who need it at scale, in line with consumer preferences, and in a time- and cost-effective way.


The challenges of digital transition
The incredible pace of this transformation has brought growing pains to many training companies. With instructor-led training off the table, most providers have gone digital, but these transitions have been spurred by the urgency of the pandemic, rather than thoroughly planned out and guided by learner needs.
To figure out a way to keep delivering their programs during a global pandemic, many companies have cobbled together a "digital strategy" using multiple tools they're already familiar with, like PayPal, Zoom, Powerpoint, and spreadsheets. While some have made these work in the short term, this approach cannot offer the level of service most companies are striving for. It's difficult for both your business's staff and clients to use software tools that don't work together and weren't designed with training in mind.
Juggling multiple tools leads to wasted time on administration, poor customer service, and a higher rate of human error, since staff and trainees are navigating different systems for the payment, content, and assessment portions of their training experience. Poor project management strategy costs organizations millions of dollars every year — one study found that on average, 12% of project budgets are wasted due to poor management and operational inefficiency.
In the training space, it's unfortunately the learners that tend to suffer from these slapdash digital strategies — and of course, that means lower enrollment, poorer outcomes, and negatively impacted profits.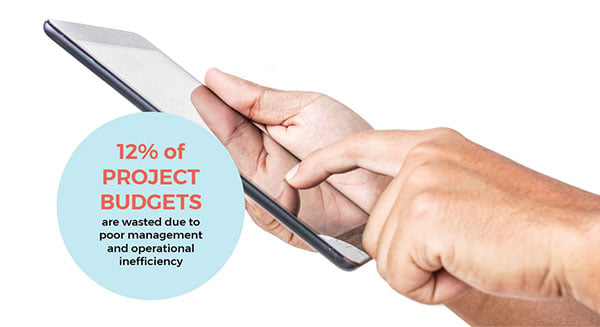 The opportunity for training companies
The importance of shifting to a digital-first model is clear. Not only is online learning the future of training, but it offers growth opportunities to training providers at magnitudes greater than instructor-led programs. The potential to reach entirely new target markets, expand from consumer-focused into B2B training programs, and broaden their overall range of course offerings are just some of the exciting new avenues available to training companies who embrace digital transformation.
This is a uniquely valuable time for training providers who are embracing virtual models. While the rising prominence of digital learning is clear, the industry as a whole is still in the early stages of transition, meaning those who adopt it now still have a chance to grasp that first-mover advantage.
It's not just about a more scalable, profitable business model for training companies— it's about providing real value to their customers by helping them keep up with their own industries and move forward in their careers.
The world of work looks very different than it did yesterday, and learners need self-directed, flexible education to adapt. Even before our current global shift towards remote work, the landscape was changing rapidly — technology's acceleration has necessitated career-long, self-directed upskilling, and individuals are taking a more dynamic, self-determined approach to their careers, as side-hustle culture, the gig economy, and much more frequent job-hopping have become the norm.
All these trends require easy accessible, web-friendly training — it's no longer about getting a job fresh out of college and staying there until retirement. Today, workers want to keep gaining more skills that will drive their careers forward, like project management, and data literacy. Traditional universities and colleges are usually not best-suited to this kind of learning, leading to increased demand for flexible, self-directed learning — creating massive opportunities for training providers.
As training becomes more important, there will be more and more choices for learners, and more competition among providers. Training companies that offer flexible, accessible and affordable models — while still delivering serious results — will stand out and see themselves become the first choice for learners and companies in need of training programs.



A better world for providers and trainees
Online learning, and the platforms tailored to delivering it, offer real, tangible benefits around payment processing, administrative burden, progress measurement, learner experience, and more. Significantly, the enhanced flexibility of distance learning allows learners to adapt their training to the demands of their own careers and personal lives.
Adult learners are busy — these are not university courses, attended by young people who are studying full time. Online training can be accessed anywhere and at any time, allowing trainees to keep up with coursework in the evenings from home, at work during lower-volume periods, or however best suits their needs. Similarly, trainees can move through online learning at a pace that works best for them — there's no rigid, prescriptive schedule they need to comply with, as there would be for in-person classes.
Making the transition from in-person instruction to eLearning benefits both learners and providers. Dedicated training platforms integrate payment, coursework, performance measurement, customer records and more into one platform — and that means a seamless, lower-stress experience for trainees, leaders, and administrators.


Measurable results, better outcomes
The enhanced ability to measure learner outcomes is one particularly important advantage of digital-first models. Since all learner activity occurs within the platform, it's much easier for instructors to quantify and analyze performance, then use those findings not just to better guide learners, but improve the programs themselves.
Measurable results don't just benefit learners — they give training providers concrete data that demonstrates the value of their programs. Providers can focus on outcomes, emphasizing their content's effectiveness with hard stats on how many trainees completed the program and how they performed. This gives them an edge over competitors who are still stuck in the instructor-led, more difficult to quantify classroom model.
Furthermore, the cost-effective nature of these programs means there's a much lower barrier of entry to creating and launching new ones. For learners to get real value from training programs, it's incredibly important that they see themselves as the target market, and feel that they're getting a tailored, personal experience that's been carefully prepared to meet their needs and industry. With online learning, it's more realistic for providers to offer many different unique courses and cohorts, all designed around their customers' needs.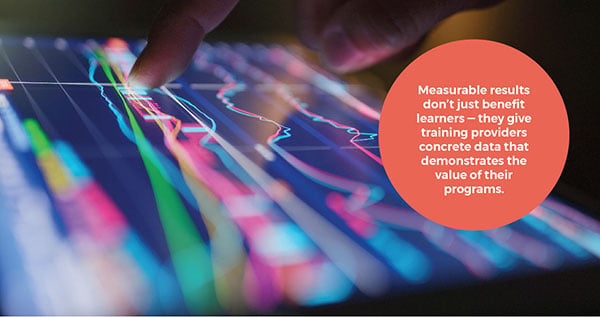 Compliance training: a unique case
Compliance training is an excellent example of how digital-first models can benefit the training industry.
Many of the same advantages apply to compliance training as other types of employee education. But here, the stakes are even higher. The goal of compliance training is to ensure employees' safety, and that the businesses they work for are obeying industry regulations. Beyond the obvious importance of worker safety, compliance is a high-stakes issue for businesses themselves. If organizations lapse or fall out of compliance with safety standards, they make themselves vulnerable to fees, delayed or impacted operations, or even prohibitively costly litigation.
There are some key differences with compliance training when compared to typical training programs. For one, it requires new recordkeeping and must be connected with and recognized by the accrediting body in question. This can be more complicated than meets the eye, as accreditation might require an ongoing record of prerequisites, often referred to as a learning path.
eLearning's flexibility and adaptability is one central way that it promotes and increases learner engagement. As we described above, for learners to get real value out of training, it needs to feel relevant and personal to their work — generic, cut-and-paste programs aren't going to cut it. When employees feel seen by their programs, they're more likely to give their full attention to the material and come out of their compliance training program armed with new knowledge that they're excited to put to use.


Training designed around learners
Virtual learning is also a better complement to the daily lives and careers of most workers who are undergoing compliance training. Rather than asking these busy, stressed professionals to take hours out of their week driving to classes, then sitting around listening to an instructor lecture, trainees can fit in learning around their own schedules.
In this context, it's realistic for employees to keep informed of the standards they need to comply with on an ongoing basis, as they continue to be updated and evolve. In the old, instructor-led model of compliance training, teams would likely have time for education blocked out once or twice a year — not exactly a recipe for professional growth, or consistently up-to-date safety compliance.
Because learners can move through compliance courses at their own pace, eLearning also promotes retention and absorption of this important information. This style of training is perfectly suited to microlearning, a trend that has recently risen in prominence as a great fit for content that learners might see as drier and less immediately engaging. This way, trainees can move through compliance training programs in small, bite-sized chunks, avoiding information overload — that feeling of 'hitting a wall' when struggling to absorb challenging material.
Online learning is also well-suited to incorporating multiple instruction styles. Within the same program, providers can include delivery methods like video content, engaging audio, beautiful infographics, written material followed by quizzes, and even gamification. While this would be challenging — and expensive — to realize in a traditional classroom format, it's easy and cost-effective as part of an online course. By giving learners many different ways to absorb the course material, companies can make their compliance training inclusive to all their employees, no matter their learning style.


Compliance tr
aining: two examples of learning paths
Unlike many other forms of online training, compliance training often needs to follow very specific, cumulative learning paths to ensure specialized safety standards are being met.
For example, emergency medical technicians (EMTs) and first responders in the United States must comply with a host of regulations to do their jobs safely and legally. That includes department- and role-specific courses to remain in compliance with HIPAA and OSHA, as well as first aid and specialized emergency response procedures around handling needles, biomedical waste, and pathogen exposure, to name just a few. If they don't stay up to date on all this training, these professionals and the agencies that manage them risk costly fines and penalties from regulating bodies.
In general, online compliance training will follow one of two pathways. The first is entirely asynchronous, delivered as online instruction followed by either a graded quiz, or gated activities to show completion. This is the most common style of eLearning for compliance.
Some compliance courses, especially for practical, field-service related jobs such as those that involve driving, may take a blended approach that involves both asynchronous and synchronous training, usually in-person or virtual instructor-led sessions, classes, or workshops.
Both types of compliance training call for an efficient, streamlined tech solution that will automate all these complexities. For example, the system should be able to issue certificates upon completion that will expire at the appropriate time, and unlock gated activities or modules as the learner completes their prerequisite. These features reduce administrative burden and make it much easier to deliver high-quality compliance training at scale.
Without an online learning solution that automates establishing these paths and submitting them for certification, wasted time, human error and lapses in compliance are all too common.


High stakes, higher standards
These benefits around flexibility and customization could also apply to many other types of training, such as for sales and professional development. But they're especially relevant to compliance training, because the material in these courses is less immediately compelling for the learner, but even more important for them to complete and retain, so that businesses have the data and reporting they need to prove their compliance.
Safety standards and other industry-specific regulations are not exactly riveting reading, but they're essential to doing business in a safe, healthy, and reputable way. That's why in compliance training, the need for modern, effective learning solutions designed around the needs of their learners is particularly important.


How to start planning a digital-first model
Digital transformation will look different for every training company and should be approached with your organization's unique needs, goals, and audience in mind. Of course, you also have to consider your company's needs too. You need a solution that works for all of your stakeholders and the best way to ensure their needs are met is to ask. It's not a matter of simply porting your existing training materials into a new format; adapting a digital-first model is a major paradigm shift that should be thoroughly planned out and prepared for in order to generate a return on your investment.
When you're shopping for digital tools, it's easy to be taken in by technology companies and their promises of simplicity or plug-and-play solutions.The truth is, a decision like committing to a digital transformation is a big one. It affects every area of your company. Yes, there are massive upsides. There is also a lot of transition and learning. To that end, we prefer to offer you a more transparent view of what the process looks like and walk you through the planning.
Your planning process is not one step, it's three: evaluating your existing circumstances, performing a thorough needs analysis, and lastly the fun part of comparison-shopping for solution partners.
Tech Stack Worksheet
Use this worksheet to make an inventory of your existing digital tools, their costs and their specific functions. It will help you determine what you still need, what you can replace, and what you may have to consider integrating.
Step 1: Evaluate your current environment
You're already using a lot of digital tools. Accounting, payroll, scheduling, marketing... and any number of other departments have multiple tools working independently of one another. Make a list of your existing toolset. Here's a handy "Tech Stack Audit Worksheet" to help you. Make a copy of it and use it to keep an inventory of your tech stack. You may have to reach out to various department heads to collect these details. Here's what you want to find out for every digital tools you currently use:

Name of app

Departments using it

Billing owner

Current role in business process

Total number of users

Objects (Contacts? Transactions?)

Metrics (How is usage measured?)

Integrations with other apps?

Total annual cost
This might seem like a lot of busywork but it will pay dividends. To complete the process of evaluating your existing circumstances you have to face one of the biggest questions in this entire process — What is your budget for a digital transformation? The next step in your process will be to involve a lot of stakeholders within your company. Make the best use of their time by first getting a realistic sense of the scope of what you're embarking on.
Sit down with the CFO or controller and start having that conversation. What are their ideals? What are the actual resources you have access to? This means cash, people, and time. Your shared goal is to make a wise investment that will increase the value of your company. What is the target return on investment (ROI) that you want to achieve? Begin with that shared understanding and use it as the basis for the remainder of this process.
As you go, you may find that some of those existing software tools become redundant. Their business functions and budget allocation can be absorbed into this project. As you continue to make your case for becoming a digital-first organization, your CFO might end up being your best ally.
Important note about data: Make sure that part of your tech review you consider where your existing training data lives and how it will be handled. For example, if you're transferring a large dataset to a new platform, will you be using SCORM or xAPI? If this question went over your head, talk to your engineering team or IT department, or better still, reach out to us and we can explain. This is only an issue if you have existing eLearning courses that you want to recreate on a new platform.
Needs Analysis Worksheet
Use this eLearning tool selection worksheet to prioritize the features and functions you need. Have your task force members complete it and if necessary, meet to discuss your criteria.

Step 2: Perform a needs analysis
Now that you have a handle on your current position, it's time to look forward to where you want to go. This means involving more team members. In fact, our advice is to form an internal change management team. Make it fun and call yourselves a task force. Even if a tech product says it's plug-and-play, it's going to require internal resources (your best people) to help you implement it.
Start now and not only get their buy-in, but have them help you determine your company's specific needs. You've already recruited one member:
CFO or treasurer (check!)

Marketing lead

Sales lead

Accounting lead

Analyst or learner satisfaction

Instructor(s)

Operations lead or Executive Sponsor
The CEO is not a required member of this team, but they certainly could be. This change management team should be operating with permission from your company's leadership. The last bullet is Operations lead or Executive Sponsor. They're the one who's department is responsible for this purchase or transition. That might be the CEO, COO — they might even be you. The rest of the squad does not need to be top leadership, but they should be empowered by their departments to help you determine some key considerations:
What is the budget for this project? (You've determined that already — look at you go!)

What is your ideal list of functions for a digital tool? (ask all task force members) Make a complete wishlist and think about the specifics like speed, simplicity, mobility, and security.

Which specific people in the company will be required to support this project?

How many team members will be active users? What permissions or job functions will they have?

When do you need to launch this project?



Step 3: Go comparison shopping
It's time for us to address the elephant in the room — our bias. Earlier in this section we teased the third step by saying it was to begin comparison shopping for solution partners. In the spirit of full transparency, even that sentence is designed to frame this conversation in our favour. We are, after all, not simply an eLearning tool but a platform designed to help training companies market, sell, manage, and measure their training products online. We could have said "comparison shopping for learning tools," but we opted to use "solution partners" to get you thinking about this project holistically.
Naturally, we would love for you to choose us. But for that to be a wise choice, it behooves us to invite you to begin comparing us with our various direct and indirect competitors. Now that you have a list of needs and an engaged committee of stakeholders, you can use those to match your needs with specific solutions. Refer back to your needs analysis and cross-reference them with the features of the products and solutions you're reviewing. Now is not the time for scruples — be honest, even about what you don't like. It will help you gain speed in the vetting process if you know what's important and what isn't.
It also helps to be able to determine a platform's strengths and weaknesses. To help you ruthlessly conduct your due diligence, here are few things to know about eLearning platforms.


eLearning platforms: what you need to know
As you transition into online learning, your choice of eLearning platform is probably the greatest predictor of your success. The right platform will be compatible with your working style and have features that are well-aligned with your needs and goals — this is why it's so important to have an in-depth of understand of what's important to your programs before you start shopping around for a tech partner.
If you've read this far, you're likely already familiar with Learning Management Systems, or LMS, to administer your educational content. Not every tool for delivering courses is an LMS, but LMSs do make up the majority of the EdTech market — in fact, 83% of organizations currently use one. These tools have become immensely popular, especially in the massive shift to remote work. It would not surprise us to learn that you're already using one. As a company that sells training however, an LMS is only one pillar of your digital-first approach.
To put it bluntly, if all you need is an LMS, you're reading the wrong document. In our needs assessment worksheet we highlighted four other areas that a digital-first training company needs to consider: eCommerce, analytics, web presence, and administration. After all, there's a big difference between simply needing to train people, and being a company that is in the business of selling training as their primary product. Training companies like yours should consider a full-featured eLearning platform.
What exactly is an eLearning platform? In short, it's a software application or online platform that makes your life easier by centralizing, organizing, and often analyzing data on your online training activities. Your commercial customers and learners can use the platform to pay for their courses, then access and engage with content, and their performance will be assessed within the same platform. Meanwhile your marketing department can maintain your web presence and your admin department can make adjustments to your scheduling and reporting.
Choosing your eLearning platform: a checklist
Although every training company will have different needs, here's a quick list of some important features to look for when you're comparing options, including our shameless evaluation of our own solutions.
Use the following checklist to help shortlist the vendors that you intend to take a closer look at: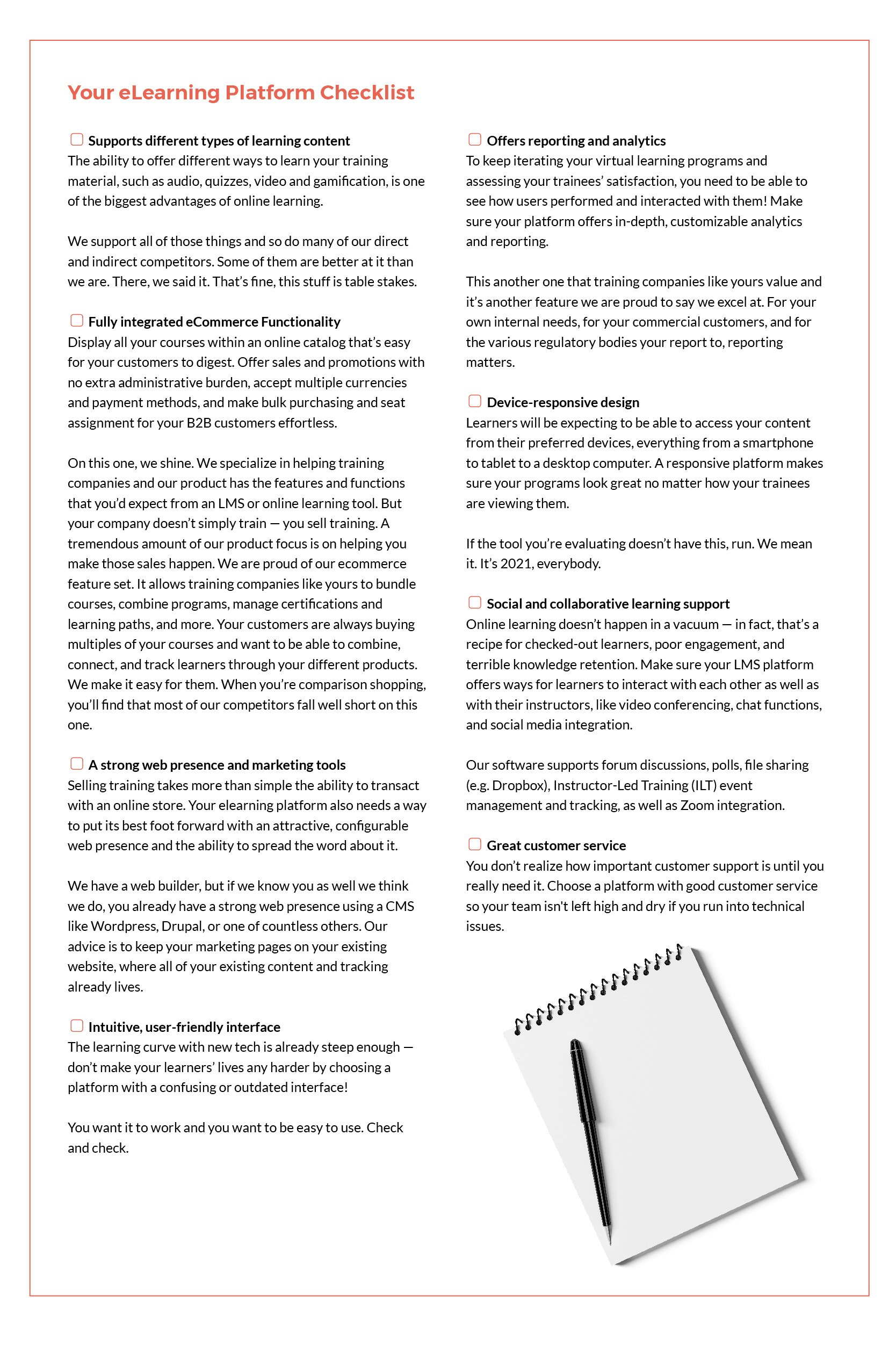 We wrote this 5,000 word article that teaches you to shop for our competitors. It's an example of the kind of effort we are willing to put into earning your trust and looking after you. We are called Lambda Solutions because we are not merely a technology company, we are a solutions company. Come for our fantastic eLearning platform, stay for our industry-best customer service.
Schedule product demonstrations with your selects
Once you've shortlisted some vendors and cross-referenced their offerings against your needs analysis document, it's time to take a closer look at them. The next step is to schedule some demo calls with your shortlisted candidates and get your specific questions answered.
If you're read this far, perhaps you'll understand why we'd like to take a few words to talk about why we belong on that shortlist.
Lambda Suite: online learning, simplified
Lambda Suite is: eCommerce + eLearning + Analytics and sophisticated reporting. Together, this powerful Suite of tools offers everything you need to deliver training online. Our streamlined, fully integrated system uses automation and a learner-centric, flexible model to help you pivot to virtual training without sacrificing learner engagement, or satisfaction. We believe that with the right platform, there's no need for distance learning to be any more complex or stressful than the in-person, instructor-led models of yesterday.
Lambda Suite is a scalable solution designed to support learner success and boost your profits. Here's a few of the features that set us apart:
All-in-one integration:
Learners and staff access one central hub for payment, learning, reporting and administration through a single sign-on
Simplified tech solution means lower overhead costs and lightened administrative burden
Built for scalability:
Sell globally or regionally — multi-region tax rules, easily adapt courses for different regions

Accept many forms of payment to make customer experience smoother

Harness the power of your data through reporting and analytics

Get courses to market faster with quick, easy duplication and automation
eCommerce functionality:
Catalog your courses so you can easily run sales and promotions

Make accounting simple with built-in taxation rules

Accept multiple payment methods and currencies

Allow customers to build their own products with an assortment of course bundling settings

Group related learning products together and make it easy for customers to buy related products
Easier Marketing:
Get your courses in front of the people who need them with MailChimp and SEO integration

Price courses to sell: run sales and offer bundles and bulk discounts effortlessly
Effortless Administration:
Make administration easy by assigning user roles and groups

Franchise or create region-specific versions of your store with child-friendly store modes and included language packs
Learning functionality:
Cater to different learning styles by offering gamification, microlearning, blended learning, mobile learning, learning paths and more

Generate custom certificates, discussion forums, programs, quizzes and other types of content

Compliant with SCORM technical standards for eLearning products
Built-in learning analytics:
Our analytics engine leverages your data to generate any report you need
Use one of our 30 readymade report templates, or build your own with our drag-and-drop template, or build and share your own report that match your unique requirements
Gain a deeper understanding of how learners are using your courses through data
Learning Pathways and Certification Management:
Offer bundled training programs and manage reporting to governing bodies
Keep records of learner progress on specific learning pathways to certification
Manage prerequisites and certification
Create recertification paths
We're proud to offer an industry-leading eLearning solution — but choosing your eLearning platform partner is a big decision that shouldn't be taken lightly.
To help you make an informed decision, reach out to us and see how we can help your training company scale, evolve, and keep educating clients.
Reach out and book a demo of our software today.