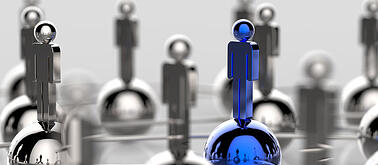 It is hard to believe that we are already nearing the end of 2014! Looking back there has been a lot of exciting progress in the realm of Human Capital Management. This past year was a pivotal time for organizations as they left the hardships of the recession behind and began to look forward to rapidly (yet wisely) expand. As such, according to research from Bersin by Deloitte, the three key areas of strategic focus in human capital management centered around leadership development, attracting and engaging top talent and reinventing the HR Management System (HRMS) so that they are robust and flexible. Continue reading for part one of The Top 10 Human Capital Trends of 2014
1. Leadership, Retention, Engagement & Reskilling
In 2014 organizations struggled to find capable leaders across all functional areas. Leaders today face a unique set of challenges—namely, the speed and pace of knowledge creation and technological innovation. This trend will continue into the New Year as organizations continue have difficulty finding leaders who can quickly and continually develop in our accelerated world. When organizations do find the right leaders, they also struggle to keep them. Thus, retention of leaders and talent was a key struggle in 2014 making engagement a key area of focus. Companies allocated significant resources towards creating engaging, exciting and meaningful places to work—another trend that will continue through to 2015 as more millennials enter the workforce.
2. Companies Weren't Ready to Respond to Human Capital Trends
Of the 12 trends Bersin and Deloitte identified in 2014, a very small portion of survey respondents indicated that they were ready to respond to the human capital trends of 2014. The top four areas where organizations significantly fell short were in Talent and HR analytics, HR technology, performance management and 'the overwhelmed employee'. Performance management is also highly linked to HR technology where many organizations opted for flexible and powerful open source solutions like Totara.

3. HR Capability Gaps
According to the Deloitte Human Capital Capability Index which shows "HR's relative capability gap in addressing a given talent or HR-related problem"—HR departments found they were both ill-equipped and urgently in need of staffing leadership positions and acquiring intelligent talent and HR analytic programs. Of slightly lesser urgency, HR departments felt they did not have the skills to adequately reskill HR employees to meet changing technologies, to acquire the right talent, to underwhelm the increasingly overwhelmed employee and to source HR technology to help address these challenges.
4. Leadership the Top Priority Worldwide
Out of all the surveyed regions—Asia Pacific, Europe, North America and South America—leadership emerged as a top priority both in finding leaders, developing leaders and ensuring that they stay long enough for organizations to capitalize on their cost. The other areas that were of prime importance to these regions were retention and engagement—notably, North America demonstrated the greatest need in this area.
We still have 6 more human capital trends from 2014 to share with you from Bersin by Deloitte so make sure you visit our blog next week to learn more!
For more informatio on Big Data in HR, check out our Guide to Predictive Analytics.With the explosion of Big Data from talent and performance management systems, HR executives are beginning to see the benefit in utilizing this information for predictive analytics and ultimately, better decision making. This whitepaper explains the types of questions HR managers can answer with Big Data and predictive analytics.