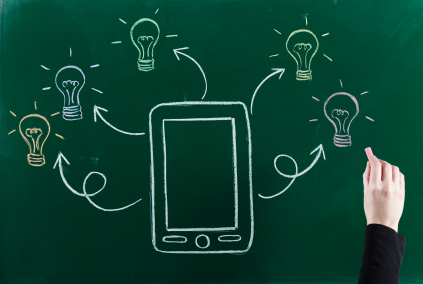 All we need to do is look around and see the wide adoption of mobile devices to quickly realize that the way we consume information is undergoing a fundamental shift. For many years we have relied on face-to-face interactions to transmit information, and for millennia, cultures around the world pass down expertise and knowledge through hands-on mentorship and storytelling. The reality of the 21st century's online revolution has many educators scratching their heads, trying to understand how accompany, reinforce, and substitute in-face learning with dynamic content that can stretch across borders and into the user's multitude of platforms. In this two-part blog post, we talk to Mount Sinai Hospital's eLearning Project Lead Cindy Plunkett about mobile learning, its challenges, key elements and strategic implementations.
Lambda: Is mLearning just another branch of eLearning? You see them doing different things.
Cindy: If you're trying to communicate smaller, bite sized pieces of knowledge, and you just want to transfer "just-in-time", mLearning can be effective (though it's not the only solution). Sometimes the situation lends itself better to eLearning. For instance, eLearning is a better fit when you need the robustness of a desktop to include video or other content.
I suggest you use mLearning when you need the information at your fingertips but can't be at your desk to retrieve it. For example, let's say you need to know the warning signs for an illness. You would want to pull a device from your pocket and get the information quickly. In another example, a nurse might need to know the optimal range of a blood lab result for a patient. In this case, it's better for the information to be hand-held, rather than disrupting work flow by running back to her desktop.
Lambda: I suppose many people believe the idea of learning must be a formal lesson, or requiring some kind of testing. In this instance, people can learn by always having information accessible.
Cindy: Exactly! Learning doesn't have to be a full course. It can be about getting just-in-time information as you need it. Learning is about knowledge transfer.
Lambda: Some organizations are going to see cost as a hurdle to implementing mLearning. Is that valid?
Cindy. mLearning doesn't necessarily change the cost, but you do have to think about your instructional design differently. If you want to get into the mobile game, there's a chance you're already working with eLearning tools where you can publish in HTML5 meant for use with mobile devices. In that case, going mobile isn't a cost issue. If you have an LMS capable of being mobile, like Moodle, and you're using any of the major eLearning development tools, the challenge isn't cost. The challenge is really about shifting your way of thinking and delivering mLearning.
Lambda: You seem to be pretty excited about what the Moodle LMS can do in the mobile space.
Cindy: We are. We didn't know how flexible Moodle could be until we saw a presentation in Vancouver on "Making Your Moodle Mobile" by Chad Leaman. It opened our eyes!
Lambda: In your presentation, you also talk about what an organization should think about before implementing mLearning.
Cindy: You really do have to do your homework before implementing mLearning. You need to make sure you have all your tools, and that means bearing in mind how much it will cost to get the tools you need. There are other considerations: for instance, where are your users geographically located? Are you creating a strategy where you're providing the devices or they using their personal devices? How are you going to deploy the content? Those are just a few examples. In my presentation I list more:
Is mLearning the best choice for this group of learners, this situation, and this course material?
Do you need the course to report back to the LMS
Do you need course content to be available off-line?
Does your LMS support mLearning and mLearning reporting of offline courses?
Lambda: It's a lot to consider.
Cindy: Yes, but if you are looking to implement eLearning, you don't need to work in a silo. There are many strategies on this that are already published and plenty of information available at conferences like eACH.
Check out Part 2 of our interview: mLearning Q&A part 2. Mobile Learning for Health Care Training
Moodle 2.5 is fully mobile. Contact us to learn more about how to implement mLearning for your organization