The Brandon Hall Group issued a study on the Learning Technology landscape of 2016. The report revealed that technology is becoming the top learning and development priority this year, with 48% of survey respondents naming it as #1 on their list. What's more remarkable, is looking at new emerging learning technologies has taken precedence over learning strategy this year. Here are the top 5 findings of the report:
1. Categories for learning technologies that are most sought-after, are social & collaborative tools, and mobile learning delivery.
In the many years Brandon Hall Group has been researching and reporting on popular learning technologies, mobile and social learning technologies have seen a slow by steady increase in priority. This year, they have taken the number one spot. Mobile and social learning technologies are ones that allow "just-in-time" learning, or personalized learning methods. As discussed in our post on must have LMS features, more than half of companies consider communication and collaboration tools to be essential to their organization — but overall happiness and satisfaction with participants current learning technologies is very low, the highest grade given being a meager C. As well, only 5% of them say that they are very satisfied with their learning solution.
2. Poor user and administrative experience is the top reason people consider switching technologies
In 2015, 38% of companies who participated in the Brandon Hall Group research group were considering switching LMS. This year, that percentage has increased, with 44% of organizations actively seeking new LMS. Why the sudden jump? Here are the top 5 reasons organizations are switching LMS: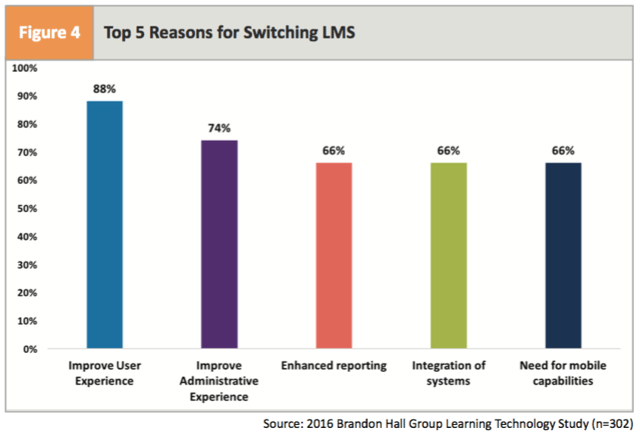 Why is user experience number one? In the digital work world we live in, for some, the interface and user experience of an LMS will be the only engagement that they have with the company. It's no wonder why it's essential, then. In fact, user experience is so important that 43% of organizations said it was an essential priority when looking at any new learning technology, and 40% said it was absolutely critical to their business.
3. Integration with Talent Management Systems is the most critical integration
77% of companies say integration capabilities are essential features for their learning technologies. 20% of participants said Integration with their talent management system was slightly important, 31% said it is moderately important, and 36% said it is critical. The second most important integration is Workplace management, with 27% of participants naming it critical.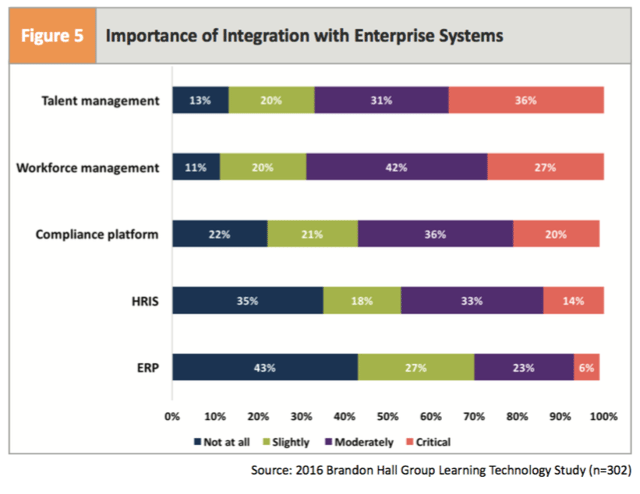 Despite the growing integration capabilities that more vendors are providing, two thirds of organizations said that their next learning technology platform will be a suite of integrated technologies provided by one single vendor.
4. Content Management, Augmented Reality, Tracking job assignments and Mobile apps are the functionalities that organizations are least satisfied with.
Content is one of the most essential components of eLearning, but content management seems to be a common issue. In fact, one third of organizations are not satisfied with their learning content management systems (LCMS). This is because content is a huge, and content management can be an issue for some.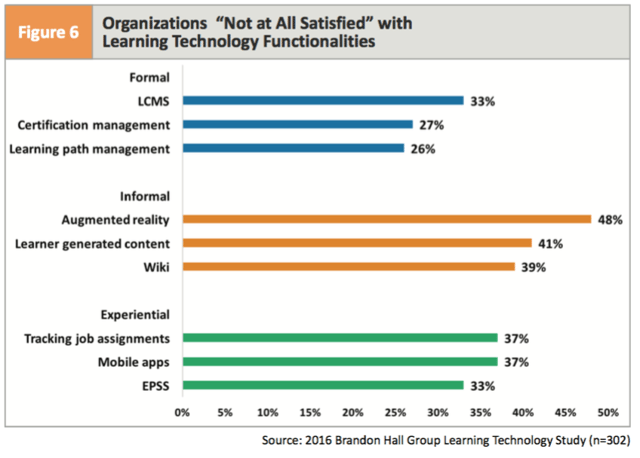 Informal learning and experimental learning also rank very low, in terms of satisfaction. Other problem areas include HRIS, content management, and talent management.
5. KPI's Increase Post-Implementation of Technology
Despite any challenges, after the implementation of learning technologies, organizations experienced:
40% increase in revenue

53% increase in productivity

53% increase in engagement

26% decrease in costs

16% decrease in turnover
It is believed that the increase in KPI's is due to a correlation to implementing learning technologies, rather than a causation. The reason for this belief is that those who didn't experience any improvements stated that their KPI's didn't change.
Want more content like this? Subscribe to our blog to get articles directly to your inbox!