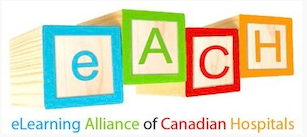 We're excited about the opportunity to present at the upcoming eLearning Alliance of Canadian Hospitals (eACH) conference happening on June 7 in Toronto. We often feel like the work we've done implementing, hosting and supporting Moodle for our healthcare clients is particularly important. After all, some of the blended learning we facilitate is for frontline healthcare professionals to keep their patient care skills. The work they do helps keep people healthy and even save lives; that's an unusually high standard of return on investment for eLearning with Moodle.
For those who are attending (or thinking of attending) this important eLearning conference for the healthcare sector, have a look at our quick abstracts of our various presentations by some of our Moodle eLearning experts, as detailed on the eACH conference calendar.
We're excited that Lambda Solutions VP Jim Yupangco is actually giving two presentations: "Moodle, An Open Source Virtual Learning Environment for Health Care" and "The Importance of Visual Design." With over 15 years as a learning designer, Jim Yupangco has been committed to improving the effectiveness of how people learn and engage with content online. He has worked with many organizations, multi-layered committees, and small-to-medium-sized businesses in the development of engaging instructional modules and implementations of open source technologies.
Ben Young is our Director of Application Services and has worked closely with clients over the last 6 years tailoring custom solutions that bring their eLearning vision to reality through the use of LMS and course creation authoring tools. He has developed HTML and CSS interfaces incorporating a variety of media elements to create a powerful user experience for multinational corporations. He is presenting "Creating Courses in Moodle."
These Lambda representatives are already veteran speakers, most recently at Vancouver's Moodlemoot 2013. Their presentations are always informative and engaging – and they're not shy about answering questions about Moodle during a Q&A! Abstracts below:
Moodle, An Open Source Virtual Learning Environment for Health Care (Jim Yupangco)
This session explores the meaning of open source and dispels the misconception that "If it is free, then it must not be good." One of the biggest open source success stories is the Moodle learning management system (LMS). It has evolved into one of the more robust and features-rich collaborative virtual learning environments (VLE) in the market today, overshadowing some of the biggest proprietary LMS. Timely and accessible skills development is crucial in the Healthcare industry; the ability to reach a broader audience across the vast Canadian landscape poses a huge challenge for many organizations. In this presentation we will demonstrate how Moodle is able to make this outreach possible using Mount Sinai Hospital's Rachel Flood.
The Importance of Visual Design (Jim Yupangco)
We have all heard the expression "A picture is worth a thousand words". But what does it mean, especially in e-learning design? Using a common canvas, game and web designers as well as online marketing experts leverage the fact that there are about a million nerves connecting the eyes to the brain, about 60 percent more than that between the ear and the brain! So why do we compromise visual design when in comes to online learning? This session is for the non-designers among us who need to consider some design concepts before undertaking their next e-learning project.
Creating Courses in Moodle (Ben Young)
This is a task-based session introducing Moodle, one of the most popular and feature-rich Learning Management System in the market today. We will explore how easy it is to create a course in the Moodle Learning Management System (LMS) and get you on your way to launching your eLearning initiatives online!
For our friends and colleagues who will be attending the conference, we're very much looking forward to seeing you again. We're also pleased at the opportunity to learn from others we've never met before – at these kinds of educational conferences, learning is always a two-way street.