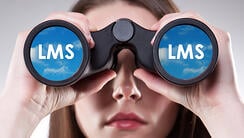 If you are looking to implement a new LMS, or you are planning a LMS migration, you may be wondering how to narrow down your search. How do you know what to look for in a LMS? What are the best features of a LMS, and which ones can benefit your organization specifically? With our 20+ years worth of knowledge in the learning management system market, we have made a list of the top 5 things to look for when shopping for a new LMS.
If you're looking for more information on what you should expect from an LMS, sign up for our webinar, Top 7 Hidden Costs of Deploying an LMS, on December 10th.
1. Managed LMS Cloud Hosting
There are a few different reasons you should opt for a managed cloud hosted LMS solution. With cloud hosting, you have a secure, flexible, and reliable system. Security and reliability come from the cloud-based infrastructure, wherein your data is stored, managed, and monitored for you. Flexibility comes from your options to choose your database, programming language, operating system, and any additional services you may require, as needs arise. Lastly, cloud hosting is cost-effective because it is scalable, allowing you to expand and grow without incurring costly data overage fees.

2. Expert LMS Training
You want your LMS to deliver the most engaging training to your learners, but in order to do this, you need proper training on how to use all of the features and functions of your LMS. Training is a good idea, even if you are familiar with learning management systems. While open source learning management systems like Moodle are very user-friendly, it is important understand their deep functionality in order to provide the best possible learning experience. Your knowledge will carry over to your learners, so make sure you fully understand how to take advantage of your LMS. With the proper knowledge, you will be able to effectively inspire and engage learners, and provide them with a truly meaningful learning experience. Let the vendor's team of experts show you the power of an LMS.
3. An Extensive Course Catalogue
Good course content is the meat and bread of any learning program, so find a vendor that has a large, diverse catalogue of courses for you to choose from. You want to have a good selection of courses that will contribute to your business objectives. Even better, try to find a vendor that offers courses that will integrate right into your LMS. Lambda has partnered with OpenSesame to offer our clients access to the biggest and best content marketplace in the eLearning industry. You will have over 20,000 ready-made courses to choose from, all of which automatically sync into Totara LMS.
4. User-Friendly Reporting and Data Analytics
Reporting is an essential part of the learning process, as reports make progress more visible for instructors, so they can see how their learners are doing, and see the positive outcome of their dollars spent. Unfortunately, reporting is also one of the major pain points for LMS users. The good news is it doesn't have to be this way. There are powerful reporting options out there, so don't get stuck with a vendor that doesn't offer easy-to-use reporting capabilities. Having an efficient, user-friendly reporting system also allows you to spend less time creating reports, and more time focused on your students and employees.
5. Fully Accommodating LMS Support Hours
Until you have actually implemented your LMS, you won't realize how crucial support is, so take our word for it and plan ahead. You never know when you might run into a time-sensitive problem that needs addressing. When situations like this arise, your support team will be your right hand. If your vendor has limited support hours, then you will have to wait until their hours begin, and risk allowing the problem to get worse. Opt for a LMS vendor that has a wide timeframe of support hours, to help assist you even at the most unconventional hours of the day.
At Lambda Solutions, we have a support team in Canada and in Europe, so we can cover more hours in a day. When we leave the office for the day, our team overseas picks up where we left off until the morning. This is really beneficial if you are working late and need system support into the night and early morning. It allows flexibility, and ultimate accommodation. As well, because of Lambda's 24/7 support coverage, we are able to provide 99.9% uptime.
6. A Sense of Community
There are a plethora of large LMS hosting vendors in the market, but bigger doesn't always mean better. Try to find a vendor with a smaller, close-knit community. One of the benefits of working with a small to medium LMS company is that you aren't just a nameless client, only recognized by your organization. You have the opportunity to build relationships with the support team, and as a result, they will get a strong sense of your organization, and your needs. One of Lambda's clients, Pam Williams, Founder of Ecole Chocolat, had this to say about working with a small LMS company:
"We know the faces of people who help us on a daily basis. We have dealt with 2 or 3 support staff. This gives us the power of historical knowledge - they know us and know what we need. Lambda's expert support team knows the tweaks and functionalities we like and are able to do it without us asking."
You can create a real sense of trust and understanding when you are always dealing with the same few people, as opposed to a different support technician every time.
If you have questions about anything we mentioned in this blog post, feel free to give us a call, and talk to one of our LMS experts.