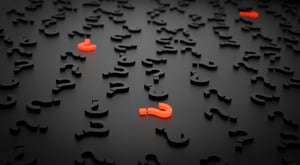 You've decided to purchase a new Learning Management System (LMS). But where do you even begin? In this blog, I'll share 8 questions that you should ask before choosing your next Learning Management System.
Identifying the best LMS for your organization can be a long and daunting process. You have to find the one that suits your online training budget, supports desired outcomes, and meets your corporate learners' needs. So, how do you decide which LMS will offer optimal online training ROI and surpass all expectations? Here are 8 questions to ponder before LMS selection.


1. What are My Core Goals and Objectives?
Ultimately, the LMS must be able to support your organization's goals and objectives. If not, you won't be able to achieve the desired outcomes or recoup your investment. Thus, you must first identify your core goals before you begin the vetting process. Gather feedback from your corporate learners, stakeholders, and other relevant parties. Then use this data to create targeted objective statements. This allows you to determine which LMS platforms meet your needs now and in the near future. For example, you can create a list of must-have LMS features based on learner preferences and stakeholder requirements.


2. Can the LMS Platform Keep Up with My Modern, On-The-Go Learners?
Modern online training experiences aren't hindered by geographical borders or tech limitations. Corporate learners have the opportunity to broaden their horizons on any device, from anywhere in the world. But your LMS must be able to keep pace and provide on-the-go resources. For example, a responsive design LMS allows you to create multiplatform-friendly online training courses by using breakpoints. You have the power to develop different versions of the online training content to cater to mobile learners' needs.


3. Does the LMS Allow for Complete Customization?
Many Learning Management Systems allow you to integrate your own branding elements, as well as customize certain aspects of the user interface. Thus, you're able to develop online training content that aligns with your image and enhances credibility. Customization also makes the LMS platform more functional for your team, thanks to the fact that they can fine-tune the user interface to suit their personal preferences and workflow.


4. What are the Skills and Experience Levels of My Team?
Even the most technologically advanced LMS is rendered useless if your team lacks the necessary skills and experience. Meet with your team members in advance to determine what they need from the tool. Then look for an LMS platform that meshes with their level of expertise and specific talents. For example, collaborators who aren't familiar with Learning Management Systems may require a more user-friendly tool that features built-in support.


5. What Do Your Corporate Learners Need from the New LMS?
Now that you've determined what your team needs from the new LMS, it's your corporate learners' turn. You must determine what your audience requires from the LMS platform. For example, they are looking for mobile-friendly online training courses that feature a convenient course catalog. Or interactive resources that allow them to build real-world experience. Survey your corporate learners to delve into their backgrounds, experience levels, and goals. You can also conduct focus groups or one-on-one interviews to compile a list of necessary LMS features.


6. Will the LMS Cater to Diverse Learning Preferences?
Every corporate learner who logs into your new LMS platform is looking for something different. They may have similar goals or desired outcomes. However, they possess unique learning preferences. As a result, your LMS must be able to cater to their individual needs and support a diverse range of online training resources. For example, interactive elements for those who require a more tactile online training experience or rich multimedia for visual learners. Ideally, the LMS you choose should be able to facilitate personalized online training paths. For instance, integrated course catalogs that put corporate learners in control of which online training activities or modules they complete and when. Or even microlearning online training libraries that offer moment of need support for everyone regardless of their skill gaps or learning preferences.


7. What's Missing from My Current Online Training Strategy?
If you're purchasing a replacement LMS, there are probably specific reasons why you're making the switch. Your current LMS may be lacking specific features that you need to enhance your online training program. Or it isn't user-friendly enough for your team. Whatever the case, you should take the time to analyze your existing LMS and online training strategy to clarify the pain points. This usually yields a whole list of secondary questions that you need to ask before LMS selection. For instance, does my next LMS have to be responsive? Should it allow me to integrate more social learning opportunities? Does it need to have more customization features so that I can effectively integrate my brand messaging? If you don't already have LMS data to reference, then a thorough training needs analysis may be in order.


8. How Much Does It Really Cost?
Cost is always a factor. As such, you need to consider all of the fees involved before making your LMS selection. That includes hidden expenses that are missing from your current online training budget, such as LMS vendor support, system upgrades, and add-ons that boost the functionality of the LMS platform, not to mention ongoing maintenance. If you're unsure about the total cost, don't hesitate to ask the LMS vendor for an itemized cost breakdown. Also, don't forget to create an accurate online training budget on your end.
Keep in mind that these eight questions are just the tip of the proverbial iceberg. You may need to add additional queries or concerns based on your organization's objectives and goals. The key is to focus on the top priorities and get the information you need to make a well-informed buying decision. So, before LMS selection, don't hesitate to schedule meetings with LMS vendors to explore every feature and function.
Are you ready to find the best LMS for your organization? Read the article 5 Easy Steps To Get A Learning Management System Quote Tailored To Your Needs In Less Than 3 Minutes to narrow down your choices to the top 5 LMS vendors that better match your company's requirements.


About Christopher Pappas

Christopher Pappas is founder of The eLearning Industry's Network, which is the largest online community of professionals involved in the eLearning Industry. Christopher holds an MBA, and an MEd (Learning Design) from BGSU. eLearning Blogger | EduTechpreneur | eLearning Analyst | Speaker | Social Media Addict