Moderating online discussions is an essential part of the learner experience. When interacting with your learners in forums, you can affirm, guide, and motivate your learners--all essential aspects of creating a positive learner experience.
This can become a time-consuming task, though, especially if you have multiple forums across multiple courses! Generally speaking, that means you would have to click into each course, find the forum and then go into the forum to see the latest posts.
Wouldn't it be great if you could see all the new posts in one view and then go directly to that post to respond?
Our out-of-the-box reports are designed to help you manage your forums, so you can spend more time fostering learning. Here's a snapshot of one of our most popular forum reports:
Forum Summary
The Forum Summary report is a great start for forum moderators. While the report itself is simple, the filters offer the moderator many options in creating the combination of results they may need.
This report shows the following information:
Student name
Course name
Forum name
Post subject
Post created date

The report can then be filtered for:
Student
Course category
Course
Forum name
Post created date
So, say I am an education coordinator and I need to follow posts in forums in three onboarding courses. I have been tasked to respond daily to ensure all questions are answered in a timely fashion.
I would filter the report for those three courses and set the post date created in the past day.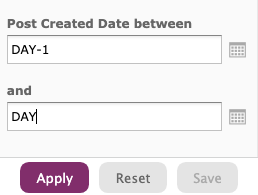 I could have this report on my dashboard, so that I can see it as soon as I log into the LMS. Additionally, we can hyperlink the names of the courses and forum activities so that you can go directly from the report to the forum and make your post!
To learn more about forum reports and how to create your own, join our Lambda Lab.