This case study focuses on the various properties that you can configure to further style charts in an Ad Hoc view in Lambda Analytics.
TOPICS
---
Styling Charts in an Ad Hoc View
1. From the Lambda Analytics homepage, click View under the Ad Hoc view header.
2. Find your desired Ad Hoc view in the Repository, right-click on its corresponding title, and select Open.
3. Click the Properties icon and choose "Chart Format..." to open the Chart Format dialog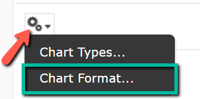 4. Click the Style tab and click Add New Property. Enter your desired property and value into their corresponding fields.
5. Click the Checkmark icon

to add your property to the list. You can then click the Edit icon

to edit an existing property, or click the Delete icon

to remove it.
6. Once you are complete, click Apply to save your changes.
---
Bar and Column Chart Properties
| | |
| --- | --- |
| colors | ["#b6d399", "#f6dede", "#e3d8ca", "#ffe0bd", "#a2cbc3", "#f4f4f4", "#6897bb", "#a2cbc3", "#672edf", "#35465e", "#af5166", "#ffd296", "#d0ffc7"] |
| series.colorByPoint | false |
| series.borderWidth | 2 |
| series.borderColor | #c2c2c2 |
| series.borderRadius | 10 |
| plotOptions.series.dataLabels.enabled | true |
| legend.align | right |
| legend.backgroundColor | #FFFFFF |
| legend.borderColor | #FFFFFF |
| legend.verticalAlign | middle |
| xAxis.labels.enabled | false |
| yAxis.labels.enabled | false |
| legend.itemStyle | {"color": "#333333", "cursor": "pointer", "fontSize": "11px", "fontWeight": "normal", "textOverflow": "ellipsis"} |
| plotOptions.column.dataLabels.style.fontSize | 11px |
| plotOptions.series.dataLabels.style.fontWeight | normal |
| xAxis.gridLineColor | transparent |
| yAxis.gridLineColor | transparent |
| chart.style.fontFamily | Helvetica, Verdana, Arial, Georgia, sans-serif |
| xAxis.lineColor | #c2c2c2 |
| legend.itemMarginBottom | 2 |
| legend.itemMarginTop | 2 |
---
Scatter Chart Properties
| | |
| --- | --- |
| legend.layout | vertical |
| legend.align | left |
| legend.verticalAlign | top |
| legend.floating | true |
| plotOptions.scatter.marker.radius | 5 |
| plotOptions.scatter.marker.symbol | diamond |
| plotOptions.scatter.marker.states.hover.fillColor | #C2C2C2 |
| plotOptions.scatter.marker.states.hover.lineColor | #000000 |
| plotOptions.scatter.marker.fillColor | #a1f78f |
| plotOptions.scatter.marker.lineColor | #bbbcfc |
| plotOptions.scatter.marker.lineWidth | 2px |
| xAxis.gridLineColor | transparent |
| yAxis.gridLineColor | transparent |
| chart.style.fontFamily | Helvetica, Verdana, Arial, Georgia, sans-serif |
| chart.spacingBottom | 30 |
---
Pie Chart Properties
| | |
| --- | --- |
| colors | ["#b6d399", "#f6dede", "#e3d8ca", "#ffe0bd", "#a2cbc3", "#f4f4f4", "#6897bb", "#a2cbc3", "#672edf", "#35465e", "#af5166", "#ffd296", "#d0ffc7"] |
| series.dataLabels.enabled | true |
| legend.align | right |
| legend.backgroundColor | #FFFFFF |
| legend.borderColor | #FFFFFF |
| legend.verticalAlign | middle |
| legend.itemStyle | {"color": "#333333", "cursor": "pointer", "fontSize": "11px", "fontWeight": "normal", "textOverflow": "ellipsis"} |
| chart.style.fontFamily | Helvetica, Verdana, Arial, Georgia, sans-serif |
| series.dataLabels.connectorColor | #0000FF |
| series.dataLabels.distance | 30 |
| series.dataLabels.format | {y} |
| chart.style.fontSize | 16px |
| series.dataLabels.style | {"color": "contrast", "fontSize": "14px", "fontWeight": "bold", "textOutline": "1px contrast" } |
---
Line and Area Chart Properties
| | |
| --- | --- |
| colors | ["#b6d399", "#f6dede", "#e3d8ca", "#ffe0bd", "#a2cbc3", "#f4f4f4", "#6897bb", "#a2cbc3", "#672edf", "#35465e", "#af5166", "#ffd296", "#d0ffc7"] |
| plotOptions.area.marker.symbol | diamond |
| plotOptions.area.marker.fillColor | #FFFFFF |
| plotOptions.area.marker.lineColor | #5546db |
| plotOptions.area.marker.lineWidth | 2px |
| plotOptions.area.marker.radius | 5 |
| chart.style.fontFamily | Helvetica, Verdana, Arial, Georgia, sans-serif |
| series.dataLabels.enabled | true |
| series.dataLabels.style | {"color": "contrast", "fontSize": "14px", "fontWeight": "bold", "textOutline": "1px contrast" } |
| series.dataLabels.padding | 20 |
| xAxis.labels.rotation | 0 |
| yAxis.gridLineColor | transparent |
| xAxis.gridLineColor | #FFFFFF |
| xAxis.gridLineWidth | 2px |
| xAxis.gridZIndex | 4 |