The Face-to-face module in Moodle is a plugin that allows you to manage the scheduling, sign-up, notification, waitlisting and attendance of live, synchronous sessions.
TOPICS
---
Introduction to Face-to-Face
Face-to-face is an excellent tool to use for managing offline training sessions. In creating a new course, you can even set the course type as face-to-face, if the entire course will be conducted offline.
For example, XYZ Company might require employees to attend a First Aid Certification course. They could create a face-to-face session that learners would need to sign up for and attend. The trainer could record attendance at the actual training session, which managers would be able to track via reports.
Another example of how face-to-face could be used is managing registration for a conference. XYZ Company could create a face-to-face session for the event, and even set a price to attend. Using face-to-face, it would also be very easy and efficient to manage cancellations and waitlisted users.
As many face-to-face sessions are moving online, you can also use the Face-to-face module to manage web conference training, i.e., using Zoom.
---
Scheduling and Sign Up
When creating a face-to-face session, you have the option to schedule a date, time, and location. If you are working in an international environment where learners will be accessing the sessions from different countries, you can also choose a time zone. If the training session will be conducted over multiple days, you have the option to include multiple dates as part of a single session. Additionally, you can decide the number of seats (capacity) available to be booked.
Below is an image of the details of a sample face-to-face session.

To register for the session, the user clicks the 'Sign-up' link. Once they have signed up, the session will appear as an event on their calendar. Users can also cancel their booking if needed.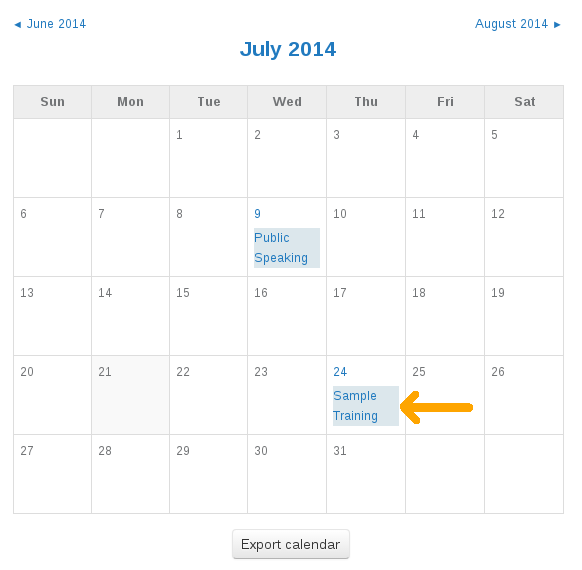 ---
Notifications
Notifications that are automatically sent to learners booked in a face-to-face activity can be managed and edited. Email notifications include confirmation of a booking, reminders of upcoming sessions, and waitlist confirmations. These emails can also be sent out with an iCalendar Appointment, so the learner can easily create an event in their calendar.
There is also an option to send a message to all learners in the session, certain groups (e.g. Users on the waitlist, or booked users) or even just specific users in the session. This bulk email feature would be good to use for very specific messages. For example, you could use this feature if you wanted to send a 'What to bring' message a couple days before the scheduled session.
Below is an example of an email notification received to confirm a booking (note: this email was received and viewed in Gmail; not all email service providers will look the same).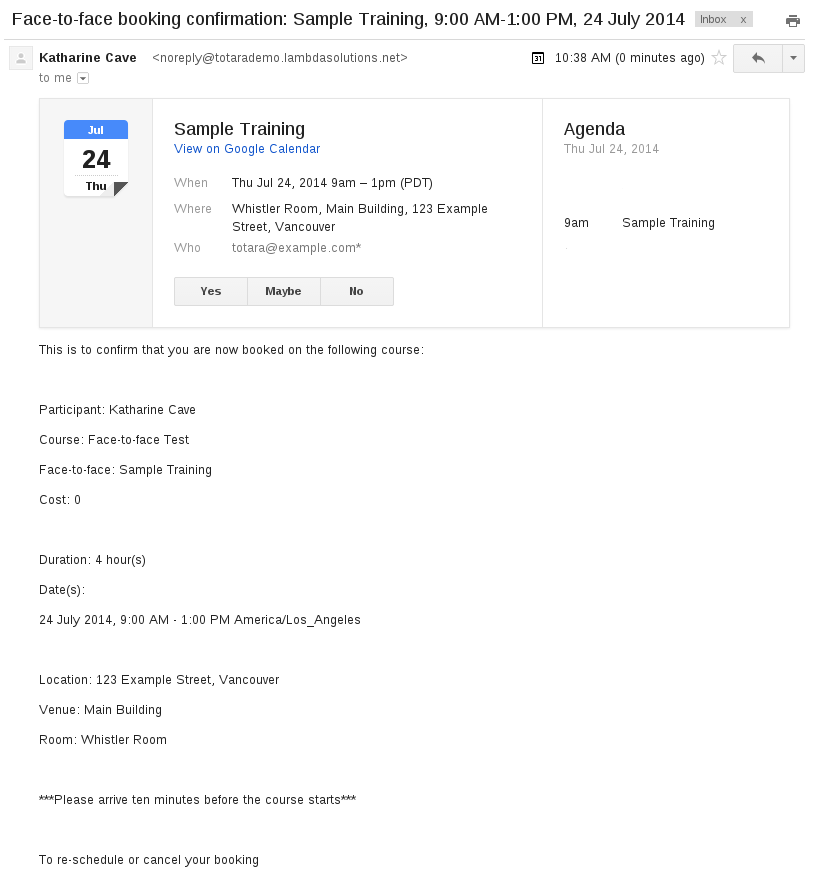 ---
Waitlists
Using face-to-face, you have the option to allow overbooking; if learners sign up for a session that is already full, they will be placed on the waitlist. Immediately after booking into a full session, the user will receive an email notification telling them that they are on the waitlist, and in the session information their status will be 'Waitlisted'.

If another learner cancels their booking, the first user on the waitlist will automatically be booked into the available seat.
---
Attendance
After the session date and time have passed, the option to take attendance will be available. The learner can be recorded as having fully attended, partially attended, or as a no show. These are given marks in the gradebook of 100%, 50%, and 0% respectively. The attendance can be exported to file format.