This article describes how multi-factor/two-factor authentication can be implemented in the Lambda Suite.
Using MFA/2FA with the Lambda Suite
Two-factor authentication (2FA) can be enabled on the Lambda Suite to ensure that user accounts will be secured. 2FA can be set up through SMS Messaging.
---
SMS Messaging
When configuring 2FA through SMS Messaging on the Suite, you can determine:
If 2FA is required for all customers, or if it is optional.
The length of the SMS code that customers will receive. The default setting is 6 digits.
The time period in which the SMS code is valid for customers to use. The default setting is 5 minutes.
Whether or not voice codes are allowed. The default setting is No.
You can also edit the default Reset 2FA Email Template, which is listed below:
" We have reset your Two Factor Authentication. You can re-enable Two Factor Authentication by logging into your Lambda Store 3 account and you will either be prompted to enter your mobile number or you can enable by visiting My Account and then Two-Factor Authentication."
Managing Two-Factor Authentication
Once 2FA is set up for the Suite, Store Administrators can manage the 2FA status of each customer in their Store.
1. On the Lambda Store admin panel, navigate to Customers > Two-Factor Authentication to access the Customer 2FA page.
This page will list each customer, whether or not they have 2FA enabled, their corresponding phone number, and any codes that they have set within the code validity time period.
2. If you would like to reset a customer's 2FA, click Reset under the Action column. A Reset 2FA Email will be sent, which will prompt the customer to re-enter a new mobile number once they log in.

Customer Management
Once 2FA is required, or manually enabled by the customer, they will be prompted to enter the SMS code within the code validity time period once they log in.

Customers can configure their own 2FA settings by navigating to My Account > Two-Factor Authentication.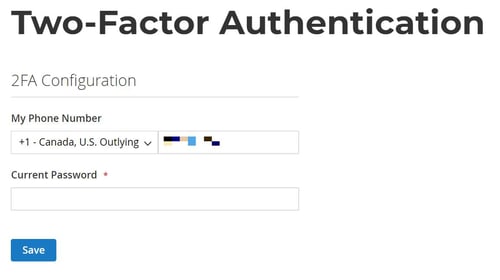 If 2FA is set to optional and a customer needs to update their mobile number, then they would also have the option to self-enable it.

NOTE
If you would like to use two-factor authentication for the Suite, please contact the Lambda Support team.