A brief article on UX considerations when theming and branding your site.
What is User Experience (UX)
The term 'UX design' is used to refer to the approaches and methods employed to make sure that a website is entirely tailored and customized for its target market. If an online platform does not appeal to a certain type of audience, it is likely to be quickly forgotten.
At the core of UX is ensuring that users find value in what you are providing to them.
User experience design is the process of enhancing user satisfaction with products or services by improving usability, accessibility and pleasure during customer interaction. It means that the way a user interacts with your site is just as important as the design and the content on your pages. UX best practices promote improving the quality of the user's interaction with and perceptions of the environment and the training resources & activities contained within.
UX is not UI
UI is the end result of UX. UI is what people will see and touch. UI is what results when effective UX is considered. If you have good user interface design, it is a direct result of the research and thoughtfulness you have placed within the UX process.
Factors that Influence UX
At the core of UX is ensuring that users find value in what you are providing to them. Peter Morville represents this through his User Experience Honeycomb below.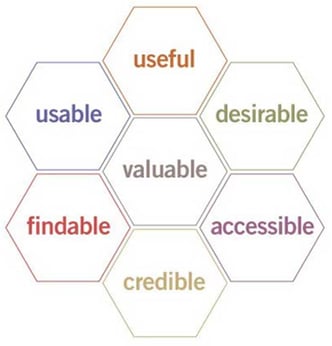 In order for there to be a meaningful and valuable user experience, the information must be:
Useful: Your content should be original and fulfill a need.
Usable: Site must be easy to use.
Desirable: Image, identity, brand, and other design elements are used to evoke emotion and appreciation.
Findable: Content needs to be navigable and locatable onsite and offsite.
Accessible: Content needs to be accessible to people with disabilities.
Credible: Users must trust and believe what you tell them.
Keep these in mind as you set-up your training environment. Note that how you set-up your site is not a static process. Make it part of the process to get end-user feedback to enhance your LMS UX as it evolves.