This article demonstrates how to add a SCORM Activity to your course.
TOPICS
---
Introduction to SCORM
A SCORM package is a collection of files which are packaged according to an agreed standard for learning objects. The SCORM activity module enables SCORM or AICC packages to be uploaded as a zip file and added to a course.
SCORM activities generally include questions, with grades being recorded in the gradebook. SCORM activities can act as an effective assessment tool, and can also be used to present multimedia content and animations.
---
Creating a SCORM Module
To add a SCORM activity module to your course page:
1. On your desired course homepage, click the Turn Editing On button.

2. Create or select an appropriate Activity block, and click the 'Add an Activity or Resource' link.

3. Select the SCORM package option from the Activity section and click Add at the bottom of the page.
4. Expand the General section, and enter a name for your SCORM module in the Name field.

5. Expand the Package section, and upload your compressed SCORM package into the Package File upload box.

6. Expand the Appearance section.
Display Package: Determine if the SCORM activity will be opened in the Current or a New Window.

TIP
If you would like to create a wider display for your SCORM activity, select the New Window option. However, be sure to notify your students as pop-up blockers can prevent the SCORM activity from opening.

Display Course Structure on Entry Page: Enable displaying the table of contents on the SCORM entry page, if necessary. To provide a cleaner look, then we recommend that you set this option to No.

Display Attempt Status: Enable displaying a summary of users attempts on the course overview block, if necessary. To provide a cleaner look, this can be removed by selecting No.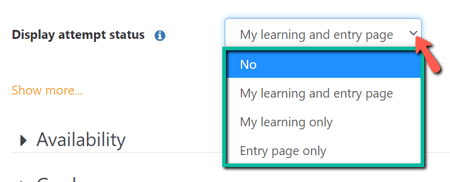 Disable Preview Mode: Disable Preview mode by selecting Yes if it is unnecessary for your students. This setting becomes visible when clicking the "Show More..." link.

7. Expand the Grades section, and select an appropriate grading method. For SCORM activities, we recommend the Learning Objects option.

8. Expand the Attempts Management section, and configure how activity attempts are managed.
Number of Attempts: Define the number of attempts that is permitted to each learner. You can set a restriction, or select Unlimited attempts.

Attempts Grading: If multiple attempts are enabled, you can specify which attempt is recorded in the gradebook.
Force New Attempt: Enable the package to reset every time the learner accesses it, and a new attempt will be recorded.
Lock After Final Attempt: Enable the package to lock once a learner has reached all of their allowed attempts.
9. Expand the Restrict Access section. If necessary, select an appropriate category to restrict your SCORM activity by, and configure its corresponding settings.

TIP
Configuring the Restrict Access section can help direct learning in your course.
For example, you can restrict activities to ensure that learners complete 'prerequisite' activities beforehand.
You can also restrict resources based on passing grades, so that learners who did not pass a certain quiz or assignment can receive extra resources.
10. Expand the Activity Completion section.
Completion Tracking: Determine how activity completion is tracked for your assignment through using the corresponding drop-down menu. For SCORM activities, we recommend that you select the 'Show Activity as Complete When Conditions Are Met' option.

NOTE
When creating a SCORM activity, it is not necessary to enable either the Require View or Require Grade options.
Require Status: You can require the learner to achieve at least one of the check statuses to be marked complete within the activity, alongside other activity completion requirements.

NOTE
When setting the Require Status option, note that selecting Passed or Completed depends on the SCORM package that you have uploaded.
Be sure to test out your SCORM package before releasing it to learners, to ensure that the Require Status option that you have selected is the correct one.
If you have selected Passed as your status option, then you are also able to Require [a] Minimum Score.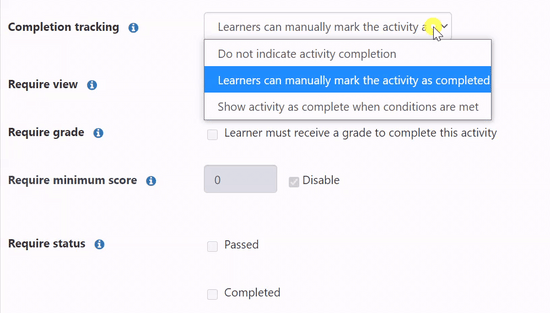 11. Once you are complete, click either Save and Return to Course or Save and Display at the bottom of the page.
---
Adding a SCORM Module (Simplified)
If you are happy with the default settings for SCORM packages in your course, you can instead drag and drop the zipped SCORM package directly into the course.
To quickly add a SCORM module:
1. On your desired course homepage, click the Turn Editing On button.
2. Drag and drop your zipped SCORM package into your desired Activity block.
3. Select Add a SCORM Package from the pop-up menu, and click Upload.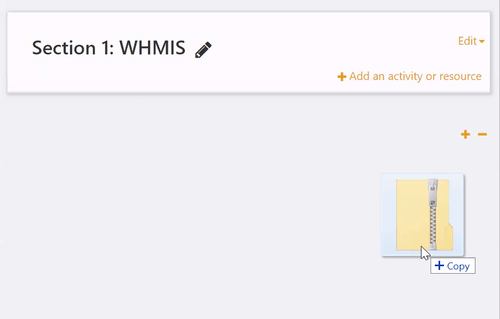 4. Once you have uploaded your SCORM package, you can configure any settings if necessary.
---
Updating SCORM Packages
There may be times when you would need to update a SCORM package, but retain completion data and learner progress. To do so, you must ensure that the new SCORM package's IMS manifest file has the same item identifier as the current SCORM package.
Enabling Auto-Update for Popular SCORM Packages
If you need to update a SCORM package that is used in multiple courses, you can enable auto-updating. Once this is enabled, the SCORM activity will automatically check the selected repository and update the activity with the latest .zip file.

NOTE
When enabled auto-updating, you must still ensure that the current and new SCORM packages have the same item identifier in their IMS manifest files.
To enable auto-updating:
1. On your desired course homepage, click the Turn Editing On button.
2. Add a SCORM Activity to your desired course block, including entering a name and description.
3. Click on the Add button, and navigate the repository that contains your desired SCORM package files. Then, select your zipped SCORM file.
4. Select the Create an Alias/Shortcut to the File option, and click Select This File.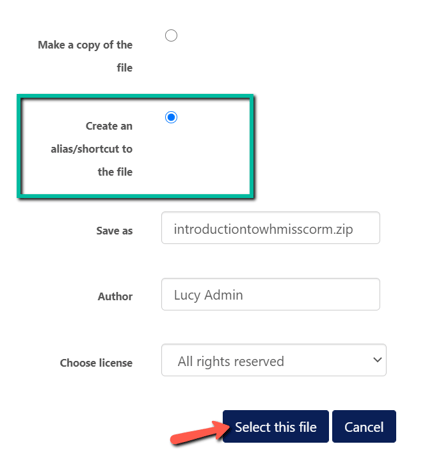 5. Select how often the SCORM package updates through using the Auto-Update Frequency drop-down menu.