Our out-of-the-box Seminar Expanded Report will help you share results of your Seminar activities so that you can plan future events.
TOPICS
---
Introduction to Reporting on the Seminar Activity
Trainers and administrators often want to see reports on their live training events so that they can better plan for future events. Here are some common requests we get:
As an Administrator, I want to see a report of the most and least attended sessions this term so that I can plan and organize sessions and instructors for the following term.
As a Trainer, I want to see all the live training sessions I have coming up so that I can plan my calendar.
As a Trainer, I want to see how many people have signed up for my upcoming sessions so that I can plan my session accordingly.
Our out-of-the-box Seminar Expanded Report answers these needs. This article will show you how to access and filter this report as well as how modify it to meet your needs.
---
Seminar Expanded Report
Our Seminar Expanded Report provides the kinds of details instructors and administrators need to review and plan upcoming events. The report shows the following details:
Student name
Course
Seminar name
Room
Asset
Start and Finish Time
Student sign-up status
You can use the filters to narrow down the scope of your view. For example, here I've filtered the report for all wait-listed events:
Filter: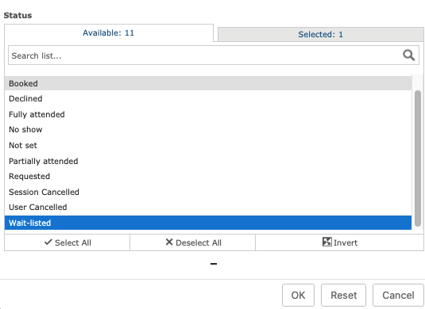 Report:

---
Finding the Seminar Expanded Report
If you are a Zoola Administrator, you can find the Seminar Expanded Report in Zoola>Reports.



Likewise, a Site Administrator can add the Seminar Expanded Report to a Zoola Reports Block in Lambda Learn (Totara) so that other LMS users can access the report easily.

When using the Zoola Reports block, instructors or facilitators can then filter the report as well as export it, send it as an email or schedule the report to be sent on a regular cadence to external stakeholders.

---
Modifying the Seminar Expanded Report
A Zoola Administrator can go into the Ad Hoc View repository and find the Seminar Expanded Ad Hoc View. Here you can add, delete, or move columns and filters.
Adding Filters
One change you might make is to add a Course filter. To do this, right-click on the Course field and select Create Filter: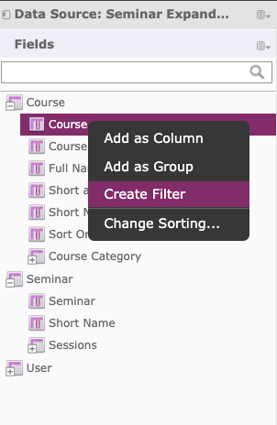 Your new filter will then appear on the right hand Filters panel, where you can select the type of filter: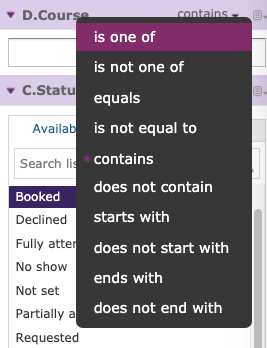 We often use "is one of" to select one or multiple courses to view at the same time.
Alternatively, using "equals" narrows your view to one course at a time.
Changing Columns
You may also want to add or move columns in the report.
Here I'll make three changes to modify the report for my team:
Add a Column
Lambda Analytics (Zoola) has an easy drag-and-drop feature to help you add columns to your reports. Simply identify the new field or measure from the left panel and drag it over to the Columns or Groups area. You can also right-click and select Add to columns. Here I've added the learner's Manager to the report: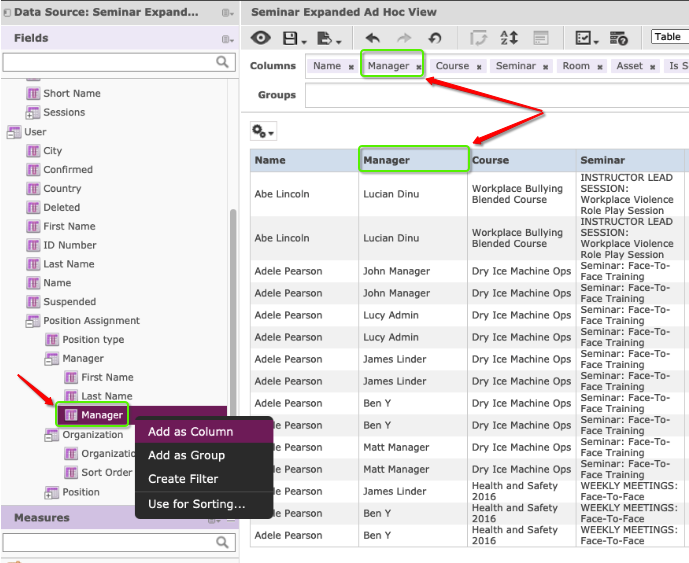 Move a Column
Moving a column is as easy as dragging and dropping the column to where you want it.
Here I've moved Is Session Canceled from before Session Start Time to after Session Finish Time:

Delete a Column
This is also super easy! Just find the column you no longer want and click the "x" on it in the Columns bar:

Saving Your Report
Once you've finished modifying your report, you can either just save the Ad Hoc View that you are working or Save and Create Report: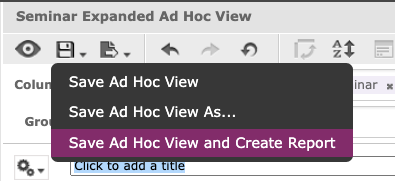 To learn more about the Seminar activity and reporting on it, watch our Lambda Lab: Building and Tracking Your Live Training Through Your LMS