This article demonstrates how to create a Seminar Activity, and add Seminar Events.
TOPICS
---
Introduction to the Seminar Activity
The Seminar Activity module allows you to create a booking system for one or many synchronous online learning activities.
Each event within a seminar activity can have customized settings around a training room, start and finish time, cost, capacity, and more. These can be set to run over multiple days, or allow for unscheduled and waitlisted events.
Learners can view and sign up for events, with their attendance being tracked and recorded in the grades area.
Seminars can be created as an activity within a multi-topic course, or as a dedicated, single activity seminar course.
---
Creating a Single Activity Seminar Course

NOTE
This section will focus on the basics of creating a course, and only highlights the necessary settings for creating a single activity seminar course. Click here to learn more about creating a course.
1. Navigate to the Course and Category Management page by going to Site Administration > Courses and Categories.
2. Click on the Create New Course link.
3. Expand the General section, and configure the following settings.
Enter a Course Full Name and Course Short Name in the corresponding fields.

Using the Course Type drop-down menu, select Seminar.

4. Expand the Course Format section, and configure the following settings.
Using the Format drop-down menu, select Single Activity Format

Using the Type of Activity drop-down menu, select Seminar.

5. Configure any other necessary course settings. Once you are complete, click Save and Display at the bottom of the page. You can then begin to configure your seminar activity.

---
Creating a Seminar Activity
1. On your desired course homepage, click the Turn Editing On button.

2. Create or select an appropriate Activity block, and click the 'Add an activity or resource' link.

3. Select the Seminar option from the Activities section and click Add at the bottom of the page.
4. Expand the General section, and configure the following settings.
Enter a Name for your Seminar activity in the corresponding field.

If your Seminar activity is led by external instructors, enter their email addresses into the 'Third-party Email Address(es)' field. They will be able to receive confirmation messages whenever a learner signs up for an event.

Select an appropriate option for 'Default 'Allow Cancellations' Setting for all Events.'

5. Expand the Sign-Up Workflow section, and configure the following settings.
How Many Times the User Can Sign-Up?: Limits how many times a learner can sign up for an event. This setting however does not take cancelled sign-ups or declined requests into consideration.
Restrict Subsequent Sign-Ups To: Restricts sign-ups based on a learner's previous sign-up behaviour. Enabling any of these restrictions will limit learners to a single sign-up, and they will not be able to sign-up for another event unless attendance for their current sign-up is set to your desired options.

Users Can Declare Interest: Displays an option to allow a learner to flag their interest without signing up.

Require Approval By: Determines whether or not learners must be approved before being booked into an event.

6. Expand the Manager Reservations section, and configure the following settings.
Allow Manager Reservations: Determines whether or not managers can make reservations or bookings on behalf of their team members. The number of seats that a manager can reserve can be edited in the Maximum Reservations field.

Automatically Cancel Reservations: Determines if reservations are cancelled if not confirmed. You can set the number of days in advance that these reservations must be confirmed using the Reservation Cancellation Days field.

Reservation Deadline: Determines the number of days before a session after which reservations are no longer allows. This number must be greater than the number of reservation cancellation days.

7. Expand the Calendar Options section, and configure the following settings.
Calendar Display Settings: Determines where seminar events are displayed within the site.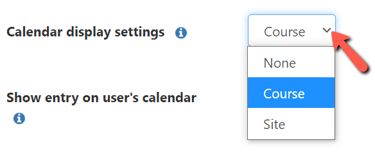 Show Entry on User's Calendar: Adds a user event entry to a learner's calendar. When disabled, this prevents a duplicate event from appearing a learner's calendar.
Short Name: Provides a short description of the event that appears on the training calendar.

8. Expand the Restrict Access section. If necessary, select an appropriate category to restrict your seminar by, and configure its corresponding settings.

TIP
Configuring the Restrict Access section can help direct learning in your course.
For example, you can restrict activities to ensure that learners complete 'prerequisite' activities beforehand.
You can also restrict resources based on passing grades, so that learners who did not pass a certain quiz or assignment can receive extra resources.
9. Configure the following settings under the Activity Completion section:
Using the Completion Tracking drop-down menu, select how the completion of your seminar activity is tracked. For seminar activities, we recommend that you select 'Show Activity as Complete When Conditions are Met' and the corresponding Require Status option, and determine which attendance statuses will trigger activity completion.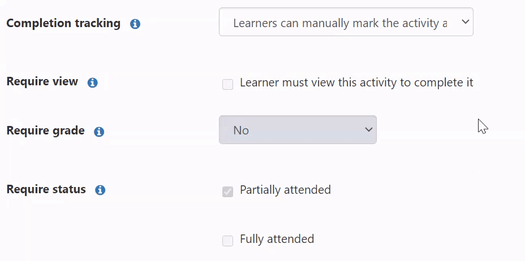 10. Once you are complete, click either Save and Return to Course or Save and Display at the bottom of the page.

---
Adding a Seminar Event
After adding the main seminar activity to a course page, individual events can be created that contain specific sessions for training. Any number of events can be added to a seminar activity, with all activity settings being applicable to each event. An event can be made up of any number of sessions.
An event can have multiple sessions, which are determined by their date and time. The more available dates and times that are added, the more sessions your event has.
To create a seminar event:
1. Navigate to the Seminar Activity page, and click the Add Event button.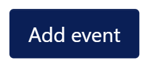 2. Under the Specify Sessions Details box, click on the Edit icon. Then, enter a Start and Finish Date/Time and click OK.

3. Click on the Select Room link to choose or create a room for the session.

If you create a room within the seminar event, this room will only be available for the current event unless the 'Publish for Reuse by Other Events' checkbox is enabled. This room can be made available for other events at any time using Edit Event.
4. Click on the Add a New Session button to create a brand new session, or click on the Copy icon to duplicate your existing session details.

5. If necessary, determine appropriate Sign-Up Open and Sign-Up Close dates using the corresponding menus.

6. Enter a maximum amount of available seats using the Maximum Bookings field. If your selected room has a pre-determined capacity, you can click Use Room Capacity.

7. If necessary, click on the Enable Waitlist checkbox to create a waitlist for your event.

8. Select an appropriate option under Allow Cancellations.

9. If necessary, enter the number of Minimum Bookings that your event must receive in the corresponding field. You can then set a cut-off time if the minimum bookings have not been reached under Notify About Minimum Bookings.

10. Expand the Custom Fields section, and enter any necessary information.
11. Once you are complete, click Save Changes.


NOTE
If you wanted to change the date or time of a seminar event, you may cause a scheduling conflict for one or more confirmed attendees. When this occurs, you will be prompted with the 'User Scheduling Conflict Detected' dialog box confirming whether you would like to Cancel your update, or Save Changes and ignore all conflict.
---
Assigning a Trainer
To assign a trainer to a seminar event:
1. To view, and possibly edit, which roles can become seminar trainers on your site, navigate to Site Administration > Seminars > Global Settings.
Most sites will initially only have Editing Trainers as the only available role to assign as seminar trainers. You can always change this by clicking on the corresponding checkbox of your desired role.

2. To enrol trainers into your course, navigate to Course Administration > Users > Enrolled Users on your course homepage.
Click on the Enrol Users button to initially enrol the user into your course. Then, click on the Assign Role icon

to select the appropriate role.
3. Once you are adding or editing a seminar event, these users can be assigned to your event under the Event Roles category.


TIP
Once you have finished creating a Seminar Activity with corresponding Events, click here to learn more about managing your seminar.