This article demonstrates how to set up a basic H5P Activity for your course.
Introduction to the H5P Activity
The H5P activity module allows you to create interactive content for your course, such as question sets, drag and drop questions, and multi-choice questions. H5P also enables you to import and export H5P files for effective reuse and sharing of content.
Student interactions and scores are tracked using xPI, and are available through the Gradebook.
Creating H5P content is done through using the built-in authoring tool, or using uploaded H5P files found on other H5P-enabled sites.
---
Creating an H5P Activity
To create an H5P module for your course page:
1. On your desired course homepage, click the Turn Editing On button.

2. Create or select an appropriate Activity block, and click the 'Add an activity or resource' link.

3. Select the Interactive Content option from the Activity section, and click Add at the bottom of the page.
Using the H5P Hub
1. Use the Editor menu to go through the H5P Hub and view all the content types that are available to use.
Click Get, or Details if the content type has already been installed, to access the corresponding Content Type details page.
2. The Content Type details page allows you to read about the details of a specific content type, and provides screenshots and examples of use.
After viewing this page, you can then click Install.
3. Once your content type has been successfully installed, you can click Use to open the editor to begin configuring your content type.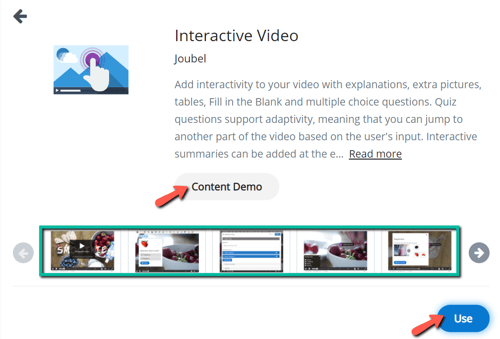 TIP
Click on the corresponding links to learn more about how to create an Interactive Video or a Branching Scenario using H5P.
However, if you are having difficulties creating a different activity type, you can also always click on the Tutorial button on the upper-left corner of the H5P Editor.

4. If the content type has Updates Available listed beside the title, then it means that H5P has released updates for it. Navigate to its corresponding Content Type details page, and click Update.
Configuring Activity Settings
1. Expand the Restrict Access section. If necessary, select an appropriate category to restrict your H5P activity by, and configure its corresponding settings.

NOTE
Configuring the Restrict Access section can help direct learning in your course.
For example, you can restrict activities to ensure that learners complete 'prerequisite' activities beforehand.
You can also restrict resources based on passing grades, so that learners who did not pass a certain quiz or assignment can receive extra resources.
2. Expand the Activity Completion section.
Completion Tracking: Allows you to determine how activity completion is tracked for your assignment through using the corresponding drop-down menu. For H5P modules, we recommend that you select the 'Show Activity as Complete When Conditions Are Met' option.
We also recommend that you enable the Require View option.

3. Once you are complete, click either Save and Return to Course or Save and Display at the bottom of the page.