This article demonstrates how to configure and install the Zoom LTI Pro Activity for your course.
TOPICS
---
Configuring LTI Pro
Installing Zoom LTI Pro
1. Install the Zoom LTI Pro application.
2. Sign into LTI Pro, and then navigate to Manage > Configure.
3. Click "+ Create a New Credential."
4. Select LTI 1.1, and enter a Title for your credential.
5. Add your Store and LMS URLs into the Approved Domains field.

NOTE
When entering URLs into the Approved Domains field, ensure that there are no trailing "/", as this will create an issue with Zoom.
6. Enter "email_address" under the Email Attribute Name field.
7. Add your necessary Zoom account roles under the "Identify an LTI users as an Instructor" field. This will allow users assigned to these roles in both LTI Pro Credentials and Zoom to schedule meetings. Then, click Save.

NOTE
Only licensed users on your Zoom account will be able to schedule meetings.
Once you have saved your LTI credential, you will be redirected to the LTI 1.1 Credential and Configuration page, which will have the LTI URL, LTI Key, and LTI Secret.
Creating the External Tool in Lambda Learn
1. Log in to your Lambda Learn administrator account, and navigate to Site Administration > Plugins.
2. Then, using the Plugins Menu, navigate to Activity Modules > External Tool > Manage Tools.
3. On the Manage Tools page, click Configure a Tool Manually.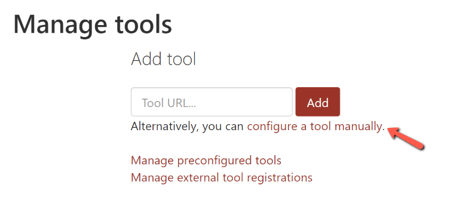 4. Expand the Tool Settings section, and enter the following keys into the following fields:
Tool Name Field: Enter Zoom Video Conferencing.
Tool URL Field: Enter the LTI URL.
Consumer Key: Enter the LTI Key.
Consumer Secret: Enter the LTI Secret.
Tool Configuration Usage: Select "Show as Preconfigured Tool When Adding an External Tool."
Default Launch Container: Select "Embed, Without Blocks."
Custom Parameters: If you would like to ensure that students can only see the meetings for their course, add course_id_method_type=0 into the parameters.
5. Expand the Privacy section, and configure the following settings:
Share Launcher's Name with the Tool: Select "Always."
Share Launcher's Email with the Tool: Select "Always."
6. Once you are complete, click Save Changes. Zoom LTI Pro will now be listed as an available tool.

---
Installing LTI Pro in a Course
1. On your desired course homepage, click the Turn Editing On button.
2. Create or select an appropriate Activity block, and click the 'Add an Activity or Resource' link.

3. Select the External Tool option from the Activity section and click Add at the bottom of the page.
4. Expand the General section, and enter a name for your Activity module in the Name field.
5. Using the Preconfigured Tool drop-down menu, select your LTI Tool Name Field.
6. Once you are complete, click Save and Return to Course or Save and Display at the bottom of the page.

Instructors can now access Zoom Video Meetings from the course.