This article demonstrates how to create LTI Provider Plugins and include External Tools in Lambda Learn.

TOPICS
---
Enabling the Necessary Settings
If you would like to share your courses and activities with another system, or integrate external tools into your courses, your Lambda Learn site must have External Tools (at both a system-level and activity-level), the LTI Provider Plugin, and Allow Frame Embedding option enabled.

NOTE
If you believe these options have been disabled, please contact the Lambda Support team.
---
Creating a Learn LTI Provider Plugin
To create an LTI provider plugin:
1. Navigate to your desired course, and go to Course Administration > Published as LTI Tools. Then, click Add to create a new shareable object.
2. Enter a Custom Instance Name, and use the Tool To Be Published drop-down menu to select the course or activity to be shared.

3. Once you are complete, click Add Method. You can then access your Cartridge URL, Launch URL, and shared secret credentials.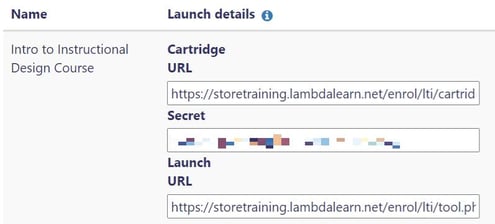 ---
Integrating External Learning Objects into Learn

NOTE
Before creating an External Tools activity for your course, please send the domain of the requesting site to the Lambda Support team so that we can configure the Learn hosting environment appropriately.
1. On your desired course homepage, click the Turn Editing On button.

2. Create or select an appropriate Activity block, and click the 'Add Activity or Resource' link.

3. Select the External Tool option from the Activity section and click Add at the bottom of the page.
4. Expand the General Section, and enter a name for your activity in the Name field.

Add the Tool URL or Cartridge URL of the External Learning Object that you are adding into the Tool URL.

Click Show More... and add the Shared Secret and Consumer Key. If you only have a Shared Secret, you can use this credential for both fields. However, you may need to receive more information from your Learning Object provider.

5. Expand the Restrict Access section. If necessary, select a category to restrict your external learning tool, and configure its corresponding settings.

TIP
Configuring the Restrict Access section can help direct learning in your course.
For example, you can restrict activities to ensure that learners complete 'prerequisite' activities beforehand.
You can also restrict resources based on passing grades, so that learners who did not pass a certain quiz or assignment can receive extra resources.
6. Expand the Activity Completion section.
Completion Tracking: Allows you to determine how activity completion is tracked for your assignment through using the corresponding drop-down menu. For Page modules, we recommend that you select the 'Show Activity as Complete When Conditions Are Met' option.
We also recommend that you enable the Require View option.

7. Once you are complete, click either Save and Return to Course or Save and Display at the bottom of the page.