This article demonstrates how to create a Custom Certificate template and add it to your course.
To create and manage your custom certificates:
1. On the Lambda Learn homepage, navigate to Site Administration > Plugins.
2. On the Plugins side menu, navigate to Activity Modules > Custom Certificate > Custom Certificate Settings.
3. On the Custom Certificate Settings page, click Manage Templates.
4. On the Manage Templates page, you can create, edit, duplicate, or delete your certifications.
Create a Certificate Template
1. On the Manage Templates page, click Create Template.

2. Enter a Name, Width, and Height for your template in the corresponding fields.

TIP
The width and height are measured in mm. For reference, an A4 sized paper is 210mm wide and 297mm in height, whereas a letter sized paper is 216mm wide and 279mm in height.

3. You can then begin adding customizable Elements to your certificate.
Elements
Elements are what make up your certificate, and allow you to create a custom design. After adding elements, you can then position them in the certificate as you see fit.
Adding a Background Image
1. Using the drop-down menu, select Background Image and click Add Element.

2. Upload your photo. Then, select your photo name using the Image drop-down menu.

4. Once you are complete, click Save Changes.

Adding the Course Name
1. Using the drop-down menu, select Course Name and click Add Element.

2. Select an appropriate Font, Font Size, and Colour.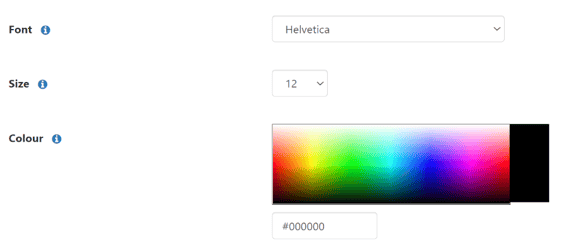 3. Once you are complete, click Save Changes.

Repositioning Elements
Once you have created a few elements, you can easily position them on your certificate by dragging and dropping each one. You can also use the X and Y Positions fields in each element settings page.
1. Under the list of elements you have created, click Reposition Elements.

2. Begin dragging and dropping elements onto the page. Your elements may all be initially stacked in the upper-left corner of the page, so if any appear to be missing you can first separate them by dragging them out.

NOTE
Your site name will initially appear as a placeholder for your course name. Once your template is linked to a course, then the course name will appear instead.
3. Click on a particular element if you would like to make specific edits on its Element Settings page.

TIP
Crosshairs will appear at key placements to help guide you while you are positioning your elements, such as the centre of your page.
4. Once you are done arranging your elements, click Save and Close.
5. After you have finished adding and positioning all of your necessary elements, click Save Changes and Preview to view your finished template.

Adding Certificate Templates to Your Courses
Once you have finished creating your template, you can then add it to your courses.
1. On your desired course homepage, click the Turn Editing On button.

2. Create or select an appropriate Activity block, and click the 'Add an Activity or Resource' link.

3. Select the Custom Certificate option from the Activity section and click Add at the bottom of the page.
4. Enter a Certificate Name in the corresponding field.

5. Expand the Options section, and configure the following settings.
Email Students: If enabled, an email will be sent to learners with a copy of their certificate.

Email Teachers: If enabled, an email will be sent to the course instructor with a copy of the certificate.

Email Others: Allows you to create a list of additional email addresses that will receive a copy of the certificate.

Set Protection: Allows you to set restrictions on whether users can Print, Modify, or Copy the certificate.

6. Expand the Restrict Access section. If necessary, select an appropriate category to restrict your custom certificate by, and configure the corresponding settings.

TIP
Configuring the Restrict Access section can help direct learning in your course.
For a custom certificate, you can select whether or not it becomes available after a specific Date & Time, or if becomes available after a learner has spent a certain amount of Time Required on the course.
7. Expand the Activity Completion section.
Completion Tracking: Allows you to determine how activity completion is tracked for your assignment through using the corresponding drop-down menu. For custom certificates, we recommend that you select 'Show Activity as Complete When Conditions Are Met.'
We also recommend that you enable the Learner Must View This Activity To Complete It option.

8. Once you are complete, click either Save and Return to Course or Save and Display at the bottom of the page.

9. To link the activity to your template, click on the Custom Certificate activity you have created, and then click Edit Certificate under the Certificate Settings box.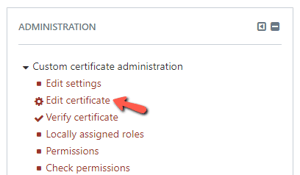 10. Under the Load Template section, use the drop-down menu to select your template and click Load.

11. Once you have loaded your template, click either Save Changes or Save Changes and Preview. Your template will now be added onto the course.