This article focuses on adding & organizing the learning materials and activities for your learners.
TOPICS
---
In Lambda Learn (Moodle) two types of content can be added to your course: resources and activities. Knowing the difference will enable you to better understand how to manage them in your course.
Add Course Resources
A resource is an item that a course creator (CC) or instructional designer (ID) can use to support learning, such as a file or link. Lambda Learn supports a range of resource types which a CC/ID can add to their courses.
In edit mode, a CC/ID can add resources via the 'Add an activity or resource' button.

Resources appear as a single link with an icon in front of it that represents the type of resource.

Administrators can decide whether or not to force teachers to add descriptions for each resource by enabling or disabling a site-wide setting in Administration > Plugins > Activity modules > Common settings.
---
Add Course Activities
An activity is a general name for a group of features in a course that learners interact with. In contrast to a Resource , such as a File or Page, which are essentially content presentation media (text, images, video and/or audio) from which learners use to gather and consume information, an activity enables learners to engage with other learners and/or the instructor, such as Forums or Quizzes.
An activity is typically assigned with a "grade" upon completion, and therefore is referred to as a grade item, a unit where course participants are assessed through a grade or mark. As such, a grade item is a container for grades and a set of settings applied to these grades. For more information on activity grading see: Manage Course Completion & Grades.
---
---
There are 15 different types of activities in the standard Lambda Learn installation that can be found when 'Turn editing on' is enable and the 'Add an activity or resource' button is selected.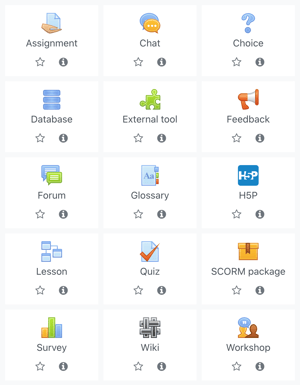 Your choice of activity will depend on the type of course delivery you choose (synchronous, asynchronous or blended), it's format (by topic, weekly, a single activity, etc.), the level of engagement you choose that is appropriate to your learners and the learning outcomes you want to achieve.
---
---
Create a Supportive Learning Environment: Blocks
A great way to create a supportive and usable course environment for your learners is to use blocks. Blocks allow you to provide additional information to help your learners stay on track with their learning. These functional tools may be added to the left or right or centre column of any page in a course.
Blocks can be added to a course by turning editing on then using the 'Add a block' drop-down menu.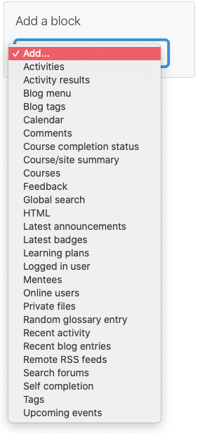 The choice of selecting which block to use depends very much on the needs of your course: fully self-paced and asynchronous, online blended, the course format (weekly, by topic, social, etc.), the kind of users, etc.
Here are some of the more popular blocks we recommend to help your learners stay on track with their learning:
---
LOOKING FOR MORE?

---

Our eLearning industry experts have put together other resources to offer you more advice, best-practices, and how-to guides: