This article demonstrates how to create Competencies for your eLearning system.
TOPICS
---
Skill vs. Competency: What is the Difference?
You'll often find the terms "skill" and "competency" used in a manner that would imply that they refer to the same thing. While they are certainly related, the major difference between the two is one of scope. Competencies are much broader than skills.
What is Skill?
A skill can be thought of as a specific ability that an individual possesses. A skill is typically applied in a specific setting in order to accomplish a predefined desired result. Skills can be learned through training or by experience. Skills are also performed at varying levels of expertise, sometimes based on years of experience and / or an assignment or role performed within a given project. A skill is easily defined.
It is common to hear a skill being referred to as 'the what' component of completing a task. What skills are required to complete a job?
What is Competency?
A competency is a broad collection of related qualifications (skills, abilities, knowledge and behaviour) that enable a person to perform effectively in a job or situation.
Knowledge is information developed or learned through experience, study or investigation.
Skill is the result of repeatedly applying knowledge or ability.
Ability is an innate potential to perform mental and physical actions or tasks.
Behaviour is the observable reaction of an individual to a certain situation.
Your organization defines what is meant by each competency type. Optionally, assign a proficiency level to the competency types.
There are a number of advantages to using qualifications in your staffing and employee maintenance efforts. The advantages are:
Track qualifications to have complete information about your employees

Assess gaps between employee qualifications and job or position requirements to identify your organization's training needs

Use qualifications to search for "best fit" candidates when recruiting
The target proficiency level for each competency will vary based on an individual's position and the organization's needs.
---
Benefits of Competency-Based Approach
Competency-based education (CBE), also known as Competency-based learning refers to systems of assessment and grading where learners demonstrate these competencies.
It's Efficient and Cost Effective
A competence based approach means that the focus is exclusively on both the skills required for increasing performance and on improving the skills the person actually needs at the same time adapted to their particular level of ability. This means that all training methods are aligned with both the goals of the company and the standards determined for improving company effectiveness all the while removing redundancy from the employee education and development process.
The employees are trained in areas that are closely connected to their daily activities meaning they'll have more opportunities to apply newly acquired techniques. This allows for a greater transfer of learning which furthermore makes the whole training process more efficient.
It Increases Productivity
The company's productivity is being increased in multiple ways, the obvious one being that more competent employees are more likely to perform their tasks with success. Their rewards are based on their own ability, which is something they have more control over which makes their satisfaction greater. Lastly, employees have a clear insight into how their performance is benefiting the organization which increases their motivation and engagement.
It Increases Flexibility While Reducing the Risks
A company using this approach has insight into the competency profiles of its employees which allows executives and management to organize teams of people who possess skills which are complementary. This makes the company more flexible and responsive when faced with unpredictable circumstances which are inevitable. The employees benefit as well because they're more likely to acquire skills that go beyond their role which empowers them to horizontally advance in their career, not just vertically.
It Is an Agile, Self-Correcting Framework
One of the essential characteristics of a competency-based framework is a network of processes focused on gaining constructive feedback and applying it accordingly. As competency profiles change with the data gained from assessments future processes are being simultaneously adapted accordingly. But the framework can also "self-correct" because channels have been established in order to collect constructive feedback about the framework itself.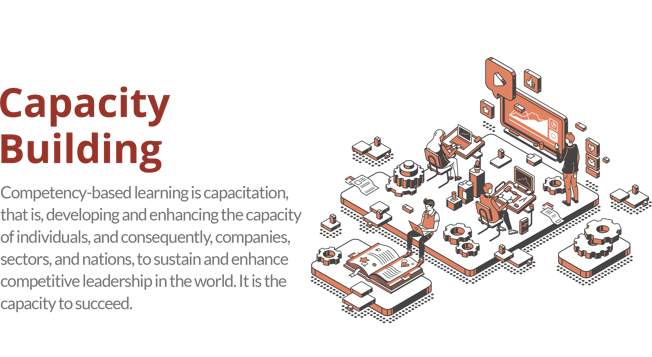 ---
Setting Up Compentencies
Competencies may be enabled by an administrator in Site administration > Competencies. Administrators can then set up competency frameworks and add competencies to them.
Site administrators and managers have the capability to manage competency frameworks at site or category level can create, import and export a competency framework and define associated competencies.
Competency Framework
A competency framework is used to break up competencies into multiple groups based on topic, department, or other logical groupings. A competency framework defines the knowledge, skills, and attributes needed for people within an organization. Each individual role will have its own set of competencies needed to perform the job effectively. To develop this framework, you need to have an in-depth understanding of the roles within your organization.
---
Manually Add a Competency Framework
To manually add competency framework, go to Administrator>Competencies>Competency frameworks. Any existing frameworks are displayed on the list on this page.
Click the Add a new competency framework button to add a new framework.
The ID number should be very specific, especially if it is likely that you will have multiple versions of a competency framework on the site at the same time (e.g. when revising the framework each year).
The Scale is the default scale used when rating a competency. An individual competency in a framework can have a different scale to the framework.
Clicking Configure scales displays extra information about the scale for ratings. There should be a default value, which is assigned when the competency is completed by an automated rule - and the list of values that are deemed "proficient" need to be listed so that the learner can see at a glance, which competencies have been achieved and which have not.
From the Taxonomies drop downs, you can define the words used to describe competencies in the framework, depending on their depth in the tree.
Once you have created a competency framework, it will appear in the list of frameworks and you can add competencies to it.
Adding Competencies to a Framework
To add competencies to a framework, click on the framework name to go to the page where you can manage the competencies for this framework.
This page lets you build the tree of competencies that defines your competency framework. To start adding competencies, first click on a node in the tree (the topmost node in the tree will be the framework itself), then click on the "Add competency" button. (If you have changed the name in Taxonomies, the button will be named differently, such as "Add skill".)
The ID number - this is required and must be unique within this competency framework. It is used to map competencies in backup and restore, as well as when migrating to a newer version of a competency framework.
The Scale and items in "Configure scales" will default to the scale configured for the competency framework, but can be changed for an individual competency if required.
Clicking Edit next to a competency once it has been created and selected displays other options, for example marking it as "related" to other competencies or creating an automatic completion rule. An automatic completion rule allows one competency to be completed automatically when all sub-competencies are complete.
Once a competency framework has been set up, you can then create a learning plan template.