This article demonstrates how to add a Choice (Polls) Activity to your course.
Introduction to the Choice Activity
The Choice Activity acts like a single question poll, and allows trainers to see an overview of the choices made by leaners. The activity results may be published after learners have answered, after a certain date, or not at all. Results may be published with learner names, or anonymously.
A Choice activity can be used as a quick poll to stimulate thinking about a topic, to quickly test learners' understanding, or to facilitate learner engagement and decision-making.
---
Adding a Choice Activity
1. On your desired course homepage, click the Turn Editing On button.

2. Create or select an appropriate Activity block, and click the 'Add an activity or resource' link.

3. Select the Choice option from the Activities section and click Add at the bottom of the page.
4. Expand the General section, enter an appropriate Choice Name in the corresponding field.

5. Expand the Options section, and configure the following options.
Allow Choice to be Updated: Allows you to determine whether learners can change their response after they have initially answered.
Allow More Than One Choice to be Selected: Allows you to determine whether learners can select more than one choice.
6. Then, enter the selection of options that learners can select from using the Option fields.

If you would like to create more choice options, click the 'Add 3 field(s) to form' button.

7. Expand the Results section, and configure the following settings.
Publish Results: Allows you to determine how results will be displayed.

Privacy of Results: If results are published, this allows you to determine whether learner names are displayed with their responses.

8. Expand the Restrict Access section. If necessary, select an appropriate category to restrict your poll by, and configure its corresponding settings.

TIP
Configuring the Restrict Access section can help direct learning in your course.
For example, you can restrict activities to ensure that learners complete 'prerequisite' activities beforehand.
You can also restrict resources based on passing grades, so that learners who did not pass a certain quiz or assignment can receive extra resources.
9. Expand the Activity Completion section, and configure the following settings.
Completion Tracking: Allows you to determine how activity completion is tracked for your assignment through using the corresponding drop-down menu. For polls, we recommend that you select 'Show Activity as Complete When Conditions Are Met.'
We also recommend that you enable the 'Show as Complete When User Makes a Choice' option but not the 'Learner Must View This Activity to Complete It' option. If both are enabled, then learners must complete the poll, and subsequently view the activity afterwards for it to be considered complete.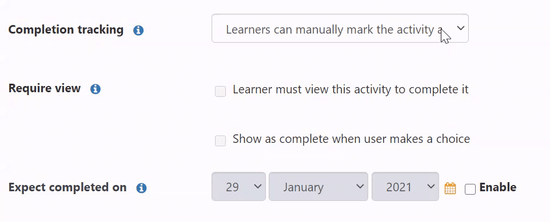 10. Once you are complete, click either Save and Return to Course or Save and Display.