This article demonstrates how to add an Assignment Activity to your course.
Introduction to Assignments
The Assignment activity allows the trainer to communicate tasks, collect work, and provide grades and feedback on uploaded files and assignments created both on and offline.
Learners can submit any files, including word-processed documents, spreadsheets, images, or audio and video clips. The assignment can also require learners to type directly into the text editor.
An assignment can also be used to remind learners of 'real-world' assignments that need to be completed offline, such as art work, and would not require any digital content. Learners can submit work individually, or as members of a group.
When reviewing assignments, trainers can leave feedback comments and upload files, such as marked-up learner submissions, documents with comments, or spoken audio feedback. Assignments can be graded using a numerical or custom scale, or by using an advanced grading method like a rubric. Final grades are then recorded in the gradebook.
---
Creating an Assignment
To add an Assignment activity to your course page:
1. On your desired course homepage, click the Turn Editing On button.

2. Create or select an appropriate Activity block, and click the 'Add an activity or resource' link.

3. Select the Assignment option from the Activity section and click Add at the bottom of the page.
4. Expand the General section, and configure the following options.
In the Assignment Name field, enter an appropriate name for your assignment.

If you have any additional files that are necessary to complete the assignment, such as assignment templates or supplementary resources, you can upload them into the Additional Files upload box.

5. Expand the Availability section, and configure the following options.
Enable the 'Allows submissions from' option to stop learners from submitting files before a specified date.

Enable the 'Due date' option to set a due date for your assignment submissions. Submissions will be allowed after this date, but will instead be marked as late. Assignments without a due date will appear on the dashboard with No Due Date displayed.

Enable the 'Cut-off date' option to set a cut-off date for your assignment submissions. After this date, learners will not be able to submit files unless they are granted an extension.

6. Expand the Submission Types section, and configure the following settings.
You can select which file types a learner can submit in. The options are: Video assignment, file submissions, and/or online text. You can further specify the list of acceptable file types using the Accepted File Types box.

If you have selected the online text option, you can then set an appropriate word limit.
7. Expand the Feedback Types section, and select how learners receive assignment feedback.
Feedback Comments: Trainers can leave comments for each submission.
Offline Grading Worksheet: Trainers can download and upload a worksheet with learner grades when marking the assignments.
Feedback Files: Trainers can upload files with feedback when marking.

8. Expand the Submission Settings section, and configure the following settings.
Require Learners Click Submit Button: Enabling Yes allows learners to keep a draft submission on the system before they click Submit.
Attempts Reopened: If 'Require Learners Click Submit' is enabled, then learners may only submit assignments once.
Manually: This allows the trainer to reopen submissions for learners to resubmit the assignment.
Automatically Until Pass: This allows learners to resubmit the assignment until they receive a passing grade.
Maximum Attempts: Allows you to determine how many attempts to allow if learners can resubmit their assignment.
9. Expand the Group Submission Settings section, and use the Learners Submit in Groups drop-down menu to determine whether the assignment submission is done individually, or in groups.
10. Expand the Notifications section, and determine which events will trigger notifications.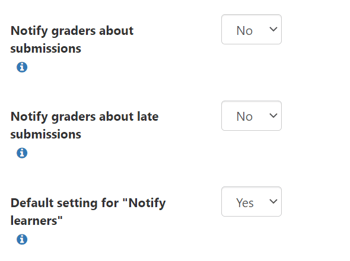 11. Expand the Grade section, and configure the following settings.
Grade: Allows you to configure how values are calculated.
None: No grading.
Point: Numerical grading; this option allows you to set a maximum grade.
Scale: Allows you to select a grading scale from the corresponding drop-down menu.
Grade to Pass: Allows you to determine the minimum grade required to pass.
12. Expand the Restrict Access section. If necessary, select an appropriate category to restrict your assignment by, and configure the corresponding settings.

TIP
Configuring the Restrict Access section can help direct learning in your course.
For example, you can restrict activities to ensure that learners complete 'prerequisite' activities beforehand.
You can also restrict resources based on passing grades, so that learners who did not pass a certain quiz or assignment can receive extra resources.
13. Expand the Activity Completion section.
Completion Tracking: Allows you to determine how activity completion is tracked for your assignment through using the corresponding drop-down menu. For assignments, we recommend that you select 'Show Activity as Complete When Conditions Are Met.'
We also recommend that you enable both the Require Grade and Require Passing Grade options, but not the Require View option. If all three are enabled, then learners must complete their view, and subsequently view the activity afterwards for it to be considered complete.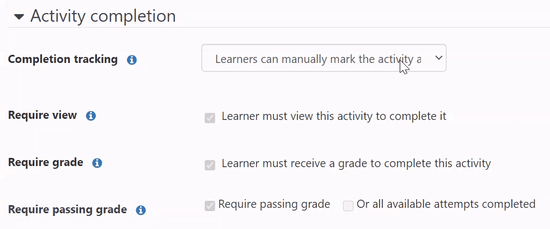 14. Once you are complete, click either Save and Return to Course or Save and Display at the bottom of the page.