This article demonstrates how to add Google Analytics to your Lambda Store website.
TOPICS
---
Step 1: Creating a Universal Analytics Account
To create a Google Analytics account:
1. Navigate to the Google Analytics site.
2. Click on the Start Measuring button to create your account.

3. Edit your Account Settings and Account Data Sharing Settings in the Account Setup section. Once you are complete, click Next.
4. Enter your business' reporting details in the Property Details section. Once you are complete, click the Show Advanced Options link.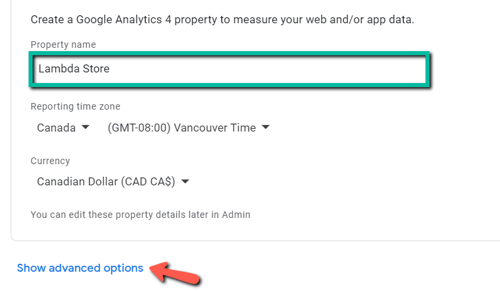 5. Enable the 'Create a Universal Analytics Property' option, and enter your site URL in the corresponding field. Then, ensure that the 'Create Both a Google Analytics 4 and a Universal Analytics Property' option is selected.

6. Select the applicable business information options in the About Your Business section. Once you are complete, click Create.
---
Step 2: Find Your Tracking Code
1. On your Google Analytics homepage, navigate to the Administrator menu using the side panel menu.

2. On the Administrator dashboard, locate the Property panel. This panel will initially be set to configuring the Google Analytics 4 version of your account. Use the drop-down menu to switch to Universal Analytics, which will be denoted by the 'UA' prefix.

3. Using the Property panel, navigate to Tracking Info > Tracking Code.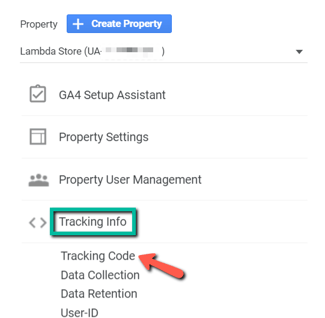 4. Locate your Tracking ID at the top of the page. Send this ID to the Lambda Support team via Privnote for a secure transfer of information.