This article demonstrates how to create an automated Abandoned Cart Email on MailChimp for your Store.
Abandoned Cart Email Overview

NOTE
Using the Abandoned Cart Email function will require MailChimp integration with your Store, which will be done by the Lambda Support team. You will also need to create a MailChimp account.
Through using the MailChimp plugin, you can trigger Abandoned Cart Emails to be sent to customers who may have left something behind in your Store. This can help improve customer experience and recover lost sales and increase your conversion rate.
---
Creating an Abandoned Cart Email
1. Log in to your MailChimp account, and click Create on your dashboard.

2. Select the Email campaign type.
3. Navigate to the Automated tab and click Turn On Abandoned Cart email.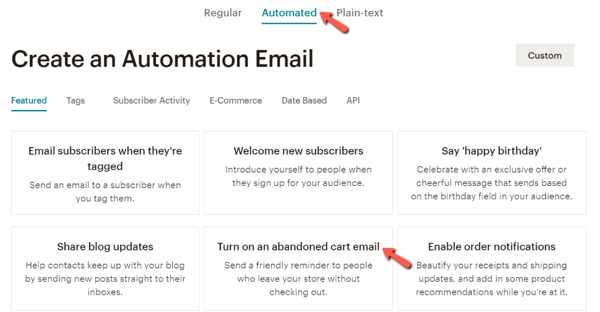 4. On the Single Email tab, enter a Campaign Name and select your store. Then, click Begin. You will be redirected to the Abandoned Cart Notification page.

Configuring Email Settings
1. To edit your email's delay, click Edit Recipients. You can then select between a 1 hour, 6 hour, or 24 hour delay from when the cart is abandoned to when the email is sent.

2. To edit your email's sender details, click Edit From. You can then edit the Sender Name and Email Address that customers will see.

3. To edit your email's subject line, click Edit Subject.

4. Once you are complete, you can begin to design your email by clicking Design Email. You will then be redirected to the Select Templates page.

Designing Your Email
1. On the Select Templates page, you can choose between three Abandoned Cart email templates.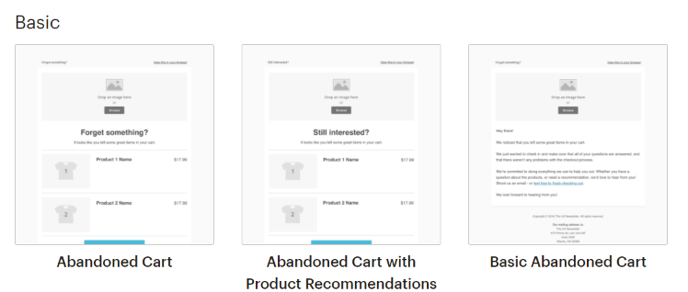 2. After selecting a template, you can then add your company logo and edit you email copy. You can also format your email by dragging specialized boxes from the left-hand side of the page onto your email. This can allow you to do a variety of functions, such as promoting similar products or including a discount code.
Once you are complete, click Save and Continue.
3. You can then review your Abandoned Cart Notification settings. Once you are satisfied with your email draft, click Start Sending.