The quality of your learning and assessment materials are a big part of ensuring your learners' success, which means that you need to regularly check in to see if your course assets are doing their job.
TOPICS
---
Introduction to Quizzes in Lambda Analytics
While a lot of LMS reporting focuses on who completed what, when, and with which results, the real golden nugget of learning analytics is looking back through the results to review the quality of your course.
Are your learners getting the resources they need to meet your learning outcomes?
Are your quizzes fair?
Are your exams too easy or too difficult?
Are your questions clear or are they ambiguous and tricky?
Here are three out-of-the-box reports you can use to put your quizzes to the test.
---
Quiz Statistics
The Quiz Statistics report is a great place to start to get an overview of how your learners are faring with your quizzes.
This report shows an aggregate of attempts, completions, and total time taken. Here I've filtered the report by one specific course.

You can also filter this report by quiz.
I would use this report to assess whether or not the learners were matching my expectations for completing the quiz. For example, if it only took just over 5 minutes for a total of 15 attempts on a quiz, when I was expecting the learners to take at least 5 minutes per quiz, I may want to investigate!
---
Quiz Question Attempt Summary
The Quiz Question Attempt Summary drills down a bit further into individual quizzes to provide an aggregate summary of each attempt on individual quiz questions.
Here you have a better opportunity to assess the quality of your questions as well as an overview of the quiz and the quizzes in the course. In the following detail, I can see the totals for the Pre-Assessment quiz as well as the totals for the course.

This is a great report to have a closer look at the quality of your quiz questions. If I were to see a particularly high success or failure rate, I would probably want to dig a bit deeper.
The following example shows a high failure rate and a very low success rate. I would probably use the built in filters to explore further patterns.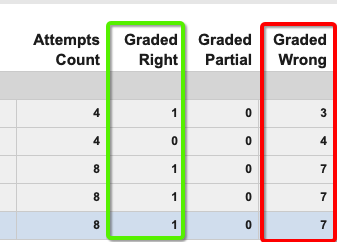 This report is filterable by user, course, quiz and question.
The date shown in the final column is the last date the quiz was attempted.
---
Quiz Questions Summary
The Quiz Questions Summary report provides data on how each learner answers each question in a quiz.

Here I've filtered the report for one learner to see how she did on the two quizzes in this course. In this report I can see the actual question and how the learner responded in conjunction with the expected answer.
The link on the far right takes you directly to the Moodle quiz question attempt for that user: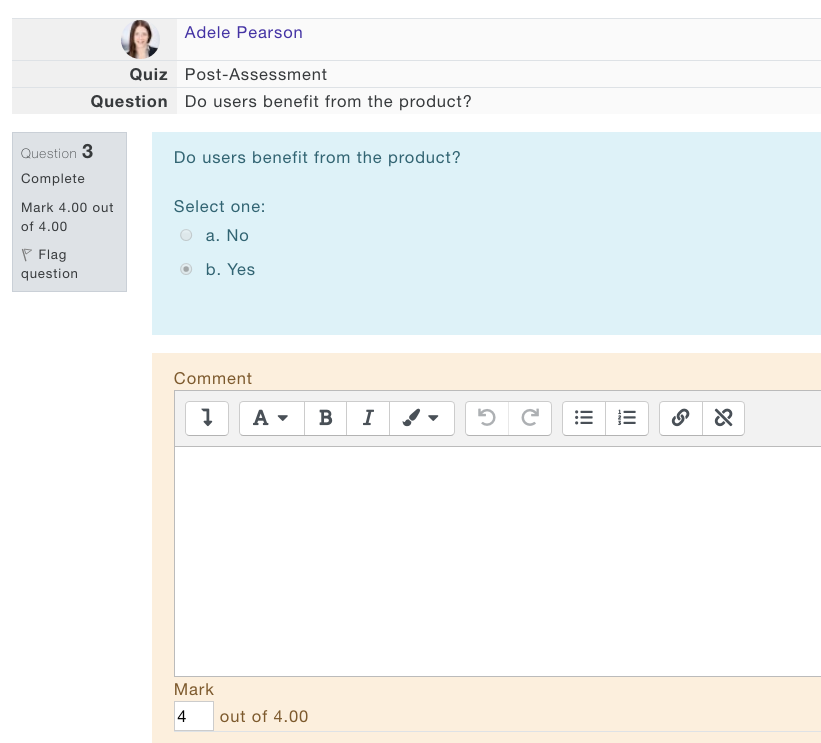 This can be useful if you determine that a question in your quiz was ambiguous or unfair and you need to adjust the grade.
This report is filterable by user, category, course, quiz, and question.
---
Report Security
All of the above reports are secured for teachers, meaning that teachers will results for courses and students to which they are assigned. Site Admins see all data.